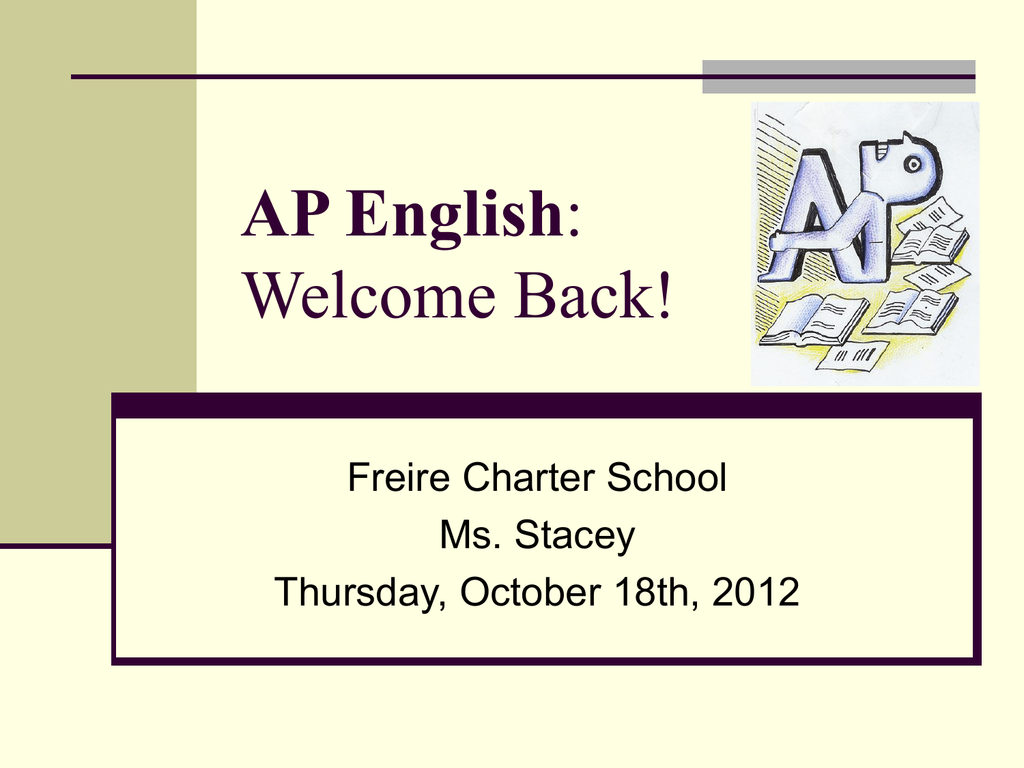 AP English:
Welcome Back!
Freire Charter School
Ms. Stacey
Thursday, October 18th, 2012
Class Bulletin: 10.18.12
 Today's learning objective:

Students will review literary terms in preparation for
Monday's short story test
 What goes in the bin?

Texts & Context Packet 2
 What goes on your desk?

Binder (open to Texts & Contexts Packet 1)
 Who has a make-up assignment to complete?

Alexis, Shayna
 Who has an appt in the WC?

Mon 10/22: Charmaine Y., Tyrell Y.
Check-in…
 While I check your study guides, please take a
moment to write me a letter (written or email)
addressing –






How are you doing? Personally?
As a senior student?
As a college applicant?
What is stressing you out right now (if anything)?
What questions or concerned do you have right now
with this class (or in general)?
Tell me a happy story or a victory you achieved recently
(se we end on a happy note).
Test Review!
 In groups of 2-3, you will put together a short
"lesson" (2-3 minutes) about your assigned
topic and TEACH it to the class!
 You must use details from at least one story
in your presentation.
Homework for Mon 10.22.12
Use notes, journal questions, blogs, and
study guide to prepare for Monday's
test/:
The aim of this test is to assess your
mastery of Perrine's key literary terms
(bolded in his chapters) and *how*
they are used in literary fiction.
Also be prepared to read new
passages and apply these skills!