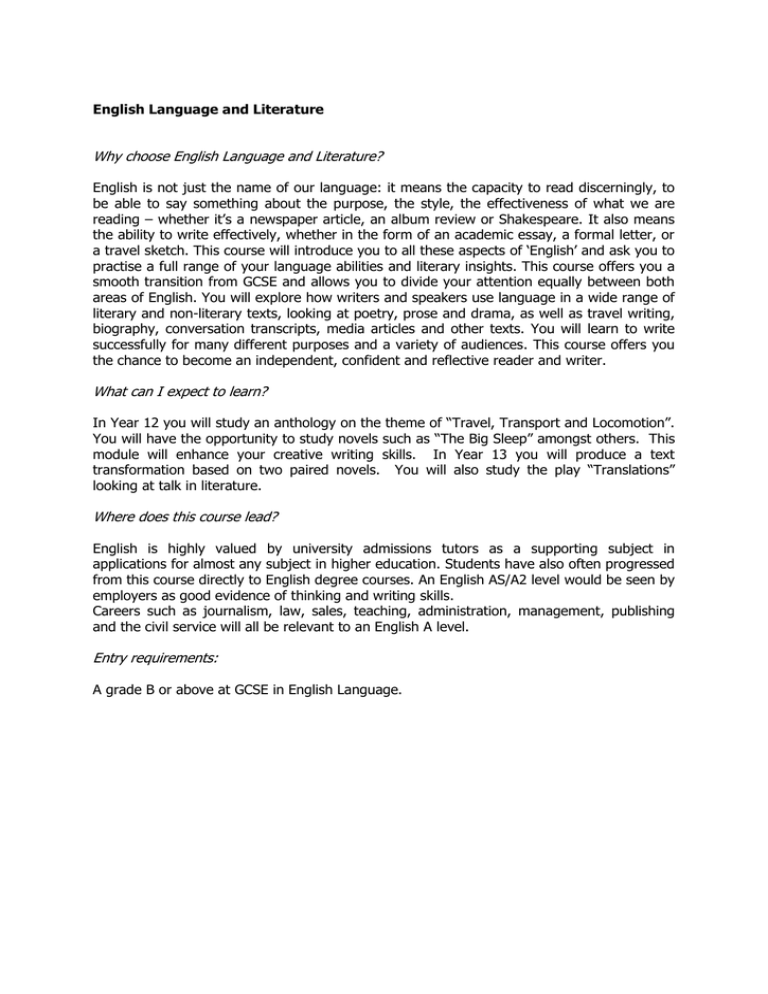 English Language and Literature
Why choose English Language and Literature?
English is not just the name of our language: it means the capacity to read discerningly, to
be able to say something about the purpose, the style, the effectiveness of what we are
reading – whether it's a newspaper article, an album review or Shakespeare. It also means
the ability to write effectively, whether in the form of an academic essay, a formal letter, or
a travel sketch. This course will introduce you to all these aspects of 'English' and ask you to
practise a full range of your language abilities and literary insights. This course offers you a
smooth transition from GCSE and allows you to divide your attention equally between both
areas of English. You will explore how writers and speakers use language in a wide range of
literary and non-literary texts, looking at poetry, prose and drama, as well as travel writing,
biography, conversation transcripts, media articles and other texts. You will learn to write
successfully for many different purposes and a variety of audiences. This course offers you
the chance to become an independent, confident and reflective reader and writer.
What can I expect to learn?
In Year 12 you will study an anthology on the theme of "Travel, Transport and Locomotion".
You will have the opportunity to study novels such as "The Big Sleep" amongst others. This
module will enhance your creative writing skills. In Year 13 you will produce a text
transformation based on two paired novels. You will also study the play "Translations"
looking at talk in literature.
Where does this course lead?
English is highly valued by university admissions tutors as a supporting subject in
applications for almost any subject in higher education. Students have also often progressed
from this course directly to English degree courses. An English AS/A2 level would be seen by
employers as good evidence of thinking and writing skills.
Careers such as journalism, law, sales, teaching, administration, management, publishing
and the civil service will all be relevant to an English A level.
Entry requirements:
A grade B or above at GCSE in English Language.