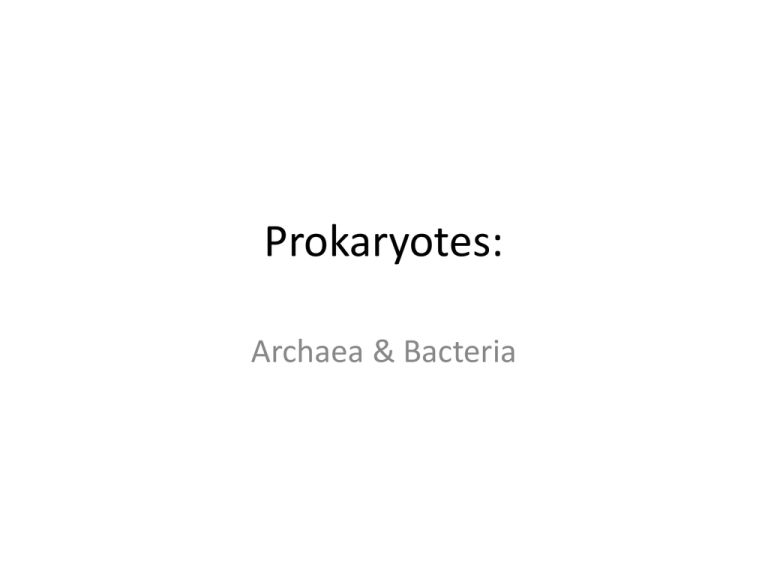 Prokaryotes:
Archaea & Bacteria
The Tree of Life
• All living things
classified in three
domains:
–Bacteria
–Archaea
–Eukarya
Amazing Living Things
• Microbes indispensable to life:
• Produce much of Earth's:
• Oxygen
• Decomposition
• Over half of Earth's biomass
• More bacterial cells than human cells in
your body!
Prokaryotes
• Prokaryotes have:
– Circular DNA, RNA, ribosomes, cytoplasm,
plasma membrane
– Most prokaryotes have a cell wall, a capsule
(around the cell wall) and a flagellum
• Prokaryotes don't have:
– Organelles such as nucleus, chloroplasts,
mitochondria.
Generalized Prokaryote
Nucleoid DNA
Plasmid DNA
Cytosol
Flagellum
Capsule
Plasma
Membrane
Cell Wall
Prokaryotic DNA
• The area that contains the genetic material
is referred to as the nucleoid.
• The genes are usually in one continuous
circular loop of DNA.
• There may be other small circles of DNA
outside the nulceoid called plasmids.
Bacteria/Archaea
• Habitats (name a place, and they live
there!)
– They are specialists
• human skin, mouth, respiratory tract, large
intestine, urogenital tract, etc.
• salty Dead Sea
• extreme pH
• archea in deep sea vents: 90-106o C
– Aerobes and anaerobes
Some Prokaryotes Thrive in Extreme Conditions
Cyanobacteria in Yellowstone
Hot Springs
Archaea
• Unique lipid membranes, cell walls, and rRNA
• Methanogens
– Convert CO2 to methane
– Swamps, hot springs, vent communities, cow stomachs
• Halophiles - survive concentrated salt environment
• Thermoacidophiles - thrive in hot, acidic environment
• Generally in EXTREME environments
Bacteria
• Evolve Rapidly
• Most of the time are asexual
• Classified by shape, locomotion, pigments,
nutrients, colonies
Bacteria
• Shape:
– Cocci - round
– Bacilli - rod
– Spirilla - spirals
Three Common Bacterial Shapes
(b)
(a)
(c)
bacillus
cocci
spirillus
The Prokaryote Flagellum
Flagella
Bacterium
Bacteria
• Reproduction
• Reproduction is asexual, by simple
splitting (binary fission)
• Daughter cells are genetic clones of
the parent cell
Binary Fission
DNA
Bacteria - Reproduction
• Binary fission:
– Very fast, up to once every 20 minutes
– One bacterium-> 1021 in 24 hours.
• Conjugation: (sexual reproduction)
– Used only occasionally.
Bacteria – Sexual Reproduction
• Conjugation:
– Genetic variation through pili (structures
similar to flagella) and plasmid DNA
– DNA is exchanged between bacterial
cells
– Occurs through a special large, hollow
pilus
– One bacterium acts as a donor,
transferring DNA to the recipient.
Conjugation
Donor
Recipient
Sex Pilus
Benefits of Bacteria
• Symbiosis (mutualism)
– Ruminants' digestive tracts
– Nitrogen fixing in soil, nodules on certain legumes
– Bacteria on/in the human body: intestines and vitamin K and
B12
• Biodegradation - oil
• Food production - cheese, yogurt, sauerkraut
• Decomposers
Our Relationship With Bacteria
Bacterial Pathogens
• Some cause disease = pathogenic
• In humans:
– Strep throat
– Toxins - tetanus, botulism
– Pneumonia
– "Flesh-eating" bacteria
– Plague
– Tuberculosis
– Cholera
– Lyme disease
ANTIBIOTICS= anti bacterial!!!
The Causes of Tooth Decay
Transmission of Bacterial Pathogens
•
•
•
•
Airborne
Water
Food
Direct (skin contact, blood, and other body
fluids)
• Insect vectors and other hosts such as deer
tick (Lyme) or mosquito.
Germ Theory of Disease
• Theory that microorganisms are the cause of
disease.
• 1859 – Louis Pasteur
– Credited with the idea that human diseases were
caused by bacteria and viruses (germ theory)
– Very important discovery in the field of medicine
Infectious Diseases
• Average age of death, in first world
countries, jumped 30+ years in last
century due to antibiotics, and enhanced
hygiene and nutrition.
• Antibiotic-resistant infections on the rise in
hospitals in the U.S.
– This is due to bacterial evolution in response
to widespread use of antibiotics!