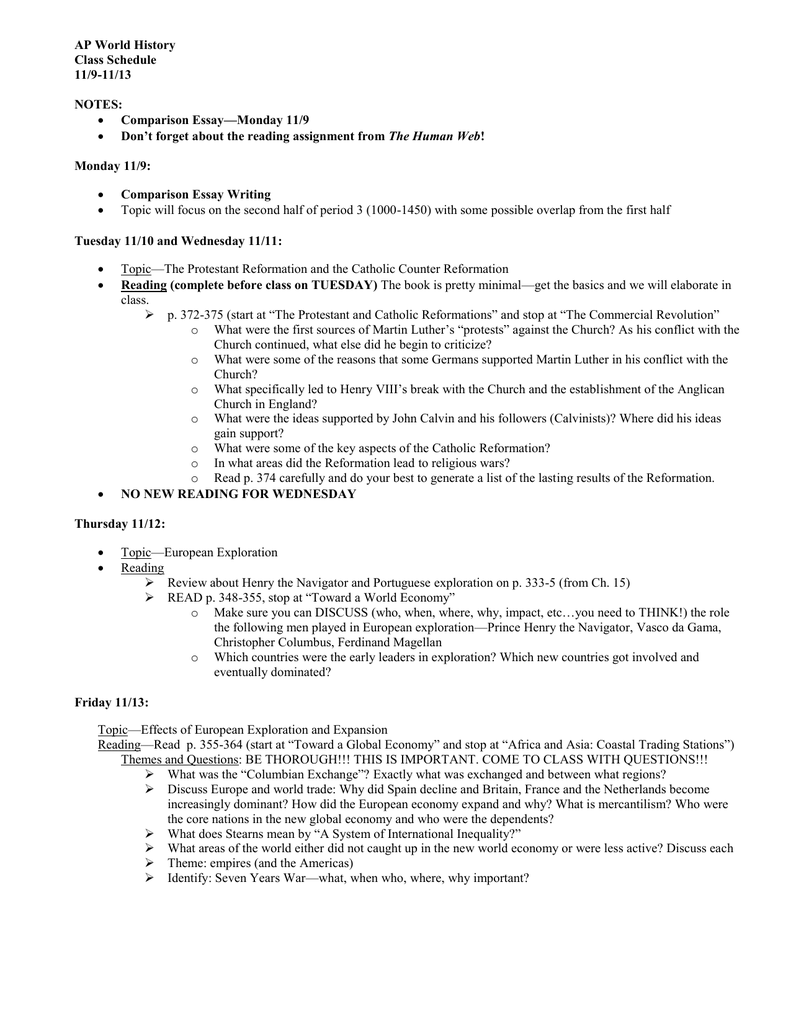 AP World History
Class Schedule
11/9-11/13
NOTES:
 Comparison Essay—Monday 11/9
 Don't forget about the reading assignment from The Human Web!
Monday 11/9:


Comparison Essay Writing
Topic will focus on the second half of period 3 (1000-1450) with some possible overlap from the first half
Tuesday 11/10 and Wednesday 11/11:



Topic—The Protestant Reformation and the Catholic Counter Reformation
Reading (complete before class on TUESDAY) The book is pretty minimal—get the basics and we will elaborate in
class.
 p. 372-375 (start at "The Protestant and Catholic Reformations" and stop at "The Commercial Revolution"
o What were the first sources of Martin Luther's "protests" against the Church? As his conflict with the
Church continued, what else did he begin to criticize?
o What were some of the reasons that some Germans supported Martin Luther in his conflict with the
Church?
o What specifically led to Henry VIII's break with the Church and the establishment of the Anglican
Church in England?
o What were the ideas supported by John Calvin and his followers (Calvinists)? Where did his ideas
gain support?
o What were some of the key aspects of the Catholic Reformation?
o In what areas did the Reformation lead to religious wars?
o Read p. 374 carefully and do your best to generate a list of the lasting results of the Reformation.
NO NEW READING FOR WEDNESDAY
Thursday 11/12:


Topic—European Exploration
Reading
 Review about Henry the Navigator and Portuguese exploration on p. 333-5 (from Ch. 15)
 READ p. 348-355, stop at "Toward a World Economy"
o Make sure you can DISCUSS (who, when, where, why, impact, etc…you need to THINK!) the role
the following men played in European exploration—Prince Henry the Navigator, Vasco da Gama,
Christopher Columbus, Ferdinand Magellan
o Which countries were the early leaders in exploration? Which new countries got involved and
eventually dominated?
Friday 11/13:
Topic—Effects of European Exploration and Expansion
Reading—Read p. 355-364 (start at "Toward a Global Economy" and stop at "Africa and Asia: Coastal Trading Stations")
Themes and Questions: BE THOROUGH!!! THIS IS IMPORTANT. COME TO CLASS WITH QUESTIONS!!!
 What was the "Columbian Exchange"? Exactly what was exchanged and between what regions?
 Discuss Europe and world trade: Why did Spain decline and Britain, France and the Netherlands become
increasingly dominant? How did the European economy expand and why? What is mercantilism? Who were
the core nations in the new global economy and who were the dependents?
 What does Stearns mean by "A System of International Inequality?"
 What areas of the world either did not caught up in the new world economy or were less active? Discuss each
 Theme: empires (and the Americas)
 Identify: Seven Years War—what, when who, where, why important?