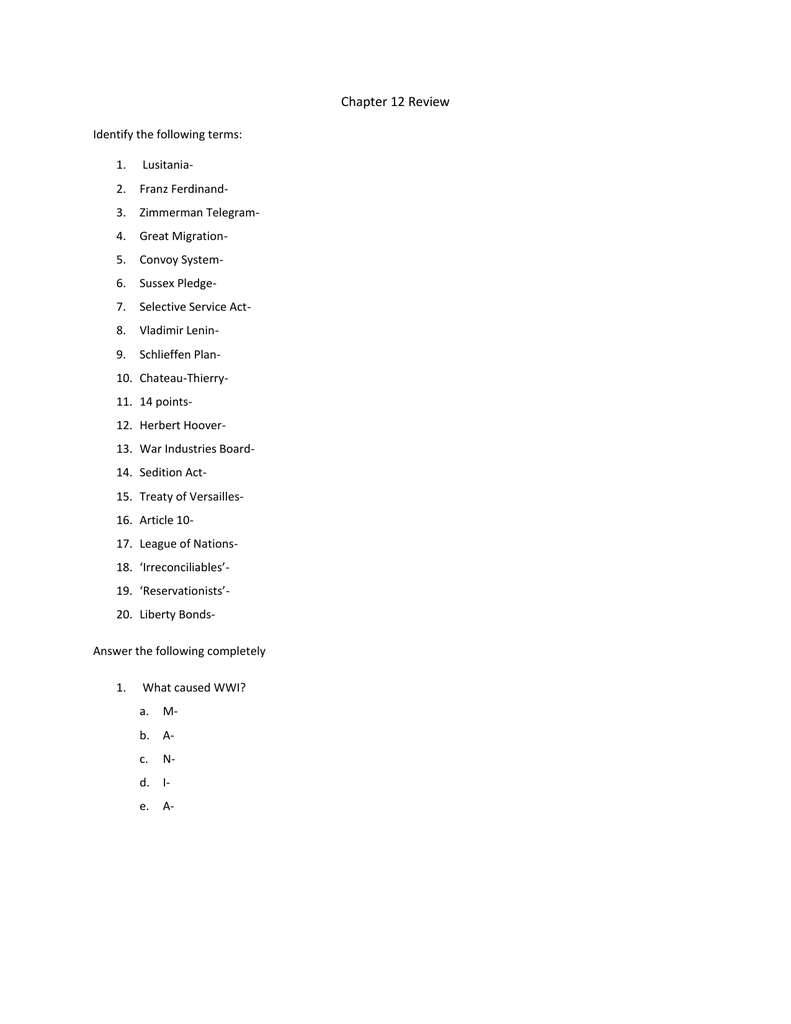 Chapter 12 Review
Identify the following terms:
1.
Lusitania-
2.
Franz Ferdinand-
3.
Zimmerman Telegram-
4.
Great Migration-
5.
Convoy System-
6.
Sussex Pledge-
7.
Selective Service Act-
8.
Vladimir Lenin-
9.
Schlieffen Plan-
10. Chateau-Thierry11. 14 points12. Herbert Hoover13. War Industries Board14. Sedition Act15. Treaty of Versailles16. Article 1017. League of Nations18. 'Irreconciliables'19. 'Reservationists'20. Liberty BondsAnswer the following completely
1.
What caused WWI?
a.
M-
b.
A-
c.
N-
d.
I-
e.
A-
2.
Why did America enter WWI?
a.
S-
b.
L-
c.
U-
d.
T-
e.
Z-
3.
Why did African Americans move to northern cities during WWI?
4.
Why did Russia drop out of the War?
5.
How did the Government increase control of the economy during WWI?
6.
What effect did new modern technology have on the war? Explain at least 5 effects.
a.
b.
c.
d.
7.
8.
9.
e.
How did the Submarine change the rules of naval warfare?
What directly led to Wilson calling for war against Germany?
How were African Americans mostly used during WWI?
10. During the war minorities and women found employment in war- related industries.
11. What happened to President Wilson's program for peace at the Paris Peace Conference?
12. Why did the irreconciliables and reservationists oppose the League of Nations as it was?
a. Irreconciliables-
b.
Reservationists-
13. Why did America not ratify the League of Nations?