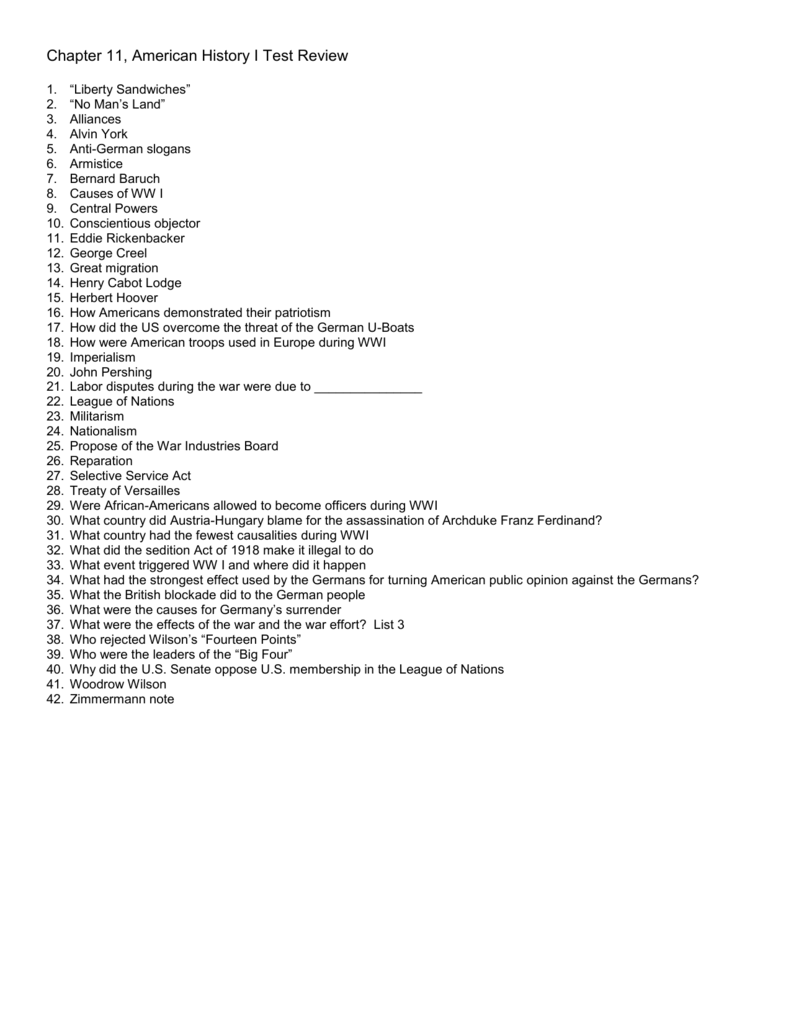 Chapter 11, American History I Test Review
1.
2.
3.
4.
5.
6.
7.
8.
9.
10.
11.
12.
13.
14.
15.
16.
17.
18.
19.
20.
21.
22.
23.
24.
25.
26.
27.
28.
29.
30.
31.
32.
33.
34.
35.
36.
37.
38.
39.
40.
41.
42.
"Liberty Sandwiches"
"No Man's Land"
Alliances
Alvin York
Anti-German slogans
Armistice
Bernard Baruch
Causes of WW I
Central Powers
Conscientious objector
Eddie Rickenbacker
George Creel
Great migration
Henry Cabot Lodge
Herbert Hoover
How Americans demonstrated their patriotism
How did the US overcome the threat of the German U-Boats
How were American troops used in Europe during WWI
Imperialism
John Pershing
Labor disputes during the war were due to _______________
League of Nations
Militarism
Nationalism
Propose of the War Industries Board
Reparation
Selective Service Act
Treaty of Versailles
Were African-Americans allowed to become officers during WWI
What country did Austria-Hungary blame for the assassination of Archduke Franz Ferdinand?
What country had the fewest causalities during WWI
What did the sedition Act of 1918 make it illegal to do
What event triggered WW I and where did it happen
What had the strongest effect used by the Germans for turning American public opinion against the Germans?
What the British blockade did to the German people
What were the causes for Germany's surrender
What were the effects of the war and the war effort? List 3
Who rejected Wilson's "Fourteen Points"
Who were the leaders of the "Big Four"
Why did the U.S. Senate oppose U.S. membership in the League of Nations
Woodrow Wilson
Zimmermann note
43. Name countries on a Map of the WWI Warring Powers:
44.
45.