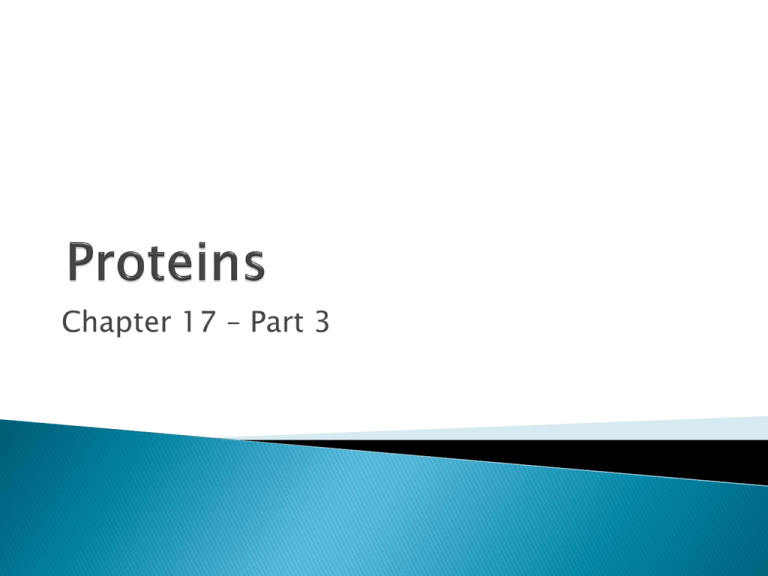 Chapter 17 – Part 3
Figure
Figure
Figure
Figure

Functions of protein
◦
◦
◦
◦
◦
◦
◦
Provide structural and mechanical support
Maintain body tissues
Functions as enzymes and hormones
Help maintain acid base balance
Transport nutrients
Assist the immune system
Serve as a source of energy when necessary



Essential – must be consumed in the
diet
Nonessential – can be synthesized in
the body
Conditionally essential – cannot be
synthesized due to illness or lack of
necessary precursors



Body creates all of its proteins from 22 different
amino acids
13 are manufactured
9 are essential amino acids – body needs
them but cannot make them

Complete proteins
◦ Contain all nine essential amino acids.
◦ Usually animal source are complete proteins.
◦ Sources: Fish, meat, poultry, eggs, milk, cheese,
yogurt, and many soybean products.

Incomplete proteins
◦ Low in one or more essential amino acid.
◦ Plant sources are incomplete.
◦ Sources: Beans, peas, nuts, and whole grains.

Healthy, non-pregnant adults
◦ Should consume enough to replace what is
used every day
◦ Goal is nitrogen balance

Pregnant women, people recovering
from surgery or injury, and growing
children
◦ Should consume enough to build new tissue
Without these
particular structural
proteins, we would
look more like this….