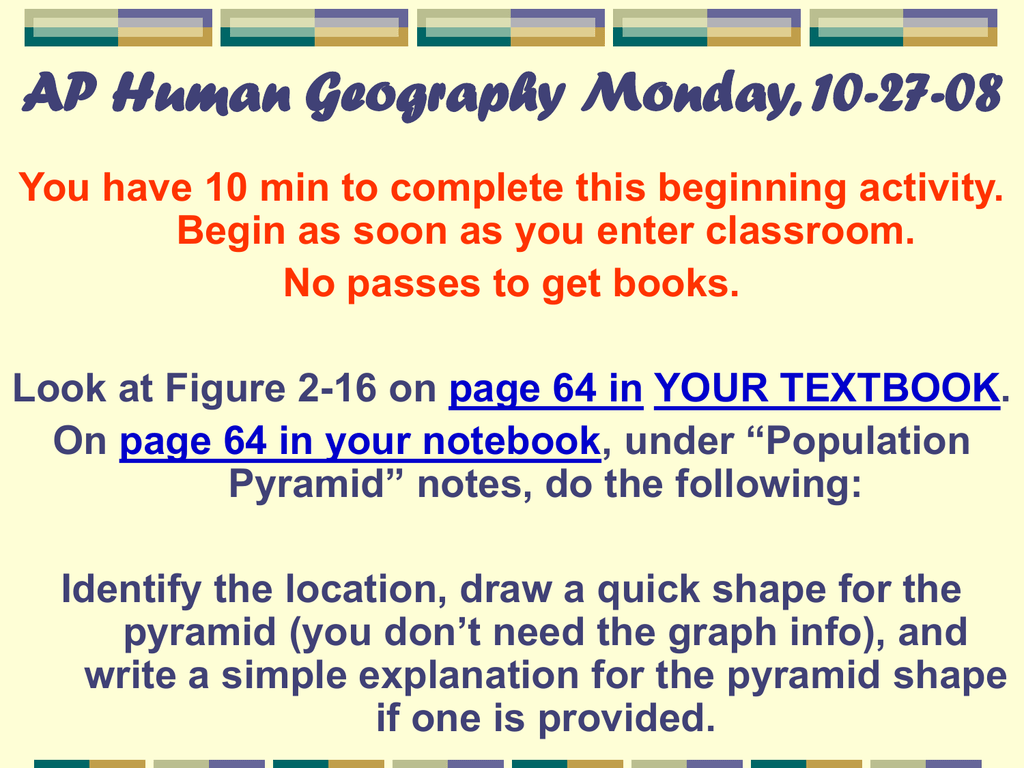 AP Human Geography Monday, 10-27-08
You have 10 min to complete this beginning activity.
Begin as soon as you enter classroom.
No passes to get books.
Look at Figure 2-16 on page 64 in YOUR TEXTBOOK.
On page 64 in your notebook, under "Population
Pyramid" notes, do the following:
Identify the location, draw a quick shape for the
pyramid (you don't need the graph info), and
write a simple explanation for the pyramid shape
if one is provided.
nd
2
9 Week Notebook
• Pg 60 List of 2nd 9 Weeks Procedures
• Pg 61 "As the New India Rises, So Do slums"
article
• Pg 62 Drawings/captions for India article
• Pg 63 World in the Balance "China Revs Up"
• Pg 64 Ch 2 notes "Population Pyramids" from
10/23 and Beginning Activity from 10/27.
• Pg 65 HW Free Response Q #3 due 10/29
Page 65 Homework due Wed
• Free Response Question for Ch 2
• Page 5 in syllabus
• Grade will be based on completing each
component in the directions using details to
support your response.
• 5 points for each paragraph
• 20 pts total for 4 paragraphs
• Can't turn in late, as we will grade in class.
• THURS – FINISH CH 2
• FRIDAY – CH 2 TEST
P60
nd
2
9 Weeks
Make sure you have this in notebook
• Grades start all over; 1st and 2nd 9 week grades are
averaged for a final grade in January.
• Notebooks continue where they are.
• Need extra help: before school, second lunch, after school
by appointment
• Late assignments will only be taken for 1 week after
assigned. Tests and quizzes must be made up within 1
week.
• Need to bring textbooks & notebook every day. No passes
to go get them.
• 6th period ~ no passes to restroom, you just returned from
lunch.
• Tardy policy ~ referral after 5th tardy.
Page 63 China video
• Answer questions as you watch the film.
• Discuss in class.
Page 64 Notes
• Population Pyramids
• Bar graph representing country's
population by age and gender groups.