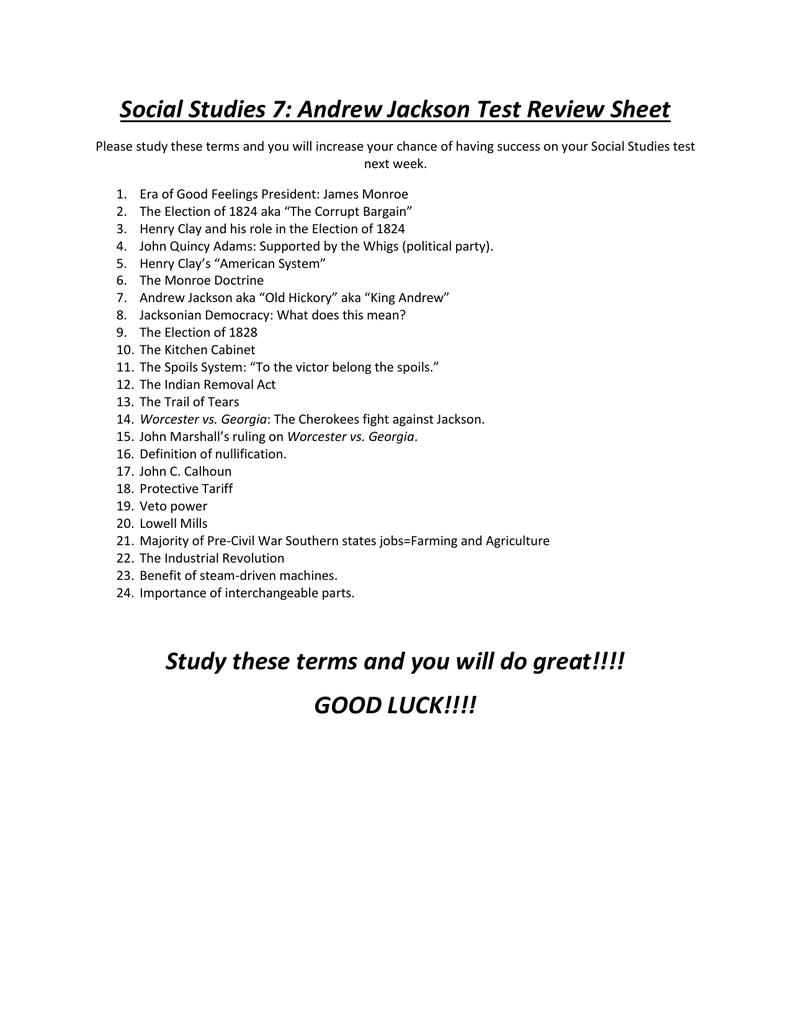 Social Studies 7: Andrew Jackson Test Review Sheet
Please study these terms and you will increase your chance of having success on your Social Studies test
next week.
1.
2.
3.
4.
5.
6.
7.
8.
9.
10.
11.
12.
13.
14.
15.
16.
17.
18.
19.
20.
21.
22.
23.
24.
Era of Good Feelings President: James Monroe
The Election of 1824 aka "The Corrupt Bargain"
Henry Clay and his role in the Election of 1824
John Quincy Adams: Supported by the Whigs (political party).
Henry Clay's "American System"
The Monroe Doctrine
Andrew Jackson aka "Old Hickory" aka "King Andrew"
Jacksonian Democracy: What does this mean?
The Election of 1828
The Kitchen Cabinet
The Spoils System: "To the victor belong the spoils."
The Indian Removal Act
The Trail of Tears
Worcester vs. Georgia: The Cherokees fight against Jackson.
John Marshall's ruling on Worcester vs. Georgia.
Definition of nullification.
John C. Calhoun
Protective Tariff
Veto power
Lowell Mills
Majority of Pre-Civil War Southern states jobs=Farming and Agriculture
The Industrial Revolution
Benefit of steam-driven machines.
Importance of interchangeable parts.
Study these terms and you will do great!!!!
GOOD LUCK!!!!