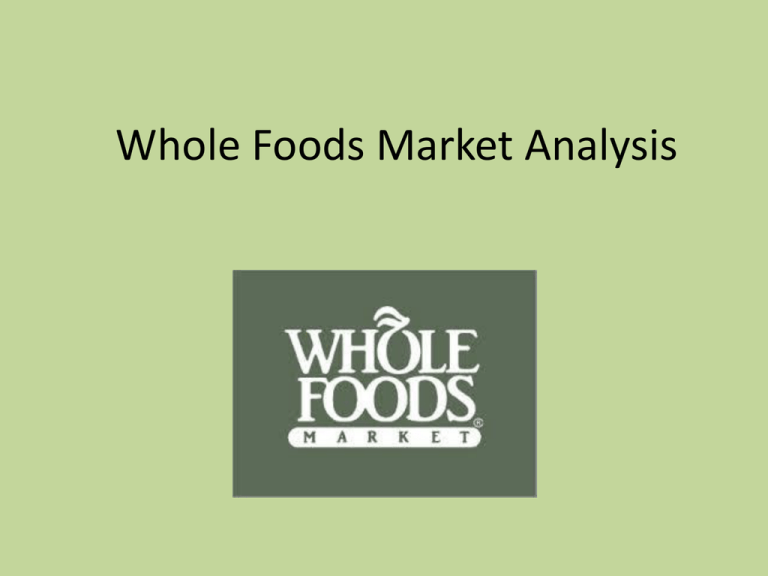 Whole Foods Market Analysis
Background
• Organic/Natural Food Retailer
• First stored opened in 1980 in Austin, TX
• Rapid expansion through opening new stores and
acquisitions
• Explosive Growth
• Started to expand internationally
http://www.youtube.com/watch?v=Vagc5qqm1_o
Internal Analysis - SWOT
External
Internal
Strengths
• Leader in natural and organic food
retailing
• Staff is passionate in promoting
organic food
• Scale store size depending on
location
Weaknesses
• Premium price
• Targets small niche of shoppers
• Low international diversification
high concentration in U.S. market
Opportunities
Threats
• Natural/Organic food retailing is a
growing segment
• Many international markets where
can expand to
• Provide classes that promote
healthy eating
• Accepts locally farmed foods
• Increased competition from other
grocers
• Growing gas price
• Increased food cost
• Economic downturn
Internal Analysis – Primary Activities
• Inbound Logistics:
– Several distribution centers
• Operations
– Each store department is run by one reliable team
member
– Reduce waste
– Invest in customer relations
• Outbound Logistics
– Transportation
– Material Handling
– Packaging
Internal Analysis – Primary Activities
• Marketing and Sales
– Focus on brand loyalty
– Innovative Advertising
– Focus on pesticide/hormone free and benefits to the earth
• Service
– Staff is well trained and knowledgeable
– Team based environment
Internal Analysis – Support Activities
• Firm Structure
– Company has 12 geographic division which has their own
president
o Advantage
o Disadvantage
• Human Resource Management - Great Company to work
for
–
–
–
–
Support team happiness
Screening and training
Above average pay
Employee encouragement for promotion
Internal Analysis – Support Activities
• Technology Development
– Renewable energy generation machine
• Procurement
–
–
–
–
Suppliers: Each region pick their own supply chain
Whole Trade Guarantee
#3 on EPA's Top 25 Green Power Partner
Completely eliminated plastic bags
Competitors Analysis
Company/Competitor Covered Region
Number of stores
Strategy
Whole Foods
U.S.
Canada
United Kingdom
~350
Whole store with
high quality organics
Kroger
US
Many
Organic is only a
section of the store.
Trader Joe's
US
350
Lower quality
Sprout
8 regions
160
Less variety, low
price
Central Market
Texas
9
similar
Recommendations
• Create lower cost strategy
– Private labels (like Kroger)
– Decrease upstream supply cost
• Increase market share
– Price sensitive and health-organic market.
– Market looking for less expensive dining option
Recommendations
• Increase the brand awareness, image, and loyalty
• concentrated on determining store sizes and locations
• Short-term implementation
– hold radio station promotions
– Use billboard ads to grow the name
• Long-term implementation
Launch national advertising promotions
Questions?