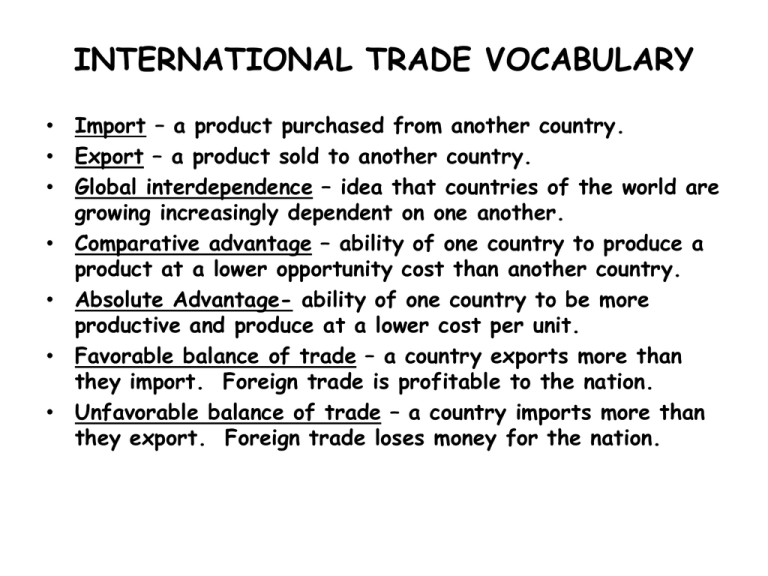 INTERNATIONAL TRADE VOCABULARY
• Import – a product purchased from another country.
• Export – a product sold to another country.
• Global interdependence – idea that countries of the world are
growing increasingly dependent on one another.
• Comparative advantage – ability of one country to produce a
product at a lower opportunity cost than another country.
• Absolute Advantage- ability of one country to be more
productive and produce at a lower cost per unit.
• Favorable balance of trade – a country exports more than
they import. Foreign trade is profitable to the nation.
• Unfavorable balance of trade – a country imports more than
they export. Foreign trade loses money for the nation.
FREE TRADE
Arguments For Free Trade
1.
Increased competition = improved products.
2.
Trade restrictions damage export industries.
3.
Specialization and comparative advantage lowers prices.
4.
Greater political cooperation.
TRADE BARRIERS
•
Protectionism – idea that
country should impose
barriers to international
trade in order to protect
domestic industries.
Arguments Against Free Trade
1.
Job security is threatened.
2.
Protection of nation's
economic security is needed.
3.
Protection of infant
industries is needed.
Trade Barriers
•
•
•
•
Tariff (protective, revenue)
Quota – a limit on the value or
number of products to be
brought in from another
country
Embargo – a refusal to trade
with another country.
Trade Cartel – a group of
nations band together to
control the supply & price of a
product. (OPEC)
OPEC COUNTRIES
TRADE AGREEMENTS
• NAFTA – North American Free Trade Agreement (US,
Canada, Mexico)
• CAFTA – Central American Free Trade Agreement (US,
Central American Countries
• WTO – World trade Organization – app. 150 nations seeking
to increase trade and limit trade barriers.
• EU – European Union – 27 European countries have created a
single economic entity.