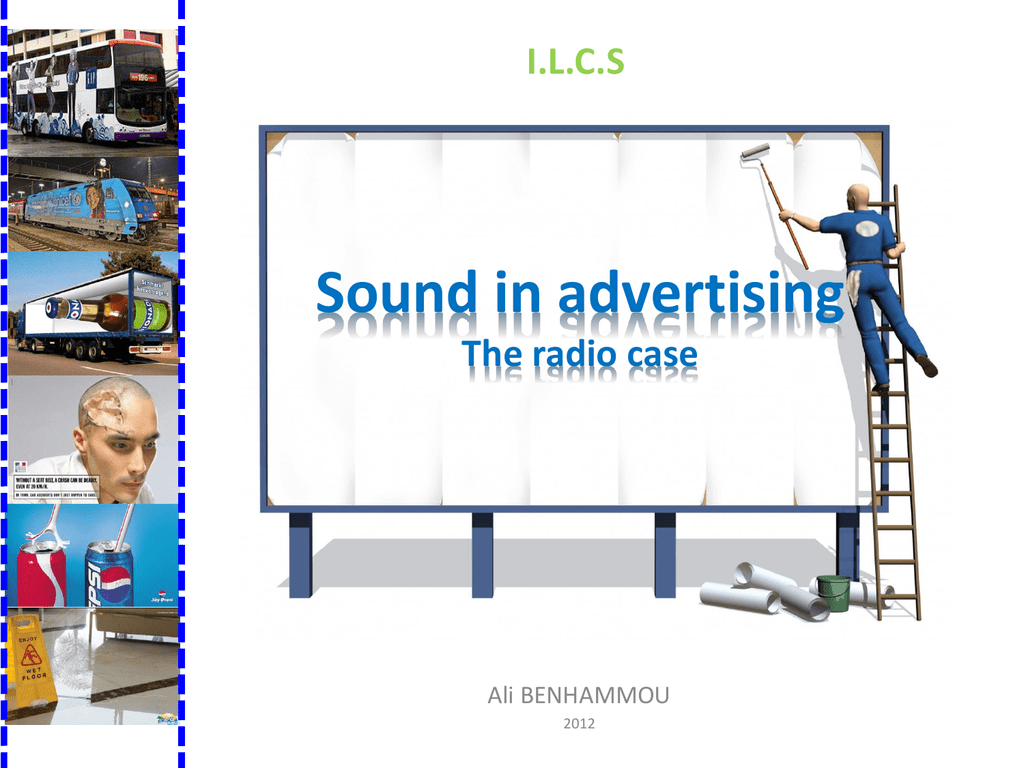 I.L.C.S
Sound in advertising
The radio case
Ali BENHAMMOU
2012
Radio elements
The radio creation is a combination of words,
sound and music
Words to
describe
the product
to build
desire
•
•
•
Sound to
complement
words, to act
for mood
and action
Music for
familiarity,
should be
adapted for
the brand
Manual effects : produced live
Recorded effects
Electronic effects : with studio equipment
Sound: radio essential
• Directed to the imagination of the listeners
• Ads should create a "theater in the mind" through
sound because radio creates a "theater scenes" for
the listeners imagination by painting pictures in
sound
• Human voice is the most important sound in radio
(beside music, special effects…)
• We talk about « voice stamp » (timbre de voix)
www.bestradiocommercials.com
The radio script
• The script should be written in a professional manner
containing the intro (attractive and rise attention), the
product benefits and the closing
• Script characteristics : simplicity, clarity, coherence,
pleasantness, believability, interest, and distinctiveness
Sequences
1, 2…..
Sound
Words,
sound
music
Duration
and In seconds
Radio basic elements
4 basic elements in radio commercials:
1. Look for an idea, a line or concept valorising your argumentation and product
2. Work on discourse before, whether it is a dialogue or a monologue
• Dialogue gives the audience the chance to participate
• Monologue creates intimacy for the audience
3. The script, choice of words (not more than 20 words in a sentence)
• The promise shouldd not come first, for more efficiency we talk on the
«Unique Selling Proposition» (USP) in the heart of the discourse, a
strategic and central moment
• Always think about «Call To Action» (CTA).
1. Respect timing, 120 words for a 30s spot - 2 to 3 words/sc
• The 5 first seconds are important, the ear-catcher
• The conclusion is also important
Radio technics
• Straight announcer : to deliver
the entire script
• Two-announcer : to give variation
in voices
• Announcer-actor : for animation
purposes
• Slice-of-life : to give audience
members something or someone
they can relate
• Combination : use of 2 or 3 of
these techniques
•
•
•
•
10 seconds : 25 words
20 seconds : 45 words
30 seconds : 65 words
60 seconds : 125 words
Radio placement
Define your campaign goals:
• Before you start a radio campaign, you need to have simple,
straightforward, and measurable goal.
Have
•
•
•
a simple message: Keep your message simple:
Talk about Benefits
Show Undeniable Value
Ask the listener to take an action
Home-Run Radio Ad (HRRA):
• Audience will need to hear your ad 11 times before they LISTEN to it.
• The number of times a radio station listener hears your ad is called the
commercial frequency.
• You might need 30-50 times to get a frequency that convinces listeners.
How long should the commercial run?:
• Need to constantly run a commercial.
• Running 2 weeks on and then 2 weeks off is a good compromise that gets
the frequency.