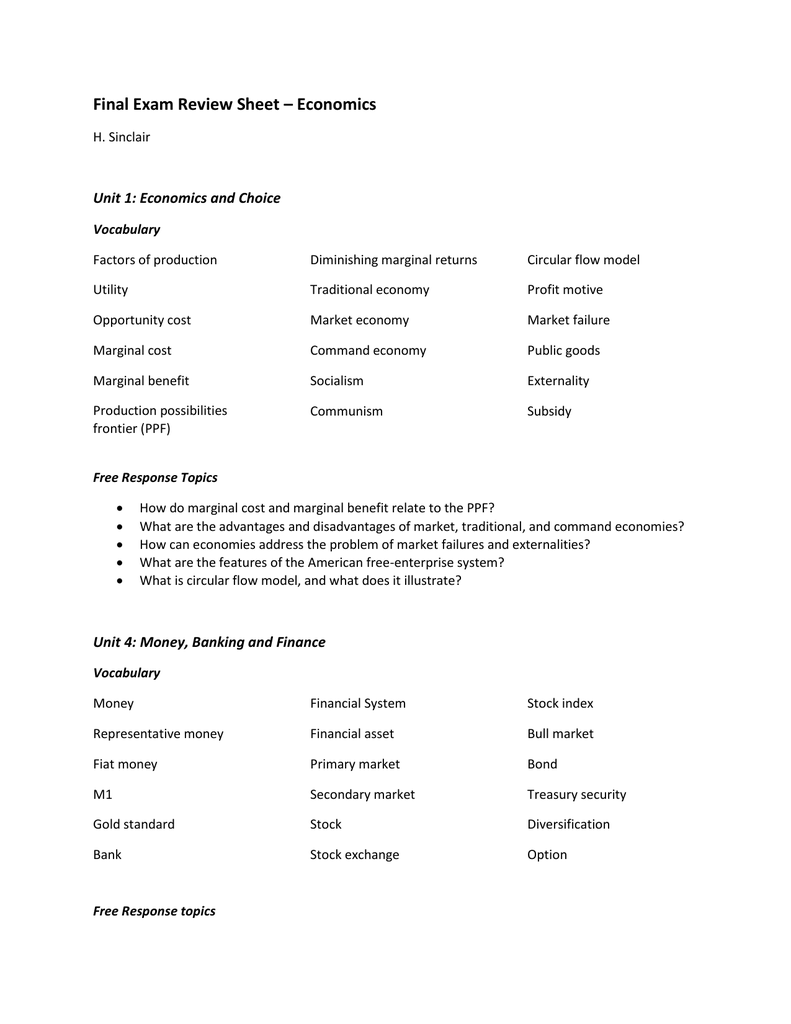 Final Exam Review Sheet – Economics
H. Sinclair
Unit 1: Economics and Choice
Vocabulary
Factors of production
Diminishing marginal returns
Circular flow model
Utility
Traditional economy
Profit motive
Opportunity cost
Market economy
Market failure
Marginal cost
Command economy
Public goods
Marginal benefit
Socialism
Externality
Production possibilities
frontier (PPF)
Communism
Subsidy
Free Response Topics





How do marginal cost and marginal benefit relate to the PPF?
What are the advantages and disadvantages of market, traditional, and command economies?
How can economies address the problem of market failures and externalities?
What are the features of the American free-enterprise system?
What is circular flow model, and what does it illustrate?
Unit 4: Money, Banking and Finance
Vocabulary
Money
Financial System
Stock index
Representative money
Financial asset
Bull market
Fiat money
Primary market
Bond
M1
Secondary market
Treasury security
Gold standard
Stock
Diversification
Bank
Stock exchange
Option
Free Response topics








What is money?
How does fractional reserve banking work?
What do banks do?
How are risk and return related?
What are the different investment objectives?
What are the differences between stocks and bonds?
How do bonds work?
How do stock market indexes work?
Unit 5: Measuring and Monitoring Economic Performance
Vocabulary
Gross domestic product
Aggregate demand
Structural unemployment
Nominal
Aggregate supply
Cyclical unemployment
Real
Macroeconomic equilibrium
Poverty rate
Nonmarket activities
Leading indicators
Lorenz curve
Business cycle
Coincident indicators
Gini coefficient
Stagflation
Unemployment rate
Free Response topics






What are the limitations to GDP as a measure of economic activity?
What causes shifts in aggregate supply and aggregate demand?
How are shifts in AS and AD related to business cycles?
How are economic indicators related to the business cycle?
Differentiate between the kinds of unemployment
What is the difference between poverty and inequality?