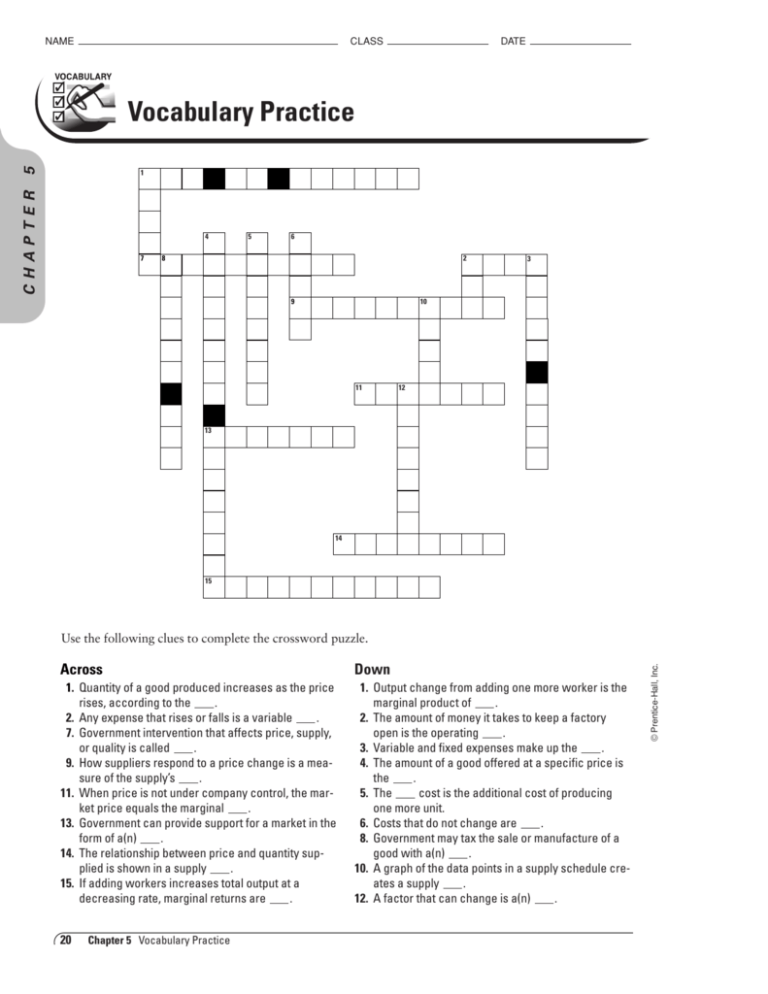 NAME
CLASS
DATE
5
Vocabulary Practice
CHAPTER
1
4
7
5
6
8
2
9
3
10
11
12
13
14
15
Across
Down
1. Quantity of a good produced increases as the price
rises, according to the
.
2. Any expense that rises or falls is a variable
.
7. Government intervention that affects price, supply,
or quality is called
.
9. How suppliers respond to a price change is a measure of the supply's
.
11. When price is not under company control, the market price equals the marginal
.
13. Government can provide support for a market in the
form of a(n)
.
14. The relationship between price and quantity supplied is shown in a supply
.
15. If adding workers increases total output at a
decreasing rate, marginal returns are
.
1. Output change from adding one more worker is the
marginal product of
.
2. The amount of money it takes to keep a factory
open is the operating
.
3. Variable and fixed expenses make up the
.
4. The amount of a good offered at a specific price is
the
.
5. The
cost is the additional cost of producing
one more unit.
6. Costs that do not change are
.
8. Government may tax the sale or manufacture of a
good with a(n)
.
10. A graph of the data points in a supply schedule creates a supply
.
12. A factor that can change is a(n)
.
20
Chapter 5 Vocabulary Practice
© Prentice-Hall, Inc.
Use the following clues to complete the crossword puzzle.