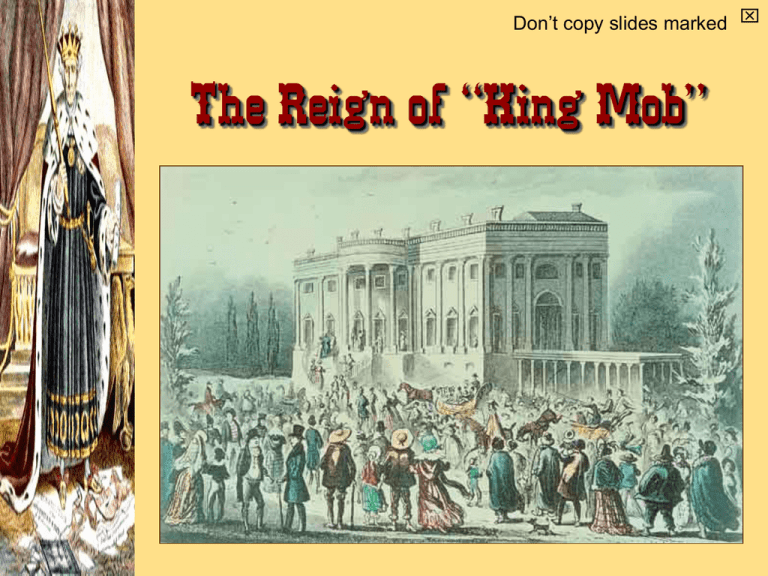 Don't copy slides marked x
The Reign of "King Mob"
Why Increased
Democratization?
3
Universal White Male Suffrage
3
Vermont, 1791
3
Spread of Public Education—3 R's
3
Steady growth of market economy
3
Rise in voter turnout
3
1824, only 1/4th of voted> #
doubled 1828
Voting Requirements
in the Early 19c
x
Politics of the People
Mass Appeal
• Born in log cabin—
humble origins
• Not too clean, well
dressed, grammatical, or
intellectual
• Popularity of Indian
Fighters/Military Heroes
– Andy Jackson
– Davy Crockett
– William Henry Harrison
New Style of Politics
3
3
3
Popular campaigning (parades, rallies,
floats, banners, badges, songs
barbecues, free drinks, baby
kissing, etc.)
Electoral College chosen directly
1831—national
nominating
replaces
caucus
convention
Jackson's Opponents in
1824
Henry Clay
[KY]
John Quincy Adams
[MA]
William H. Crawford
[GA]
John C. Calhoun
[SC]
Results of the 1824 Election
A
"Corrupt
Bargain?"
x
x
Henry Clay used his influence as
Speaker of the House to get John Q.
Adams elected> Adams appointed Clay
his Secretary of State.
John Quincy Adams:
Yankee Misfit in White House
• Puritanical honor
• Supported Internal Improvements
– Including national university & astronomy
observatory
•
•
•
•
Tried to curb land speculation
For fair treatment of Cherokee
Billiard Table & Chess Scandal
Served in House after presidency
– Fought gag rule on slavery
Personified the new
West:
Orphaned as child, no
formal education
Tennessee Lawyer
Violent temper, deadly
duelist
Western aristocrat: The
Hermitage (slave
plantation)
Rachel Jackson
Final Divorce Decree
x
1828 Election Results
x
Jackson in Mourning for His Wife
x
What are the key controversies
of Jackson's Presidency?
Spoils System
Kitchen Cabinet
Nullification Crisis
Bank War
Mayville Road Bill—1 of
12 vetos
Specie Circular
Indian Policy
The "Peggy Eaton Affair"
•Caused
Jackson's break
with Calhoun
and his cabinet
•Kitchen
Cabinet
• Stopped Here on 10/30/13
1832 Tariff Conflict
3
1828 --> "Tariff of
Abomination"
3
Rebellion in South Carolina
3
Jackson sent army
3
Clay's "Compromise of
1833"
The Bank War
Nicholas
Biddle
3
"Pet Banks"
3
Specie Circular
President
Jackson
Opposition to the
"Soft"
(paper) $
3
3
state bankers felt
it restrained their
banks from issuing
bank notes freely.
supported rapid
economic growth
& speculation.
2nd
B.U.S.
"Hard"
(specie) $
3
3
coin was
only safe
currency.
suspicious of
expansion &
speculation.
x
The Downfall of "Mother Bank"
x
1832 Election Results
x
Results of Specie Circular
$ Banknotes loose their value.
$ Land sales plummeted.
$ Credit not available.
$ Businesses began to fail.
$ Unemployment rose.
The Panic of 1837!
Panic of 1837
x
Essential Question:
Champion of
the
"Common Man"?
OR
"King"
Andrew?