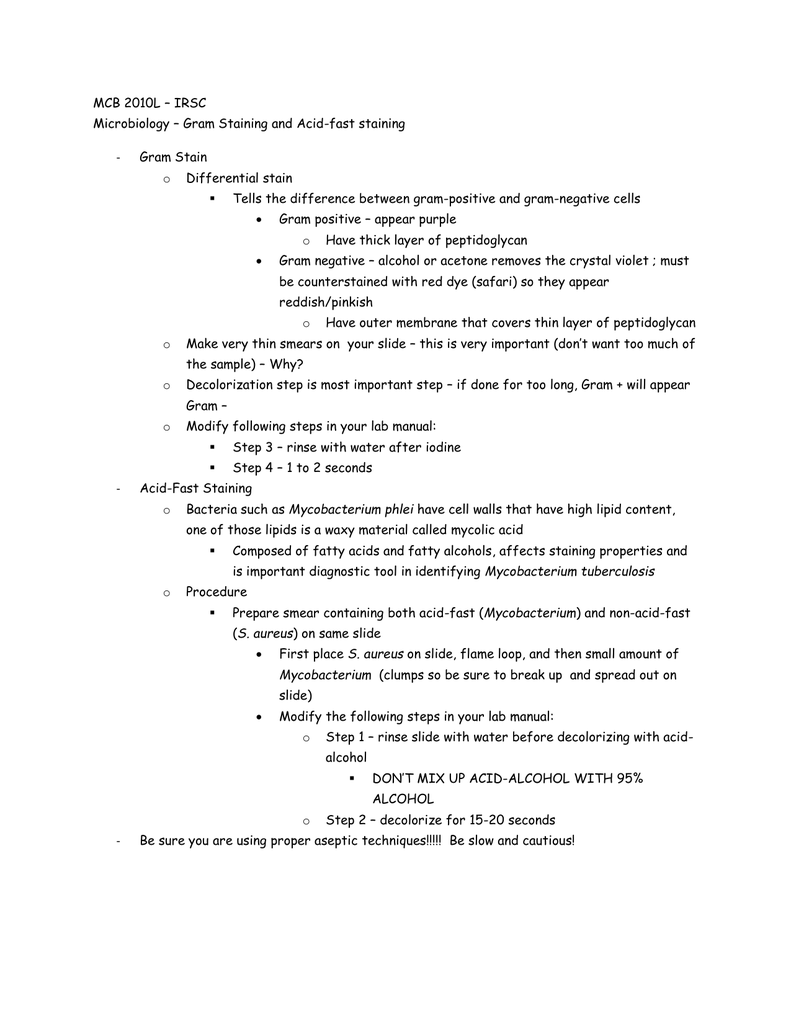 MCB 2010L – IRSC
Microbiology – Gram Staining and Acid-fast staining
-
Gram Stain
o
Differential stain

Tells the difference between gram-positive and gram-negative cells

Gram positive – appear purple
o

Have thick layer of peptidoglycan
Gram negative – alcohol or acetone removes the crystal violet ; must
be counterstained with red dye (safari) so they appear
reddish/pinkish
o
o
Have outer membrane that covers thin layer of peptidoglycan
Make very thin smears on your slide – this is very important (don't want too much of
the sample) – Why?
o
Decolorization step is most important step – if done for too long, Gram + will appear
Gram –
o
-
Modify following steps in your lab manual:

Step 3 – rinse with water after iodine

Step 4 – 1 to 2 seconds
Acid-Fast Staining
o
Bacteria such as Mycobacterium phlei have cell walls that have high lipid content,
one of those lipids is a waxy material called mycolic acid

Composed of fatty acids and fatty alcohols, affects staining properties and
is important diagnostic tool in identifying Mycobacterium tuberculosis
o
Procedure

Prepare smear containing both acid-fast (Mycobacterium) and non-acid-fast
(S. aureus) on same slide

First place S. aureus on slide, flame loop, and then small amount of
Mycobacterium (clumps so be sure to break up and spread out on
slide)

Modify the following steps in your lab manual:
o
Step 1 – rinse slide with water before decolorizing with acidalcohol

DON'T MIX UP ACID-ALCOHOL WITH 95%
ALCOHOL
o
-
Step 2 – decolorize for 15-20 seconds
Be sure you are using proper aseptic techniques!!!!! Be slow and cautious!