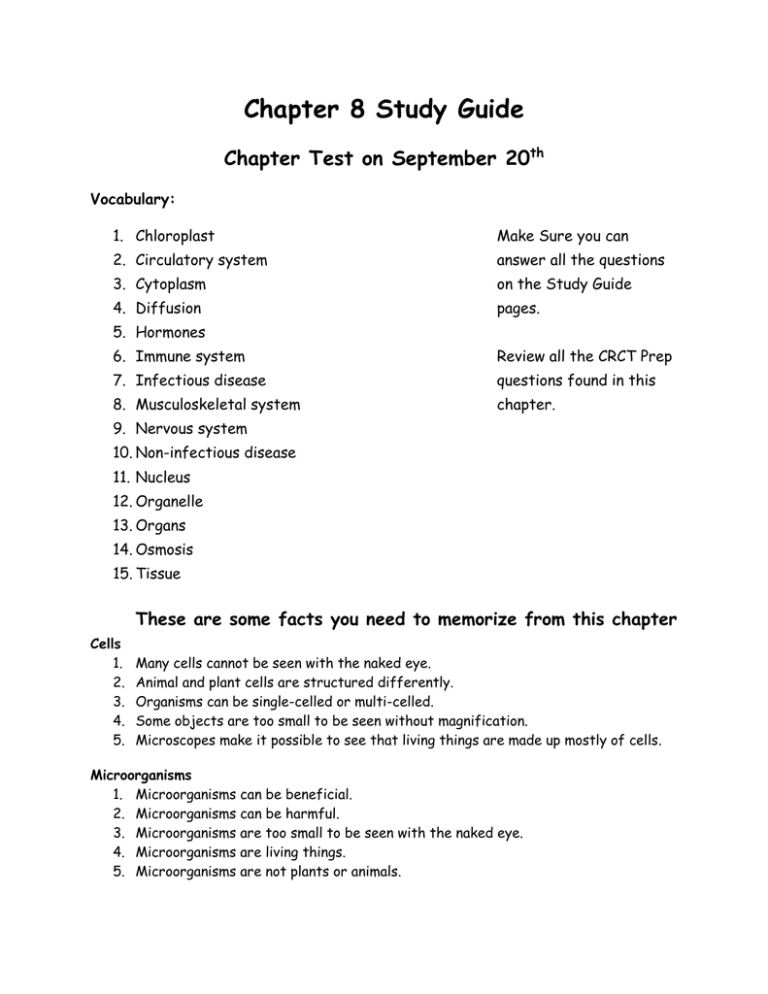 Chapter 8 Study Guide
Chapter Test on September 20th
Vocabulary:
1. Chloroplast
Make Sure you can
2. Circulatory system
answer all the questions
3. Cytoplasm
on the Study Guide
4. Diffusion
pages.
5. Hormones
6. Immune system
Review all the CRCT Prep
7. Infectious disease
questions found in this
8. Musculoskeletal system
chapter.
9. Nervous system
10. Non-infectious disease
11. Nucleus
12. Organelle
13. Organs
14. Osmosis
15. Tissue
These are some facts you need to memorize from this chapter
Cells
1.
2.
3.
4.
5.
Many cells cannot be seen with the naked eye.
Animal and plant cells are structured differently.
Organisms can be single-celled or multi-celled.
Some objects are too small to be seen without magnification.
Microscopes make it possible to see that living things are made up mostly of cells.
Microorganisms
1. Microorganisms can be beneficial.
2. Microorganisms can be harmful.
3. Microorganisms are too small to be seen with the naked eye.
4. Microorganisms are living things.
5. Microorganisms are not plants or animals.