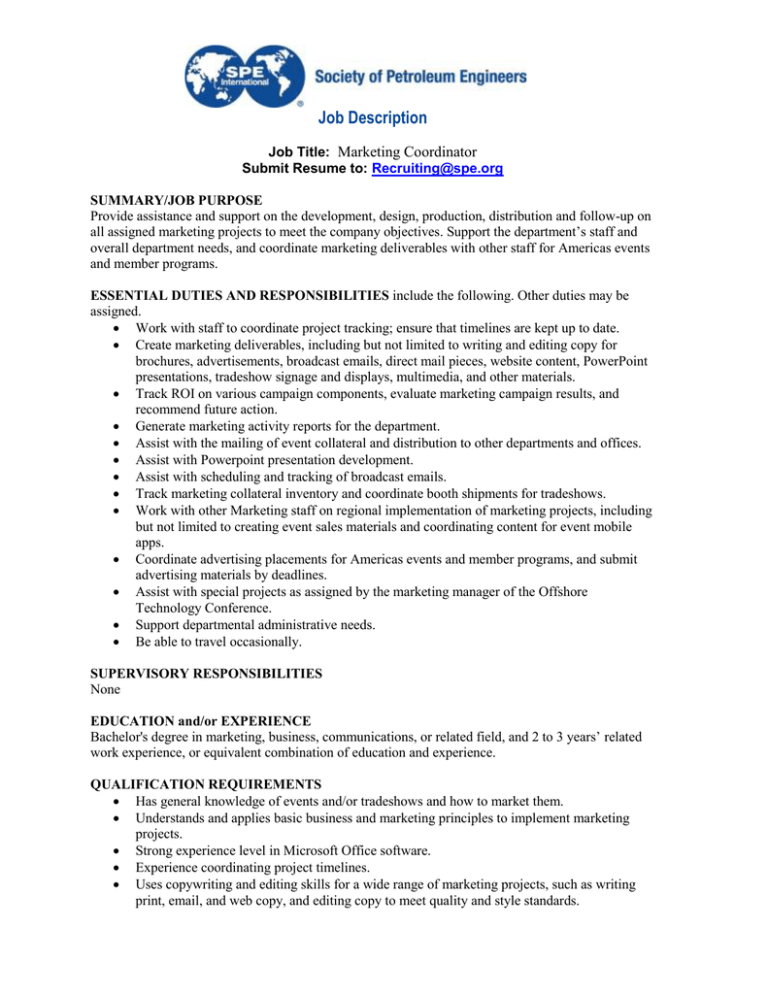 Job Description
Job Title: Marketing Coordinator
Submit Resume to: Recruiting@spe.org
SUMMARY/JOB PURPOSE
Provide assistance and support on the development, design, production, distribution and follow-up on
all assigned marketing projects to meet the company objectives. Support the department's staff and
overall department needs, and coordinate marketing deliverables with other staff for Americas events
and member programs.
ESSENTIAL DUTIES AND RESPONSIBILITIES include the following. Other duties may be
assigned.
 Work with staff to coordinate project tracking; ensure that timelines are kept up to date.
 Create marketing deliverables, including but not limited to writing and editing copy for
brochures, advertisements, broadcast emails, direct mail pieces, website content, PowerPoint
presentations, tradeshow signage and displays, multimedia, and other materials.
 Track ROI on various campaign components, evaluate marketing campaign results, and
recommend future action.
 Generate marketing activity reports for the department.
 Assist with the mailing of event collateral and distribution to other departments and offices.
 Assist with Powerpoint presentation development.
 Assist with scheduling and tracking of broadcast emails.
 Track marketing collateral inventory and coordinate booth shipments for tradeshows.
 Work with other Marketing staff on regional implementation of marketing projects, including
but not limited to creating event sales materials and coordinating content for event mobile
apps.
 Coordinate advertising placements for Americas events and member programs, and submit
advertising materials by deadlines.
 Assist with special projects as assigned by the marketing manager of the Offshore
Technology Conference.
 Support departmental administrative needs.
 Be able to travel occasionally.
SUPERVISORY RESPONSIBILITIES
None
EDUCATION and/or EXPERIENCE
Bachelor's degree in marketing, business, communications, or related field, and 2 to 3 years' related
work experience, or equivalent combination of education and experience.
QUALIFICATION REQUIREMENTS
 Has general knowledge of events and/or tradeshows and how to market them.
 Understands and applies basic business and marketing principles to implement marketing
projects.
 Strong experience level in Microsoft Office software.
 Experience coordinating project timelines.
 Uses copywriting and editing skills for a wide range of marketing projects, such as writing
print, email, and web copy, and editing copy to meet quality and style standards.






Job Description
Comfortable recommending creative approaches to meet project objectives.
Good interpersonal skills to work with internal customers/vendors.
Good at managing priorities to ensure on-time delivery of multiple projects with competing
deadlines.
Flexible; can easily work with many different people in different departments and functions,
local and long distance.
Strong analytical skills and basic understanding of email marketing, direct mail, and web
metrics.
Effectively respond to questions from groups of managers and internal clients.
Other Qualifications and Competencies that are important to success at SPE include:
 Attention to Detail
 Building Collaborative Relationships
 Customer/Member Relations
 Flexibility and Adaptability
 Fostering Teamwork
 Initiative
 Planning & Organizing/Time Management
 Problem Solving
 Results Orientation
 Written and Oral Communications
TRAVEL REQUIREMENTS
Must be able to travel up to 10% domestically. Some overnight stay will be required.
LANGUAGE SKILLS
Ability to learn, analyze, and interpret general business periodicals, professional journals, technical
procedures, or governmental regulations. Ability to compose reports, business correspondence, and
online communications. Ability to effectively present information and respond to questions from
groups of managers, clients, and customers.
MATHEMATICAL SKILLS
Ability to calculate figures and amounts such as discounts, interest, commissions, proportions,
percentages, area, circumference, and volume. Ability to apply concepts of basic algebra.
Understanding of statistical concepts and their application in data analysis.
REASONING ABILITY
Ability to define problems, collect data, establish facts, and draw valid conclusions. Able to analyze
complex data sets to gain insight from them, then present findings effectively in graphical form to
allow ease of understanding.
ORGANIZATIONAL CULTURE
At SPE, we feel it is important to find employees who are a match for our culture. Employees who
reflect these values will find themselves more at ease and better able to thrive within our
environment.
 Accountability & Integrity
 Global Mindset
 Forward Thinking and Open to New Ideas




Job Description
Member Orientation
Open Communications
Safety Mindset
Strive for Excellence
PHYSICAL DEMANDS
The physical demands described here are representative of those that must be met by an employee to
successfully perform the essential functions of this job. Reasonable accommodations may be made
to enable individuals with disabilities to perform the essential functions.
While performing the duties of this job, the employee is regularly required to operate, use or place
objects, tools, or controls and effectively communicate. The employee frequently is required to
remain stationary for periods of time. The employee may occasionally be required to move or reach to
high or low spaces. The employee must occasionally lift and/or move up to 20 pounds. May be
required to detect, recognize and observe objects near and at a distance, as well as perceive color and
estimate depth.
WORK ENVIRONMENT
The work environment characteristics described here are representative of those an employee
encounters while performing the essential functions of this job. Reasonable accommodations may
be made to enable individuals with disabilities to perform the essential functions.
The workstation for this position will be in a cubicle and the noise level in the work environment is
usually quiet to moderate.
This job description is subject to change at any time.