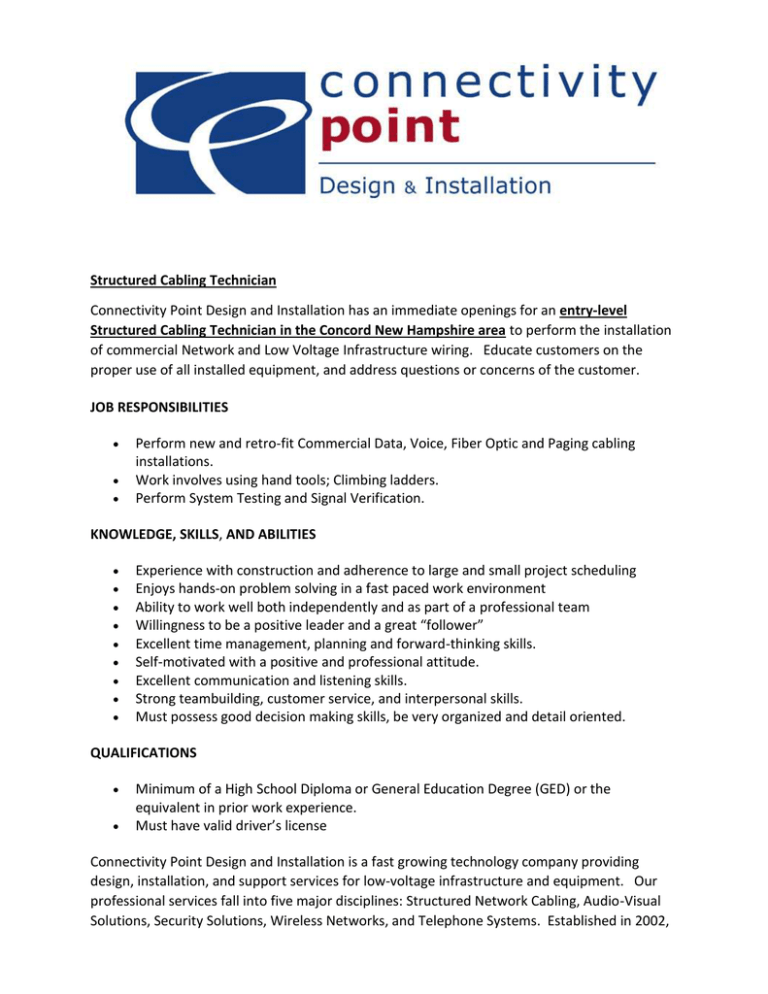 Structured Cabling Technician
Connectivity Point Design and Installation has an immediate openings for an entry-level
Structured Cabling Technician in the Concord New Hampshire area to perform the installation
of commercial Network and Low Voltage Infrastructure wiring. Educate customers on the
proper use of all installed equipment, and address questions or concerns of the customer.
JOB RESPONSIBILITIES



Perform new and retro-fit Commercial Data, Voice, Fiber Optic and Paging cabling
installations.
Work involves using hand tools; Climbing ladders.
Perform System Testing and Signal Verification.
KNOWLEDGE, SKILLS, AND ABILITIES









Experience with construction and adherence to large and small project scheduling
Enjoys hands-on problem solving in a fast paced work environment
Ability to work well both independently and as part of a professional team
Willingness to be a positive leader and a great "follower"
Excellent time management, planning and forward-thinking skills.
Self-motivated with a positive and professional attitude.
Excellent communication and listening skills.
Strong teambuilding, customer service, and interpersonal skills.
Must possess good decision making skills, be very organized and detail oriented.
QUALIFICATIONS


Minimum of a High School Diploma or General Education Degree (GED) or the
equivalent in prior work experience.
Must have valid driver's license
Connectivity Point Design and Installation is a fast growing technology company providing
design, installation, and support services for low-voltage infrastructure and equipment. Our
professional services fall into five major disciplines: Structured Network Cabling, Audio-Visual
Solutions, Security Solutions, Wireless Networks, and Telephone Systems. Established in 2002,
this Maine based business has more than 60 employees and has performed work in 44 states
and 24 countries.
Named one of the Best Places to Work in Maine for two years in a row, Connectivity Point is an
equal opportunity employer offering competitive wages and generous employee benefits
including paid holidays, Paid Time Off (PTO), group medical, dental, disability and life insurance,
and 401K retirement plan with a company match.
To apply, please send a cover letter and resume to employment@connectivitypoint.com.
Please write C/NH Tech – YOUR NAME in the subject line of the email and include your salary
history. We look forward to hearing from you.