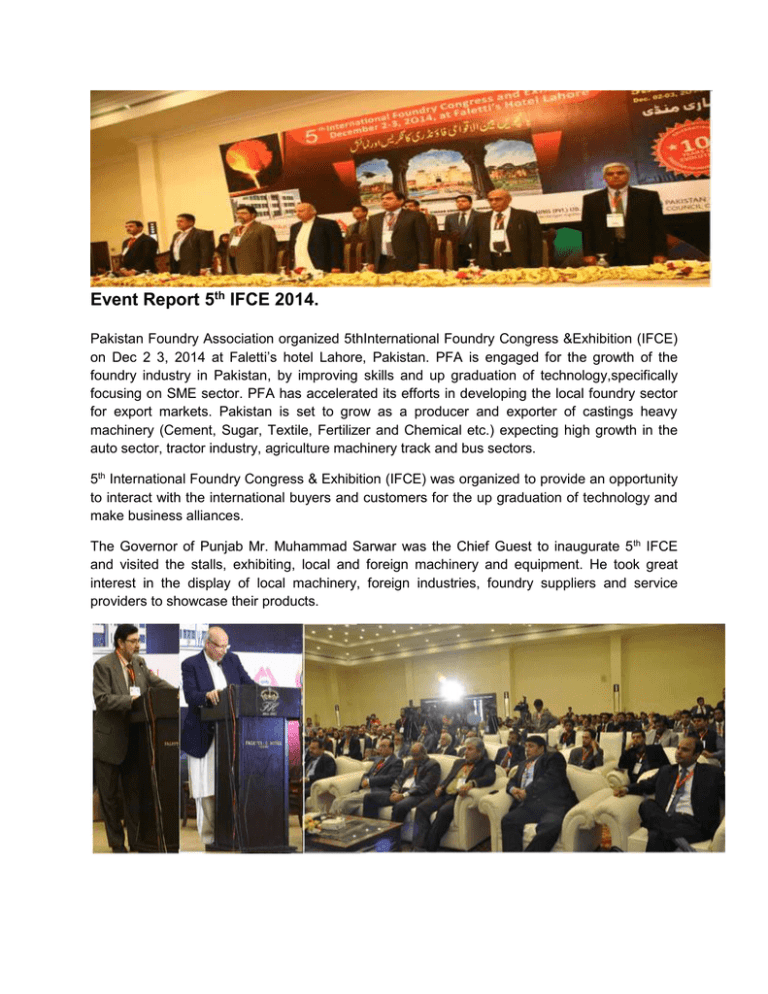 Event Report 5th IFCE 2014.
Pakistan Foundry Association organized 5thInternational Foundry Congress &Exhibition (IFCE)
on Dec 2 3, 2014 at Faletti's hotel Lahore, Pakistan. PFA is engaged for the growth of the
foundry industry in Pakistan, by improving skills and up graduation of technology,specifically
focusing on SME sector. PFA has accelerated its efforts in developing the local foundry sector
for export markets. Pakistan is set to grow as a producer and exporter of castings heavy
machinery (Cement, Sugar, Textile, Fertilizer and Chemical etc.) expecting high growth in the
auto sector, tractor industry, agriculture machinery track and bus sectors.
5th International Foundry Congress & Exhibition (IFCE) was organized to provide an opportunity
to interact with the international buyers and customers for the up graduation of technology and
make business alliances.
The Governor of Punjab Mr. Muhammad Sarwar was the Chief Guest to inaugurate 5 th IFCE
and visited the stalls, exhibiting, local and foreign machinery and equipment. He took great
interest in the display of local machinery, foreign industries, foundry suppliers and service
providers to showcase their products.
Heacknowledged the participation of multinational companies and guests from India, UK,
Netherland, Italy, Germany, Turkey, UAE, Sweden, Tunis, Morocco, and was delighted to see
the latest technologiesby oversees companies and suppliers. He personally welcome them and
foundry men and users of castings from different countries. He hoped, 5th IFCE will enable the
participants from abroad to interact with local foundry men to know the casting techniquesused
here, for business development.
He said, it is great encouragement for me to know, the foundry products contribute more than
20% to the total export of engineering goods form Pakistan. He replied, on a comment of Mr.
Sikander Khan President that PFA is not a small organization rather it has great potential and
an effective organization working qualitatively and quantitatively.Our Government recognize the
role of foundry industry as a major contributor to the economy and we are ready tohelp outfor its
bettermentin all possible ways. I understand that this industry has suffered a lot in the past due
to increase of material cost and energy crises. I feel foundry sector can play a big role by
improving its exports meeting the international quality standards.
I would like to mention that Pakistan has been benefited by
GST plus in Euro zone and the export has been increased
significantly. He said our industry has great potential and our
export can grow too much higher level if the crisis of energy and
material prices are controlled. I want to pay tribute to the
business community (foundry, textile, agriculture) which is
helping us to stand on our feet incipit of certain problems. I feel
working together and partnership make great difference
between academia, industry and business community.
I thank you very much for inviting me in this mega event.
Earlier Mr. Sikander Mustafa Khan welcomed Mr. Muhammad
Sarwar the Governor of Punjab and thanked him for sparing his valuable time to inaugurate 5 th
IFCE. I feel pleasure that it is a special occasion today since our existence of10 year. A decade
of small but effective organizationworking towards betterment of foundry industry. This event
has two folds, conference and exhibition both are important for the foundry industry and the
allied industries. Our industry has great importance for automotive sector, (trucks, buses,
motorbikes, cars, Pumps, valves & electric motor castings etc.) cement, sugar, chemical,
fertilizer and steel industries,they all have some connection with thissector.
When few foundries started working on the use of computer simulation technology for foundry in
Pakistan, it was realized that technology growth issues cannot produce enormous results unless
they are taken up on common platform. Responding to this idea some of the leading foundries
teamed up to create the structure of this great idea.
Pakistan Foundry Association was formed with specific objective to make Pakistan a global
player in this industry.Members of the association are encouraged to develop a relation that will
promote and enhance cooperation, exchange of ideas and experience among the members.
Wetake our members and associates to international exhibitions(GIFA, Ankiros, MMI, IFEX,
Hannovermesse, agro technical etc.) tobroaden their visionand bring technology for
advancement in the industry. PFA facilitate export/import related activities of the members, to
promote the foundry industry at Domestic and International forums.
Our foremost objective is skill development and improvement in technology and in this regard
we have been able to establish the Foundry Service Center at the University Engineering
Technology (UET) with the help of SMEDA. In FSC classes has been started already and
various courses and workshops are being conducted for skills development.
Mr. Mausad Akhtar presented an overview of foundry
industry in PAKISTAN. He said there are almost 1640
foundries operating in Pakistan, mostly in the SME sector
and we have about 350 - 400 thousand tons of casting
capacity. WecastGrey, S. G. iron, steel, special steels
(duplex) and non-ferrous castings.Our foundries are
primarily engaged inmanufacturing, casting for auto sector,
tractors and to support effectively in the cement sector,
chemical, paper, sugar, fertilizer industries by
manufacturing consumer parts for them. The agriculture
implements are also one of the important areas and our foundries are providingthose products,
parts to OEM. So we cover the entire spectrum of the industry and extendsupport to them.
PFA is indeed a young organization, some of the milestones, we have achieved…… Four
IFCEs and we are in 5th IFCE today. We organized it every alternate year very
professionallyMaashallah. This gives an opportunity to our foundry men and managers to
interact with their counterparts, suppliers, customers and stake holders to adopt new
technologies and increase their business.
We have also provided state of the art foundry simulation software at Foundry Service Center in
UET Lahore, to train the students on this latest technology as well as offer the services to our
foundries, so that they can simulate their castings and to identify and diagnose their problems.
We also offer internship programs to the students of engineering universities in Pakistan. The
students get explore and being trained on the floor about the foundry technology and the
industry getting advantage from young students working for them during summer vocations and
this has started bringing fruits.
PFA publishes quarterly ELEMENT magazine it has rich contents related to foundry
technologies and is distributed to all leading teaching institutes of Pakistan (dealing in
metallurgy), all related government officials, foundry men all over Pakistan, steel mills (around
250 Approx.), steel alloys and foundry suppliers, sugar mills, cement factories. Sent online to
more than 500 foundries in India and around 100 participants from Asian countries and foundry
men in Europe, Iran & GIFA, USA, UK and all important foundry journals.
www.pfa.org.pk PFA is in link with 65 international foundry associations and receiving number of
international foundry journals also linked on website for our readers. Here you can find profile,
members list and lot of activities of PFA since its creation along with useful links.
Mr. Sikander Mustafa Khan, Mr. Masud Akhtar, Mr. AsimQadri including all guests' paid rich
tribute to Mr. Abdul Rashid Secretary PFA for organizing this mega event with great zeal and
effort. They commented he is one and only who deserves all appreciations to do it so efficiently.
We wish him great success for future too.
5th IFCE proved to be the best among the last five such events in 10 years in all aspects.
Exhibitors and visitors were happy and satisfied with the arrangements. Especially foreigners
enjoyed the hospitality of Lahore.
Vote of ThanksMr. IrfanAqeel-CEO.Millat Tractors thanked the chief guest Mr. Muhammad
Sarwar for his presence to grace this event. He specially thanked all foreign guests travelled
especially from their home towns to participate in 5th IFCE and hope it is a fruitful trip for them.
He said this time we are having greater number of participant from abroad e.g. India, UK,
Netherland, Italy, Germany, Turkey, UAE, Sweden, Tunis, Morocco including local participants.
He invited all the guests to do come in the next event.
Scientific SessionAfter the inaugural ceremony there were 5 scientific/technical paper
presentation sessions in Crystal Hall of Faletti's Hotel Lahore. Unfortunately, many committed
speakers from abroad could not participate due to traveling visa constrainsand some political
disturbances in Pakistan. Anyway, we are grateful to our expected guests who contributed their
technical papers presented by our technologist and metallurgist.
Those who presented papers from…….
Pakistan: Prof. Dr. Fazl-a-Khalid ,Prof. M. Ashraf Sheikh, Prof. Dr. Khalid Mahmood Ghauri,
Eng. Mujtaba Hassan, Prof. Dr. Mohammad Mujahid, Mr. Sirajuddin Khan Senior Foundry
Consultant, Eng. Mr.UmairAftab, Eng. Miss.RabiaAftab, Eng. Mr. RUB Nawaz Ansari, Eng. Mr.
Ahmed Sohail, Eng. Mr.Saqib Amin, Mr.Pervaiz Mahmood, Mr. F. Hussain, Maj(r) M. Arfaeen
Iqbal
India:Mr. Prof. S. K. PAKNIKAR, Mr. LAXMAN SUNDAR,Mr.Vishwas Kale,Mr.AnjanProdhan,
Mr. Arun DONGREY, Mr. Satyanarayana,Mr. D .GHOSH, Mr. Raj Kumar V M, Mr.Zion.
Energy Management WorkshopGIZ, a German organization introduced Energy Management
System (EnMS) in major foundries of PFA members. As a pilot project 5 foundries followed by
few others were picked up and provided those services of EnMS free of cost. To introduce
EnMS to other foundries GIZ extended greater favor to sponsor and conducted two workshops
parallel to the 5th IFC to extend EnMS in their respective foundries.
Scientific Session Chairmen:Mr. Javaid Ashraf, Mr. Syed. Aftab Ahmed, Syed, Mujataba
Ahmed, Munir Ahmed, Mr. Bernhard Meyhofer,Dr. Fazal-e-Khalid, Mr. Sirajuddin Khan, Dr.
SaleemShuja.
PFA organized special one to one meeting of Foundry men with Senior Foundry Consultant of
Pakistan to discuss their technical problems to improve their production. Such exchange of
views will benefit both the sectors and will save foreign exchange.
Delegates
Few important visitors from foreign countries like Mr. BasarOztopcular –
CukurovaKimya,
Mr.
ShyamKishor
Tiwari,
Mr.
Vinay
kumarluthra,
Mr.
GorgioBartaloliPetroni,Megatherm- India and many more.
According to survey report the exhibition was visited by around 5500 foundrymen, Engineers,
Technical Managers, Government Officers from ministries of Commerce, Industries,
Production,TDAP, SMEDA, EDB, NPO, Lahore Chamber of Commerce and Industries,
Students from Engineering Universities,all walks of Industrial Sector. The major visitors were
from Lahore, Gujranwala, Faisalabad, Multan, Sargodha, Rawalpindi/ Islamabad, Daska/Sialkot,
Sheikhupoora, Karachi.
Exhibitors:TctGermaney, Bhartia India, Ajay Syscon, Metal Power, Ing. Bonfigiloili, Aveks A.S,
Spectro,Wesaman Group, Electrotherm India, M.B.M- LLC, Inductrotherm, Glazier International,
Metha Brothersetc.
Millat Tractor, Bolan Casting, Qadri Group, Chenab Engg, KSB Pumps, Excel Engg,
Ravi Spherocast, Ravi Autos, HaseebWaqas, Matchless Engg. Electro Heat, Model Steel,
MannanShahid, Ideal Foundry, Millat Equipment, Mehta Brother, Paktherm, IRIS Instrument,
S.G.I, Mecas Foundry, Marriala Consultant, Punjab Industerial Estate, Safco, SMEDA,etc.
Mr. Sikander Mustafa Khan President PFA presented souvenirs to all exhibitors in a recognition
to their interest and participation in 5th IFCE.
Those who could not participate due to political
situation of Pakistan and certain restriction on
travelling but have sent their best wishes and
congratulations for the success of 5th
International Foundry Congress & Exhibition
i.e. Anwas Patel(BhartiaPulverisers) Dinesh
Kumar
(BhartiaPulverisers),
SURESH
BABU,(Glazier international) Jayanthidutt,
(Glazier international) ,
Mr. KunalKanti
Sarkar,(Wesman)
Mr.
SudeepDhar
(Wesman),JiXiaotao (Dralon Refractory)
Zhang Jianmin,(Dralon Refractory), Partab
Singh(inductrotherm)
TarumSangal
(inductrotherm),
Vinot
Kapoor
(WFO
President)
Few important visitors from abroad are:Vinay
Kumar, (Gargi) Israel Devadas(Gargi), Zoin,
Basar(Cukurovakimya), Mr. BenanBetik, (Omega Foundry Machinery Limited) Mr. Serdar
Ali Erol(Aveks),
Mr. MahirBersisAytekin(Aveks)
,
Mr. Uğur Can, (Aveks)
,
VikasVarshnye,(Megatherm),BhadauriyaAnurag
Singh
(BhartiaPulverisers),
SudhirKisanGurram(TCT TESIC), ZIYA (Herasus ELECTRO-NITE), SHYAM KISHOR
(Electrotherm),VINAYSexsana(Electrotherm),Mr. HammadiLouati(Tunis), Mr. Bernhard
Meyhofer,
Gala Night
Pakistan Foundry Association arranged a gala dinner in which Mr. Sikandar Mustafa Khan was
the chief guest and presented momentous and souvenirs to foreign delegates and certificate to
volunteers. A sumptuous dinner was served to all guests with the traditional food Lahore fish,
mutton karahi, chicken boti, chicken kabab, palakpaneer, karri pakora, vegetable rice and
assorted salad and deserts. It was really delicious combination of food and enjoyed by
foreigners and our own peoples.
To entertain and relax our guests a musical evening was followed up by the dinner. Miss. Sara
Raza Khan a popular folk and ghazals singer, famous even in India entertained the audience
with beautiful songs. She was given a big applause.
5th international foundry congress and exhibition has been regarded a successful and
beneficiary event by the exhibitors and visitors. Exhibitor were satisfied by potential customers
visit and their dealing. We invite all those related with the foundry industry to join us in 6th IFCE.