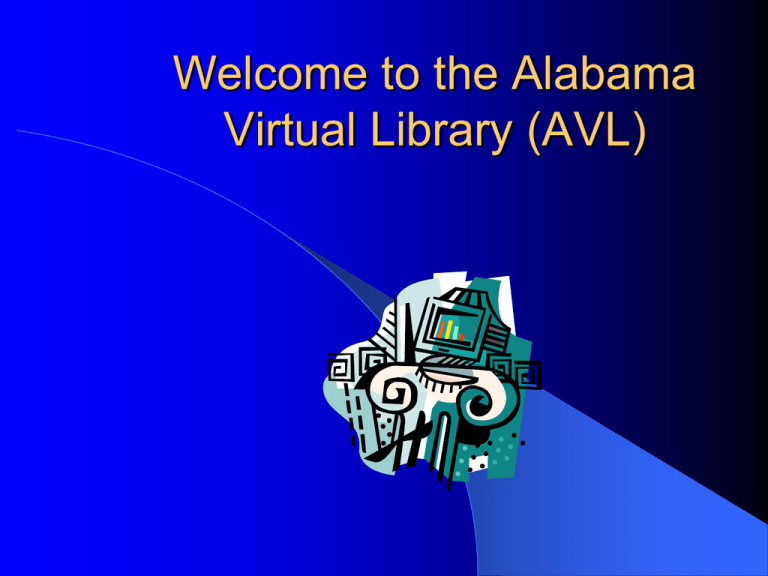 Welcome to the Alabama
Virtual Library (AVL)
What is the AVL?

AVL provides all students, teachers, and
citizens of the State of Alabama with online
access to essential library and information
resources.
What can be found at the
AVL?
Newspaper articles
Magazine/Journal articles
Encyclopedia articles
Biographical information
Poetry
Television and radio transcripts
Library catalogs
Let's get started!
Click on Favorite Places and go to
"Welcome to the Alabama Virtual Library
OR
Enter URL: http://www.avl.lib.al.us
Choose location
Campus and Library
Home Access: In order to have home
access, you must go to your local public
library and get an access card
Databases
There are an almost overwhelming number
of databases.
Some are age specific.
Some are discipline specific.
Some provide a great variety of
information.
Databases
AccessScience – Includes:
 McGraw-Hill Encyclopedia of Science
and Technology
 Dictionary of Scientific and Technical
Terms
 Biographies
 News articles
Databases
African-American History and Culture
Biographies
Encyclopedia
Historical documents
Photo gallery
Maps and charts
Databases
Alabama Libraries
Online catalogs of many Alabama libraries
Databases
EBSCOHost Web
Full-text searches of magazines, journals,
and trade publications
Daily news feeds from the KnightRidder/Tribune Business News and KnightRidder/Tribune News Service
Articles can be printed or emailed
Databases
Electric
Library
Popular magazines
Scholarly journals
Newspapers
Broadcast transcripts
Photographs
Maps
Special collections for
K-12 students and
elementary school
students
Databases
Encyclopedias
Encyclopedia Americana
Maps
Multimedia content
Roget's II: The New Thesaurus
The American Heritage Dictionary of the English
Language
Wall Street Journal Almanac
Databases
Encyclopedias
Encyclopedia Britannica
Complete encyclopedia
Merriam-Webster's Collegiate Dictionary
Britannica Book of the Year
Databases
Encyclopedias
Grolier Multimedia Encyclopedia
Academic American Encyclopedia
Comprehensive atlas
Gallery of pictures and sounds
Timelines of noteworthy events, people,
ideas, and themes
Databases
Encyclopedias
New Book of Knowledge – Grades 3 and up
Articles
Maps
illustrations
Projects and activities
The American Heritage Children's Dictionary
The American Heritage Children's Thesaurus
Databases
Age specific
JuniorQuest: Junior high and middle school
Periodicals
KidsQuest: Elementary
 Periodicals
 World Book Encyclopedia
Searchasaurus: Elementary to middle school
 New World Encyclopedia
 EBSCO Encyclopedia of Animals
Databases
Poemfinder
Full-text poems
Poem citations and excerpts
Biographies
Images
Databases
Gale Group Literary Resources
Biographies
Essays
Criticisms of literary works
Contemporary authors
Scribner Writers Series
The Twayne Authors Series
What are the benefits of
using the AVL?
Abundance of relevant information
Always open
User-friendly
It's free!
It's FUN!!!