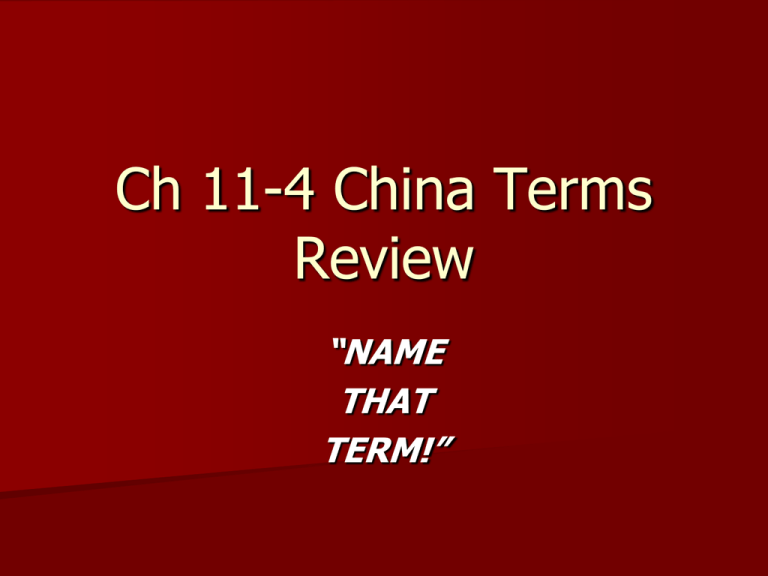 Ch 11-4 China Terms
Review
"NAME
THAT
TERM!"
BARBARIANS…
Chinese
reference to all who
lived outside of China…
 This
view explains their long-standing
policy of isolationism.,,
KOWTOW…
 Europeans
refused to do this
before China's Emperors because
it was a symbol that showed that
foreigners accepted their inferior
status…
Macao & Guangzhou…
In
the 1500's, these were the
only Chinese ports that
allowed foreign ships to unload
cargo.
OPIUM WAR…
 The
Chinese fought against the
British to stop the flow of an
illegal drug from India into
China…they were no match for
the British and were easily
defeated.
TREATY OF NANJING…
 Ended
the Opium Wars…the Chinese
Emperor agreed to unequal terms
under this treaty that allowed for
increased foreign influence & control
in China. Key point…the British
gained complete control of the Island
of Hong Kong (lasted until 1997).
EXTRATERRITORIALITY…
Westerners
accused of a
crime in China could be
tried in their own courts
instead of in Chinese courts.
SPHERES OF INFLUENCE…
An
area in which a
foreign nation has
special economic
privileges – these
privileges also gave
western nations political
influence in China.
OPEN DOOR POLICY…
The
US called on European
nations to support this in
China fearing that they would
try to colonize China. (policy
failed…but it did protect US
trade in China)
Taiping Rebellion…
Called
for reforms in
government & society…it
marked the beginning of a
long, slow revolution in China
that would eventually lead to
the end of dynastic rule.
CI XI…
 Conservative
widow of a former
Chinese Emperor who briefly
seizes power and restores the
Qing Dynasty…she is the last
Empress of China – when she dies
in 1911, dynastic rule in China
comes to an end.
Boxer rebellion…
Group
who called for the
expulsion of all foreigners from
China…they are easily
defeated by an international
army of western powers.
SUN YATSEN…
 Briefly
served as President of the
new Chinese republic in
1911…helped to organize China's
Nationalist Party. His "3
Principles" called for unifying
China, improving their standard of
living, and forming a democratic
government.
GUOMINDANG…
Another
name for the
Nationalist Party in
China.
CHIANG KAI SHEK…
Replaced
Sun Yatsen as the
leader of the Nationalist Party.
Led the fight against Mao and
the Communists for control of
China.
LONG MARCH…

Fierce battle between Chiang and the
Chinese communists that resulted in the
retreat of the communists to remote
northwest China…despite this loss… the
communists will regroup here and use the
events of WWII to their advantage and
eventually gain power.
MAO ZEDONG…
Chinese
communist leader who
becomes Chairman of the
People's Republic of China in
1949. He uses propaganda to
help push his communistic
ideology in China.
Historical status of Taiwan…

After their defeat by Mao & the
Communist army, the Nationalists fled
mainland China to the island of Taiwan.
There they established a democratic
government & capitalist economy.
Mainland China has never officially
recognized Taiwan's sovereignty. The
political status of Taiwan has been a
political hot button for centuries.