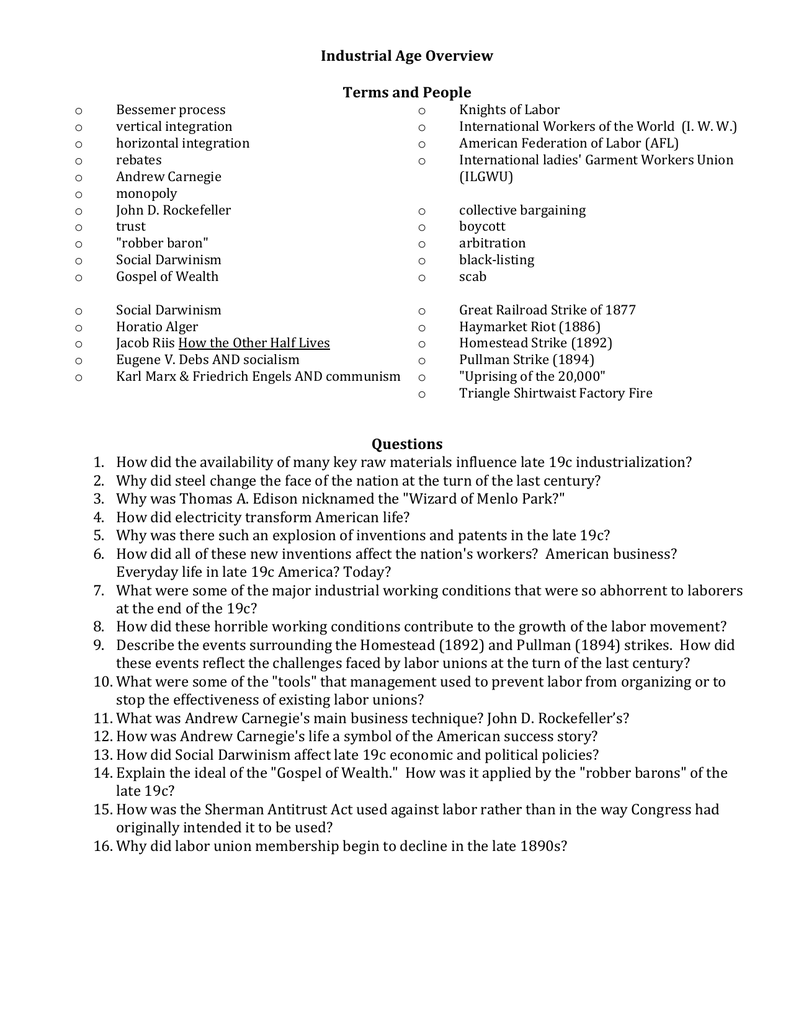 Industrial Age Overview
Terms and People
o
o
o
o
o
o
o
o
o
o
o
Bessemer process
vertical integration
horizontal integration
rebates
Andrew Carnegie
monopoly
John D. Rockefeller
trust
"robber baron"
Social Darwinism
Gospel of Wealth
o
o
o
o
Knights of Labor
International Workers of the World (I. W. W.)
American Federation of Labor (AFL)
International ladies' Garment Workers Union
(ILGWU)
o
o
o
o
o
collective bargaining
boycott
arbitration
black-listing
scab
o
o
o
o
o
Social Darwinism
Horatio Alger
Jacob Riis How the Other Half Lives
Eugene V. Debs AND socialism
Karl Marx & Friedrich Engels AND communism
o
o
o
o
o
o
Great Railroad Strike of 1877
Haymarket Riot (1886)
Homestead Strike (1892)
Pullman Strike (1894)
"Uprising of the 20,000"
Triangle Shirtwaist Factory Fire
Questions
1. How did the availability of many key raw materials influence late 19c industrialization?
2. Why did steel change the face of the nation at the turn of the last century?
3. Why was Thomas A. Edison nicknamed the "Wizard of Menlo Park?"
4. How did electricity transform American life?
5. Why was there such an explosion of inventions and patents in the late 19c?
6. How did all of these new inventions affect the nation's workers? American business?
Everyday life in late 19c America? Today?
7. What were some of the major industrial working conditions that were so abhorrent to laborers
at the end of the 19c?
8. How did these horrible working conditions contribute to the growth of the labor movement?
9. Describe the events surrounding the Homestead (1892) and Pullman (1894) strikes. How did
these events reflect the challenges faced by labor unions at the turn of the last century?
10. What were some of the "tools" that management used to prevent labor from organizing or to
stop the effectiveness of existing labor unions?
11. What was Andrew Carnegie's main business technique? John D. Rockefeller's?
12. How was Andrew Carnegie's life a symbol of the American success story?
13. How did Social Darwinism affect late 19c economic and political policies?
14. Explain the ideal of the "Gospel of Wealth." How was it applied by the "robber barons" of the
late 19c?
15. How was the Sherman Antitrust Act used against labor rather than in the way Congress had
originally intended it to be used?
16. Why did labor union membership begin to decline in the late 1890s?