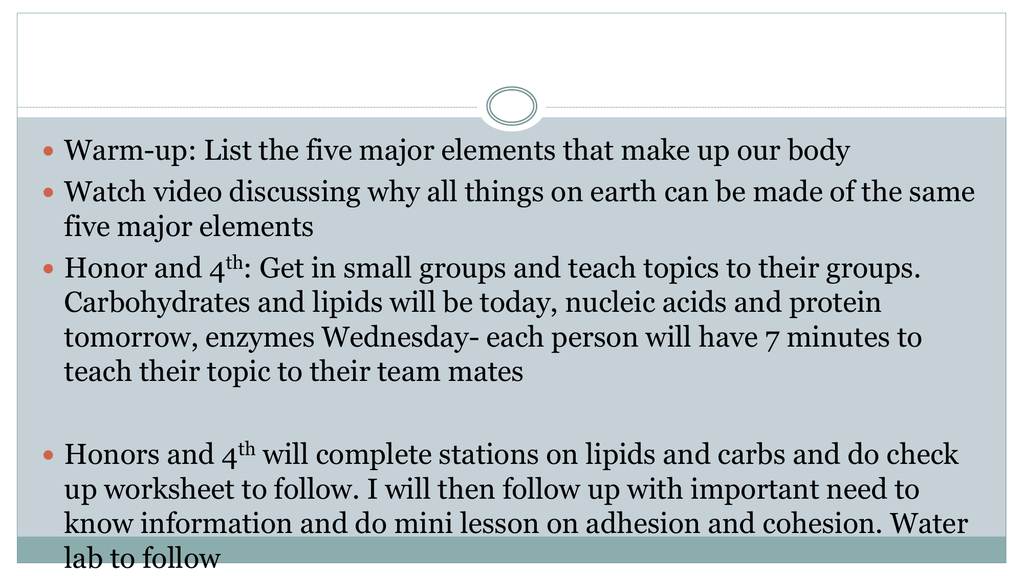  Warm-up: List the five major elements that make up our body
 Watch video discussing why all things on earth can be made of the same
five major elements
 Honor and 4th: Get in small groups and teach topics to their groups.
Carbohydrates and lipids will be today, nucleic acids and protein
tomorrow, enzymes Wednesday- each person will have 7 minutes to
teach their topic to their team mates
 Honors and 4th will complete stations on lipids and carbs and do check
up worksheet to follow. I will then follow up with important need to
know information and do mini lesson on adhesion and cohesion. Water
lab to follow
CATALYST
UNIT 2: BIOCHEMISTRY DAY 1
LIST THE FIVE (5) MAJOR ELEMENTS THAT MAKE
UP YOUR BODY
Umm…why are we learning about chemistry in biology?
Why are we learning about Chemistry???
5 elements make up over 90% of your body!
C, H, N, O, P
(Carbon, Hydrogen, Nitrogen, Oxygen, Phosphorous)
BECAUSE…..
Every biological process is part of a
chemical reaction!
All of the energy we need depends on
chemical reactions!
Basic Chemistry REMINDERS…
 Chemical symbols are used to represent each
element.

Found on the Periodic Table
Basic Chemistry REMINDERS…
 Compounds are combinations of 2 or more elements.
Biochemistry
Study of the chemicals
necessary for living things.
Also called Organic Chemistry.
Involves the element carbon
(C)
Organic vs. Inorganic
Organic Molecules
 Contain carbon, hydrogen and
oxygen atoms together
Inorganic Molecules
 Don't contain carbon, hydrogen
and oxygen together
 Make up living things
 Make up nonliving things
 Molecules that play an important
 Molecules that also play an
role in living things
 Most important organic molecule
is glucose
important role in living things
 Most important inorganic molecule
is water.
Biochemistry
 Terms to Know:
 Monomer – the smallest unit of a substance (the building
block)


Example: like one Lego block
Polymer – many monomers linked together to make a large
structure; also called macromolecules (many repeating
subunits linked together)

Example: Lego blocks put together to make a Lego house
Biochemistry
 Types of Organic Molecules (Macromolecules)
1.
Carbohydrates
2.
Lipids
3.
Proteins
4.
Nucleic Acids
CARBOHYDRATES
 Function:
 to store and release QUICK energy
 If the energy is not used, it gets stored as FAT (or LIPIDS)
 Monomer = monosaccharide (one unit of sugar)
 Examples: Glucose & Fructose
 Polymer = Polysaccharide (many
 Example: Starches
units of sugar)
The ATOMS & RATIO
 Made of CARBON (C), HYDROGEN (H), and
OXYGEN (O)
 These atoms are found in a special ration:
1:2:1 ratio
(Example: C6H12O6)
It LOOKS Like…
Monomer
Pictures
Polymer
It is IMPORTANT because…
 It is made by PRODUCERS in PHOTOSYNTHESIS
 GLUCOSE is the sugar made by plants during
photosynthesis.
 Animals use this glucose to help create cellular
energy (ATP)
TESTS
 FOR SUGAR: Benedict's Solution
 To help remember this: BEN LIKES SUGAR!
 FOR STARCH: Iodine
 To help remember this: I DINE ON STARCH!
Monosaccharides
 Monomer = 1 Unit of SUGAR
 Examples:
 Glucose
 Fructose
 Monomers are SIMPLE carbohydrates
 They give you quick energy and are typically not very
healthy

Example: sugars found in candy bars!
POLYSACCHARIDES
 Polymer = Many Units of SUGAR
 Examples:
 Starch  sugars in plants (made of many repeating glucose
molecules)
 Glycogen  energy storage in animal muscle
 Cellulose  found in plant cell walls; animals can not digest
 Polysaccharides are COMPLEX carbohydrates
 They are better for you than SIMPLE carbohydrates
 Examples: brown rice, potatoes, pasta, bread
They typically END in…
-OSE
Example: glucOSE, fructOSE,
lactOSE
What happens when they are not used?
 They turn into FAT
Properties of Water - Observations
Cohesion: Water is attracted to water
Adhesion: Water is attracted to other substances
*cohesion and adhesion are the "stickiness" that water
molecules have for each other and for other substances
*surface tension is the result of the tendency of water
molecules to attract one another
In a water molecule, the two hydrogen atoms align themselves
along one side of the oxygen atom, with the result being that
the oxygen side has a slight negative charge and the side with
the hydrogen atoms has a slight positive charge. Thus when
the positive side on one water molecule comes near the
negative side of another water molecule, they attract each
other and form a hydrogen bond.