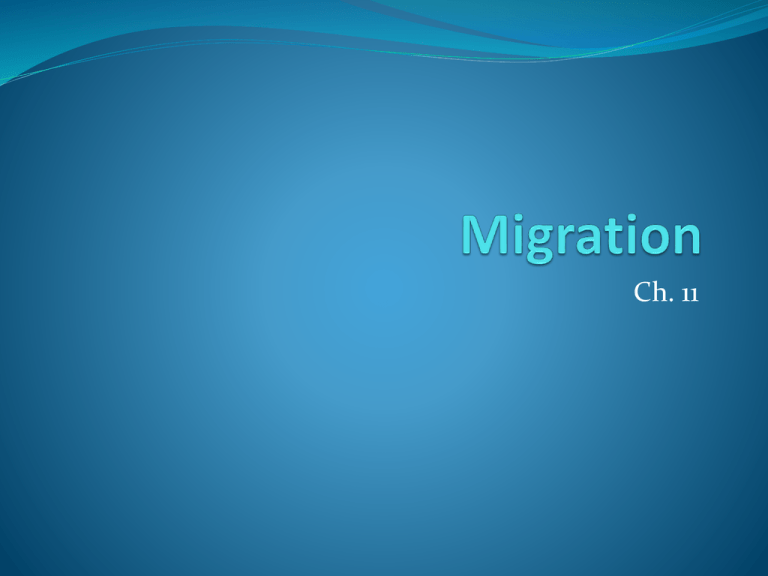 Ch. 11
What is Migration?
 Migration is the movement of people from one area to
another- usually permanently.
What Causes Migration?
Push Factors
Pull Factors
 An undesirable factor
pushes people out of old
 Attractions that lure
migrants to new
location.
 Emigrate- move out /exit
locations.
 Immigrate- move in
Push Factors
 Oppression- authority
mistreating a group of
people.
 Poverty- lack of money
or possessions (poor).
Push Factors (con.)
 Political Conflicts-
government policies,
war, & denial of citizen
rights make life
unlivable.
 Environmental Factors-
droughts, fires, floods,
earthquakes, hurricanes,
etc…
Pull Factors
 Freedom- politically or
religiously
 Economic Opportunity-
jobs, education, living
standard
Pull Factors (con.)
 Cultural Ties- reinforce a
part of one's culture i.e.
following family
members who moved
before.
Political, Social, Economic, & Environmental Factors
Types of Factors
Political Factors
Social Factors
Economic Motives
Environmental Factors
Social Factors
Types: Religious Persecution,
Ethnic Persecution,
Political Factors
Types: Government Policies,
Wars, Citizen Rights
Economic Factors
Type: Migration for better
Economic Opportunities.
Environmental
Factors
Types: Seasonal (follow crops
or water), Environmental
Disasters (floods, famine,
earthquakes, etc…)
Forced Migration
 Has historically been due to Political, Social, &
Economic Factors.
 Historically underlying reasons have been:
 War
 Social Persecution (slavery, expulsions)
 Economic Exploitation (slavery, expulsion from lands
Usual Migration Patterns
 People usually migrate
through valleys and
along H2O routes.
 Not through deserts,
dense forests, or large
mountain ranges.
 At least 10,000 yrs. ago
humans migrated across
a land bridge between
Siberia & Alaska
 Hunters followed herds-
spread thru N & S
America= Natives only
humans there till 1492
 Europeans & their
technology allow them
to conquer most of N &
S America.
North America
 Before 1869
Transcontinental
railroad built across U.S.to go from E to W coast
(avoiding Appalachian &
Rocky Mts- sailed
around S. America
(taking 3 months).
Africa
 Sahara Desert
was a barrier
between North
Africa and SubSaharan Africa.
 Societies in N.
Africa & S.S.
Africa developed
differently,
separate
languages and
customs.
China
 Built the Great Wall to
prevent tribes from
Mongolia crossing into
China.
Currently
 People have migrated all
over the world because
of increase in technology
especially airplanes.