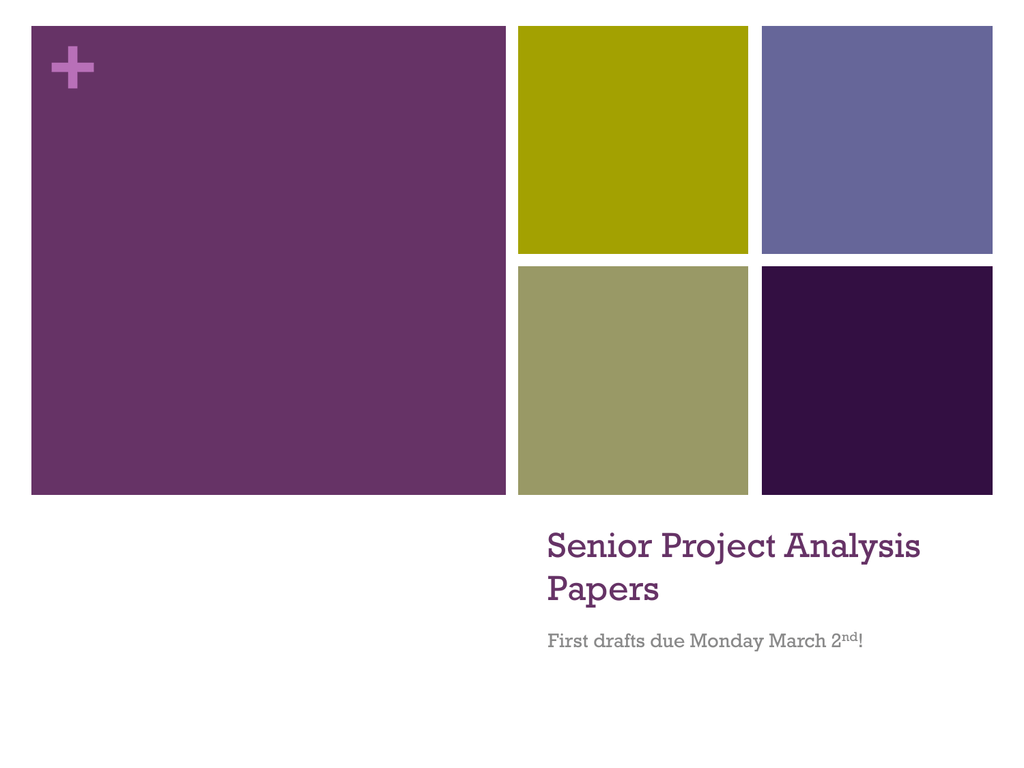 +
Senior Project Analysis
Papers
First drafts due Monday March 2nd!
+
Basic Formatting

MLA style

Pages Numbered (top right
hand corner with your last
name)

4 citations minimum

Title Page

12 pt. Times New Roman font

4-6 pages of writing

Double spaced

Works cited page

One inch margins
+
Finding sources

Related to your topic

Can be loosely related

Must have relevance to why you chose your project

If you are uncertain about a source, ask!

If you need help looking for sources, ask!
+
Sample title page
Your Name
Ms. Rowen
Advanced English 12
February 24, 2015
Title of Your Paper
+
Sample Title Page
Jane Smith
Ms. Rowen
Advanced English 12
February 24, 2015
Senior Project: Kokomo Humane Society
+
Thesis Statement
 An
analytical paper breaks down an issue or an
idea into its component parts, evaluates the issue
or idea, and presents this breakdown and
evaluation to the audience.
 Example Thesis
Statement: An analysis of the
college admission process reveals one challenge
facing counselors: accepting students with high
test scores or students with strong extracurricular
backgrounds.
+
Noodle Tools

Make sure you know your username and password

Save your sources as you find them

Know what type of source you're citing!


Interview?

Article from an online journal?

Book?
Create your works cited page by "exporting to word"
+
Resources



Purdue OWL

MLA formatting questions

In-text citation guide
Noodle Tools

Organize and save your sources

Create your works cited page quickly and easily!
UNC thesis statement worksheet (uploaded to Mrs. Scott's
webpage)
+
First Drafts

Must include 2 full pages

You're encouraged to write the full paper

The more you turn in, the more feedback you'll get back

You still need to include your title page and works cited page
for the first draft!

Must be typed!

You must reference each source at least once!


Include in-text citation
Use a quote or paraphrase
+
Introductions

Bring up the "issue" that leads to your project idea

Grab the audience's attention

Introduce what you did for your project

Present your thesis statement
+
Body Paragraphs

Each paragraph needs a purpose

Focus on what has been laid out by your thesis statement

Integrate your research!

Quotations

Paraphrasing

Explain the significance of each reference
+
Conclusions

Remind the reader of why there's a need for your project

Emphasize the current problem

Look forward: what impact did (or will) your project have?

Reflect on your overall experience and then write down the
overall conclusions that you make!