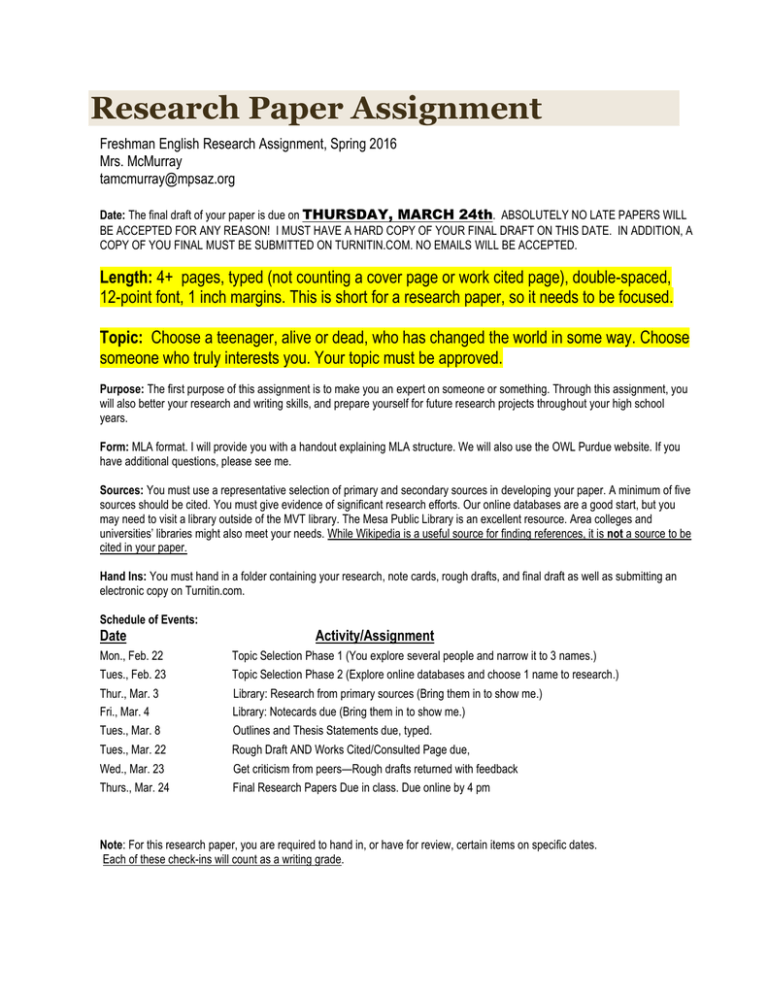 Research Paper Assignment
Freshman English Research Assignment, Spring 2016
Mrs. McMurray
tamcmurray@mpsaz.org
Date: The final draft of your paper is due on THURSDAY, MARCH 24th. ABSOLUTELY NO LATE PAPERS WILL
BE ACCEPTED FOR ANY REASON! I MUST HAVE A HARD COPY OF YOUR FINAL DRAFT ON THIS DATE. IN ADDITION, A
COPY OF YOU FINAL MUST BE SUBMITTED ON TURNITIN.COM. NO EMAILS WILL BE ACCEPTED.
Length: 4+ pages, typed (not counting a cover page or work cited page), double-spaced,
12-point font, 1 inch margins. This is short for a research paper, so it needs to be focused.
Topic: Choose a teenager, alive or dead, who has changed the world in some way. Choose
someone who truly interests you. Your topic must be approved.
Purpose: The first purpose of this assignment is to make you an expert on someone or something. Through this assignment, you
will also better your research and writing skills, and prepare yourself for future research projects throughout your high school
years.
Form: MLA format. I will provide you with a handout explaining MLA structure. We will also use the OWL Purdue website. If you
have additional questions, please see me.
Sources: You must use a representative selection of primary and secondary sources in developing your paper. A minimum of five
sources should be cited. You must give evidence of significant research efforts. Our online databases are a good start, but you
may need to visit a library outside of the MVT library. The Mesa Public Library is an excellent resource. Area colleges and
universities' libraries might also meet your needs. While Wikipedia is a useful source for finding references, it is not a source to be
cited in your paper.
Hand Ins: You must hand in a folder containing your research, note cards, rough drafts, and final draft as well as submitting an
electronic copy on Turnitin.com.
Schedule of Events:
Date
Activity/Assignment
Mon., Feb. 22
Topic Selection Phase 1 (You explore several people and narrow it to 3 names.)
Tues., Feb. 23
Topic Selection Phase 2 (Explore online databases and choose 1 name to research.)
Thur., Mar. 3
Fri., Mar. 4
Library: Research from primary sources (Bring them in to show me.)
Library: Notecards due (Bring them in to show me.)
Tues., Mar. 8
Outlines and Thesis Statements due, typed.
Tues., Mar. 22
Rough Draft AND Works Cited/Consulted Page due,
Wed., Mar. 23
Get criticism from peers—Rough drafts returned with feedback
Thurs., Mar. 24
Final Research Papers Due in class. Due online by 4 pm
Note: For this research paper, you are required to hand in, or have for review, certain items on specific dates.
Each of these check-ins will count as a writing grade.
What am I writing about?
Your Mission:
Part 1: Identify a person that has changed the world in some way.
Part 2: Then prove that this person has changed the world.
How do I do this?
Writing a research paper is a process, from identifying a topic, to learning about it
through research, to drawing a conclusion about it, to proving your thesis in your paper.
DO NOT WORRY: You will get there!
The Research Paper Process:
Step 1: Identify a topic. Who/what are you going to write about?
Step 2: Collect sources. Read them. Take notes on what you learn. (note cards)
Step 3: Develop a thesis—based on your research—that proves your point.
Step 4: Outline how you will defend your thesis. (How will you prove your point?
How will you convince us you are right?) This will be the outline of your paper, too.
Step 5: Organize your research and incorporate it into your outline.
Step 6: Using your outline, write a first draft.
Step 7: Edit and revise your draft.
Step 8: Clean it up! Write your final draft, including proper citation and a works
cited, or works consulted page.
Step 9: Submit it on Turnitin.com.
Step 10: Hand it in and bask in the glory of writing an AWESOME research paper!!!