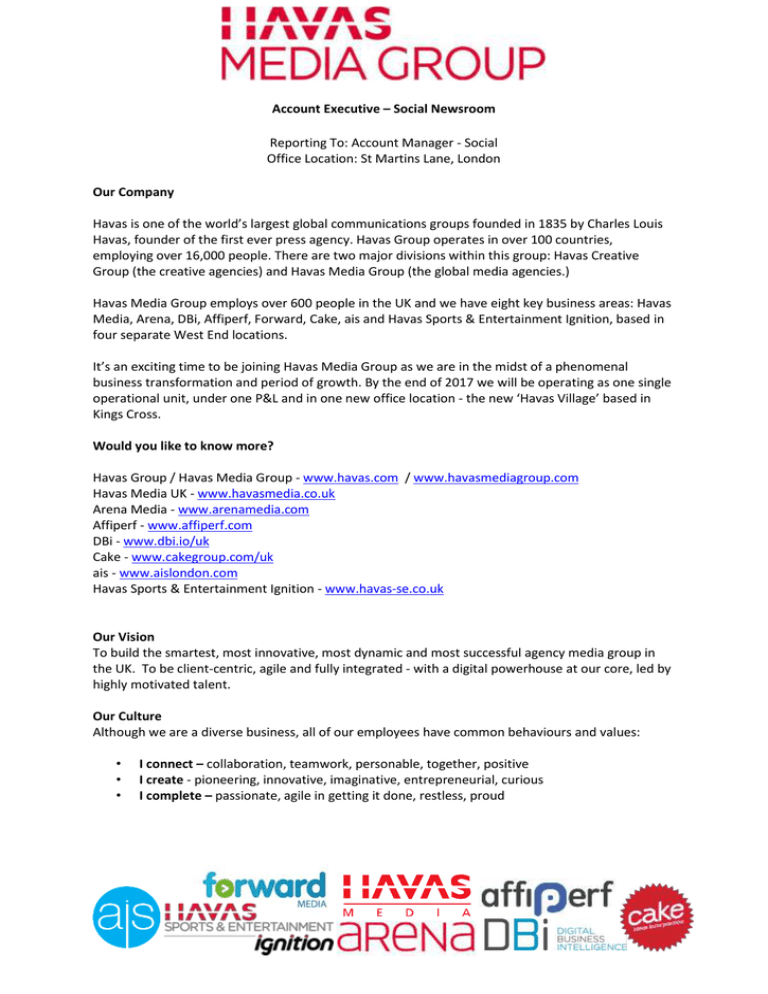 Account Executive – Social Newsroom
Reporting To: Account Manager - Social
Office Location: St Martins Lane, London
Our Company
Havas is one of the world's largest global communications groups founded in 1835 by Charles Louis
Havas, founder of the first ever press agency. Havas Group operates in over 100 countries,
employing over 16,000 people. There are two major divisions within this group: Havas Creative
Group (the creative agencies) and Havas Media Group (the global media agencies.)
Havas Media Group employs over 600 people in the UK and we have eight key business areas: Havas
Media, Arena, DBi, Affiperf, Forward, Cake, ais and Havas Sports & Entertainment Ignition, based in
four separate West End locations.
It's an exciting time to be joining Havas Media Group as we are in the midst of a phenomenal
business transformation and period of growth. By the end of 2017 we will be operating as one single
operational unit, under one P&L and in one new office location - the new 'Havas Village' based in
Kings Cross.
Would you like to know more?
Havas Group / Havas Media Group - www.havas.com / www.havasmediagroup.com
Havas Media UK - www.havasmedia.co.uk
Arena Media - www.arenamedia.com
Affiperf - www.affiperf.com
DBi - www.dbi.io/uk
Cake - www.cakegroup.com/uk
ais - www.aislondon.com
Havas Sports & Entertainment Ignition - www.havas-se.co.uk
Our Vision
To build the smartest, most innovative, most dynamic and most successful agency media group in
the UK. To be client-centric, agile and fully integrated - with a digital powerhouse at our core, led by
highly motivated talent.
Our Culture
Although we are a diverse business, all of our employees have common behaviours and values:
•
•
•
I connect – collaboration, teamwork, personable, together, positive
I create - pioneering, innovative, imaginative, entrepreneurial, curious
I complete – passionate, agile in getting it done, restless, proud
Socialyse Powered by Cake
Socialyse powered by Cake is a new service within HMG that allows brands to start conversations
with people at speed, and at scale.
It pulls together a team of experts with the skills to produce sparkling content, delivered at pace,
with utter precision - who will deliver all social activity from one team, made up of social strategists,
planners, creatives, content-producers, copy-writers, distributors, traders, listeners and analysts.
Working together to conceive, create, deliver and measure campaigns for new and existing HMG
clients.
Powered by content and driven by data the team connect audiences to content both real-time and
planned.
The new team marries the cutting edge Cake brand with the global Socialyse network of 200 people
in 34 countries and local talent in producing and distributing great content.
About The Role
The nature of our work in the Social Newsroom requires a high level of flexibility, common sense and
versatility. While the specific content of your role is clearly defined, the nature of the demands
placed on us and the creativity of our campaigns means that roles evolve over time and need a 'can
do' approach to picking projects up and making them happen.
Some of the key day-to-day duties will include:










Supporting Community Managers in managing responses to comments from fans via clients'
social media channels and escalating customer service queries using social media
management tools.
Stimulating and sustaining conversations and relationships via community management and
engagement with relevant influencers.
Monitoring of news agenda and wider social conversation to identify potential reactive
content opportunities.
Contributing to monthly content planning sessions.
Contributing to the writing of monthly content calendars.
Creative copywriting and rich media content creation, including photo and video assets.
Assisting with regular of reporting and analysis of content performance, feeding this analysis
back into the content planning process.
Supporting Social Media Analyst and wider team in analysing data, social listening and
monthly reporting.
Supporting the wider team in responding to client briefs.
Keeping abreast of all developments within the social media landscape, particularly those
relevant to clients, and share knowledge with the rest of the team and clients.
This role may be required to work flexibly in accordance with client requirements for example
around early morning, evening or weekend activity.
Key skills






An eye for creative content: both verbal and visual
An understanding of social media and its impact on brand
Excellent organizational and time management skills
The ability to work under pressure whilst keeping an eye for detail
Excellent written and verbal communication skills
Previous experience at planning and managing social presences or in
journalism/blogging/copywriting preferable
KPIs







Ability to demonstrate a confident understanding of the Weetabix and Honda tone of voice
at the end of the trial period.
Be able to community manage the Weetabix platforms without supervision and efficiently
escalate queries to Customer Service team.
Be able to produce a monthly content calendar independently by the end of the 3-month
trial period.
Suggestion and activation of at least 1 reactive idea per client per week.
At least a 10% uplift in the number of proactive conversations we are having with Weetabix
fans.
Demonstrate an intuitive knowledge of listening and reporting tools at the end of the trial
period.
Demonstrate the ability to tell the story behind the data and suggest how the team can
make insights actionable.