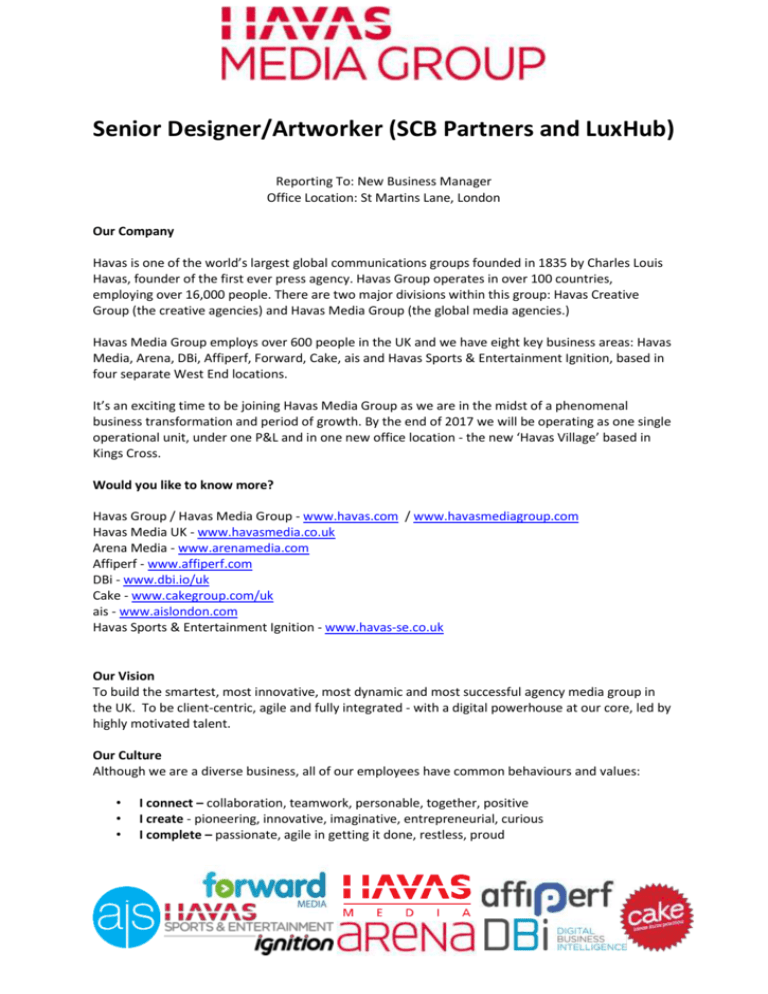 Senior Designer/Artworker (SCB Partners and LuxHub)
Reporting To: New Business Manager
Office Location: St Martins Lane, London
Our Company
Havas is one of the world's largest global communications groups founded in 1835 by Charles Louis
Havas, founder of the first ever press agency. Havas Group operates in over 100 countries,
employing over 16,000 people. There are two major divisions within this group: Havas Creative
Group (the creative agencies) and Havas Media Group (the global media agencies.)
Havas Media Group employs over 600 people in the UK and we have eight key business areas: Havas
Media, Arena, DBi, Affiperf, Forward, Cake, ais and Havas Sports & Entertainment Ignition, based in
four separate West End locations.
It's an exciting time to be joining Havas Media Group as we are in the midst of a phenomenal
business transformation and period of growth. By the end of 2017 we will be operating as one single
operational unit, under one P&L and in one new office location - the new 'Havas Village' based in
Kings Cross.
Would you like to know more?
Havas Group / Havas Media Group - www.havas.com / www.havasmediagroup.com
Havas Media UK - www.havasmedia.co.uk
Arena Media - www.arenamedia.com
Affiperf - www.affiperf.com
DBi - www.dbi.io/uk
Cake - www.cakegroup.com/uk
ais - www.aislondon.com
Havas Sports & Entertainment Ignition - www.havas-se.co.uk
Our Vision
To build the smartest, most innovative, most dynamic and most successful agency media group in
the UK. To be client-centric, agile and fully integrated - with a digital powerhouse at our core, led by
highly motivated talent.
Our Culture
Although we are a diverse business, all of our employees have common behaviours and values:
•
•
•
I connect – collaboration, teamwork, personable, together, positive
I create - pioneering, innovative, imaginative, entrepreneurial, curious
I complete – passionate, agile in getting it done, restless, proud
The Role
This is a varied and fast-paced design role, working exclusively for SCB Partners who are part of
Havas Media Group. SCB Partners is an international trend-based marketing insights consultancy.
SCB specialises in consumer insights, research analysis and developing marketing and brand
strategies based on our research. Our clients include SAB Miller, Coca-Cola, Net-A-Porter, American
Express, Bacardi, Ford, Vertu, Christie's and Co-operative Group. SCB handles global research
projects on an international basis, currently running projects in 5 continents.
Supporting this main business unit you'll be charged with leading the design function and building
solid relationships with senior managers within the business. Strong creative skills are a must, but
you should also be happy to dig into all sorts of print based projects – from artworking reports and
creating infographics, print buying, PowerPoint design and pitch room design. There may also be
some online work such as updating websites and creation of online marketing collateral.
You'll work closely with the senior managers of the business, responding quickly and with agility to
tight deadlines. This is a sole designer position, so you should be able to prioritise your workload
and be able to manage expectations with non-creative stakeholders.
Main Responsibilities















Overseeing and creating all creative work and marketing collateral relating to pitches and
client communications.
Artworking and taking all projects from brief through to implementation.
Building and maintaining key relationships with stakeholders from within SCB.
Leading and advising of the design, layout and house style of all SCB marketing materials.
Ownership and management of the company brand guidelines.
Working closely with the central design hub to ensure brand continuity at all times.
Time management - prioritising upcoming projects against the client deadline.
Ensuring that all of the design materials produced are formatted correctly and flawlessly
executed.
Ensuring a collaborative culture is instilled across the business, sharing knowledge with
other designers in the design hub wherever possible.
Bringing a high level of creative thinking to your work – from the RFI to the pitch. This could
include meeting room dressing to brainstorming the look and feel of the presentation and
supporting collateral.
Understanding the end audience quickly and really get under the skin of their business to
allow you to design with their brand image in mind.
Making sure all scanning, printing, binding and burning is completed on time in advance of a
pitch.
Ownership of the design budget and keeping track of all costs related to the pitch material
and escalating to the managing director, where appropriate.
Negotiating and driving down rates with freelancers, as required.
Ensuring all previous collateral is saved securely and stored correctly for future reference.

An interest in working with luxury brands and the core client offering to both LuxHub and
SCB Partners.
Experience Required










Ideally you'll already have agency experience or be working as an in-house designer or creative
artworker. You should be comfortable working as a sole designer and taking ownership of one
key brand.
You should have a strong portfolio focusing on design and artwork for marketing-based
collateral and PPT design
We'd be keen to see some infographic work included in your book, along with any projects
illustrating data visualisation.
Adobe Creative Suite fluency; in particular InDesign and Photoshop
Strong PowerPoint skills (Mac based.)
Any experience with HTML and video editing software would be desirable.
You should be able to work across both a PC and a Mac as required
You should be self-motivated and able to manage your own workload with minimal supervision
– and remain calm when there are tight deadlines!
You'll need to be used to working in a fast-paced environment with tough deadlines and a few
late nights when required.
Ideally you'll hold a degree or relevant qualification in a design-related discipline.