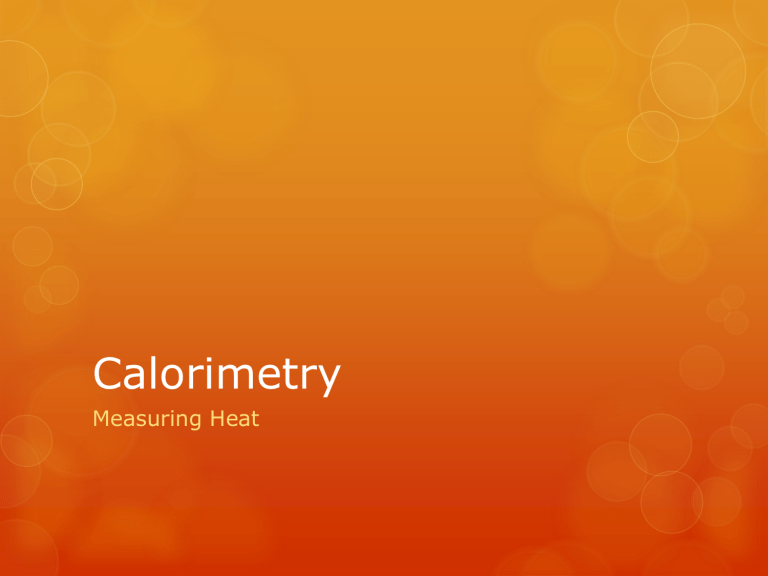 Calorimetry
Measuring Heat
Bomb Calorimeter
A Calorimeter
-
A device used to measure
the heat involved in a
chemical reaction.
-
The reaction is run in the
inner container and the
change in the temperature
change of the water is
measured. The specific
heat of the water is
KNOWN and the mass of
the substance is measured
BEFORE the reaction.
qreaction = -qwater
Lab- How Much Energy is in a
Potato Chip?
 Purpose- How much energy is available for each gram of
potato chip?
 Safety No Closed Shoes- No LAB! You will get an alternative
assignment.
 Wear goggles over your eyes at ALL times!
 Do NOT leave the thermometer in the can while burning the
potato chip.
Extra Directions
 Follow the procedure as given to you.
 Take accurate measurements and everyone in the lab
group should record the information in their data table.
 No playing around- or earn a zero and a phone call
home!
Data Table
Trial 1
Trial 2
Mass chipbefore
g
g
Mass chipafter
g
g
Volume water
mL
mL
Temperature-initial
°C
°C
Temperature- final
°C
°C
Analysis
q = mCΔT
 1. Determine the change in mass of the chip
 2. Calculate ΔT.
 3. Calculate the mass of the water: d= m/V
density of water = 1.00g/mL
 4. Determine the qwater
 5. Determine the qchip
 6. Calculate the qchip per gram by dividing the qchip by
the change in mass of the chip.
 7. According to the nutritional information on the chip
bag, there should be 5.35 Cal/g or 22,414.29 J/g. Were
your results close to the manufacturer's results? Why or
why not?