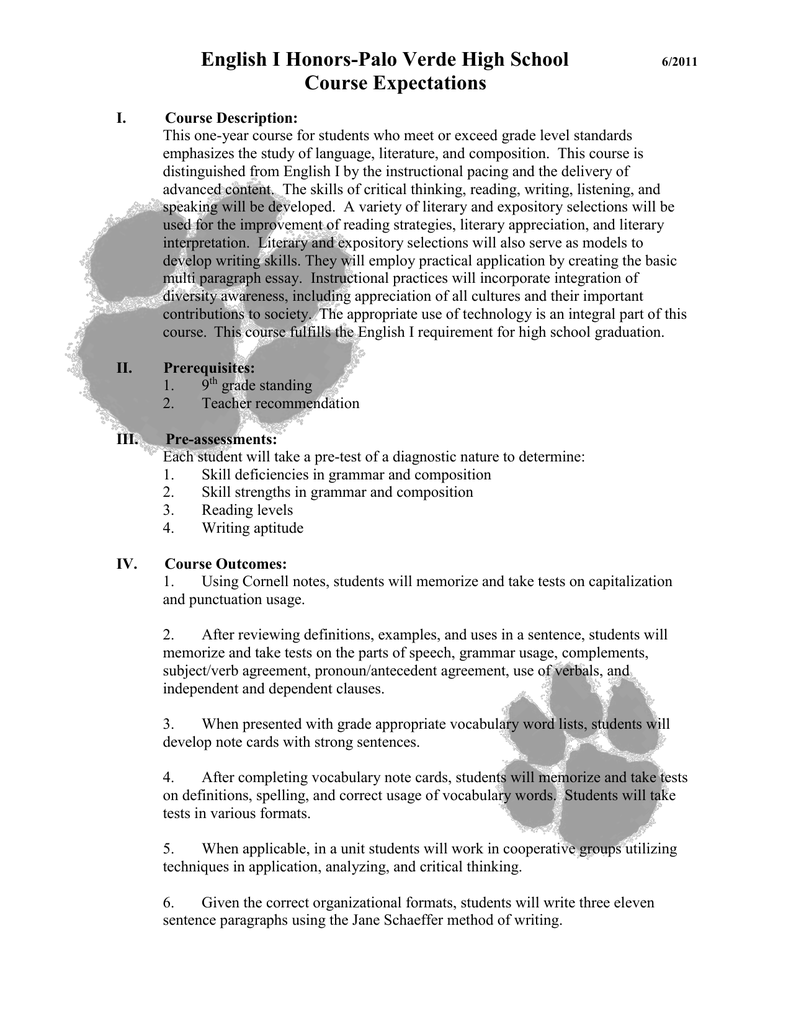 English I Honors-Palo Verde High School
Course Expectations
6/2011
I.
Course Description:
This one-year course for students who meet or exceed grade level standards
emphasizes the study of language, literature, and composition. This course is
distinguished from English I by the instructional pacing and the delivery of
advanced content. The skills of critical thinking, reading, writing, listening, and
speaking will be developed. A variety of literary and expository selections will be
used for the improvement of reading strategies, literary appreciation, and literary
interpretation. Literary and expository selections will also serve as models to
develop writing skills. They will employ practical application by creating the basic
multi paragraph essay. Instructional practices will incorporate integration of
diversity awareness, including appreciation of all cultures and their important
contributions to society. The appropriate use of technology is an integral part of this
course. This course fulfills the English I requirement for high school graduation.
II.
Prerequisites:
1.
9th grade standing
2.
Teacher recommendation
III.
Pre-assessments:
Each student will take a pre-test of a diagnostic nature to determine:
1.
Skill deficiencies in grammar and composition
2.
Skill strengths in grammar and composition
3.
Reading levels
4.
Writing aptitude
IV.
Course Outcomes:
1.
Using Cornell notes, students will memorize and take tests on capitalization
and punctuation usage.
2.
After reviewing definitions, examples, and uses in a sentence, students will
memorize and take tests on the parts of speech, grammar usage, complements,
subject/verb agreement, pronoun/antecedent agreement, use of verbals, and
independent and dependent clauses.
3.
When presented with grade appropriate vocabulary word lists, students will
develop note cards with strong sentences.
4.
After completing vocabulary note cards, students will memorize and take tests
on definitions, spelling, and correct usage of vocabulary words. Students will take
tests in various formats.
5.
When applicable, in a unit students will work in cooperative groups utilizing
techniques in application, analyzing, and critical thinking.
6.
Given the correct organizational formats, students will write three eleven
sentence paragraphs using the Jane Schaeffer method of writing.
7.
Following the five-step writing process, students will write the following fiveparagraph essays:
a. 2 expository essays
b. 1 compare and contrast essay
c. 1 persuasive essay
8.
Given the correct book report (study guide) form and outside reading lists,
students will write a book report from the outside reading list every nine weeks.
9. Given the parameters of peer evaluation groups, students will critique orally and
in writing the written work of others.
10. When applicable in a unit, students will communicate effectively through oral
presentations using visual aids or art projects.
11. Students will memorize and present orally or in written tests various selected
pieces from Twelfth Night, Othello and Great Expectations, as well as selected poems.
12. Through lecture and research, students will employ library research capabilities
and computer programs to produce a 2-3 page research paper on Victorian poetry and
a 2-3 page group research paper on the English Renaissance.
13. Given a variety of literary genre, such as short stories, novels, drama, and
poetry, students will read about, learn about, write about and test on themes
applicable to students' lives.
14. Students will memorize and test on literary terms and apply this knowledge in
writing as well as textual evidence through sticky-noting.
15. Students will view, listen to, and take tests on video, audio, and laser discs that
relate to literature.
16. After identifying various reading strategies, students will apply strategies to
enhance their reading for understanding, reading for information, and reading for
enjoyment.
V.
Lessons that develop goals and time schedule:
Lessons (Time in weeks)
6 Period Schedule
1.
Capitalization
1
2.
Punctuation
1
3.
Parts of Speech
2
4.
Subjects, predicates,
3
Complements
5.
Pronoun Usage
2 End Quarter 1
6.
Verb usage ( tense, voice,
2
Principal parts)
7.
Subject/verb agreement
3
8.
Pronoun/antecedent
1
9.
Clauses and phrases
2
10.
Usage
1 End Quarter 2
11.
Literature (all genre)
16
12.
Research paper
2 End Quarter 4
Blocked
½
½
1
2
1
1
2
1
1
½
8
1
VI.
Major texts:
Each student is responsible for a copy of McDougal Littell's Language of Literature
9- Orange. Students are responsible for taking care of the text. If a text is lost, the
student is responsible for paying for it. Students will also use Prentice Hall's
Grammar and Composition and Prentice Hall's Literature Gold in class (this will not
be checked out to students). Other novels will be checked out to students throughout
the year, and those copies will be checked in upon completion.
VII.
Course Information:
1.
Testing – The teacher will administer tests and quizzes throughout the course of
study to determine the individual student's development as well as the effectiveness
of the teaching system being employed.
2.
Assignments- The students will begin the majority of their assignments in class.
3.
Homework policy – the teacher will give written homework assignments as
needed, most will be started in class.
Make-up – To receive full credit students have three days for each day missed
because of an excused absence to submit make up work.
4.
Extra-credit – Students can earn extra credit at various times of the school year.
VIII.
Across the curriculum activities:
1.
Preparation Skills Program – the teacher will advise students during the first
week of school regarding the importance of being prepared daily for class. It is
required that the students have a textbook, notebook, Student handbook, pencil, and
pen on hand when class begins.
2.
Writing – Students will put into practice writing techniques developed in their
English classes in all their other classes.
3.
Learning Strategies – Students will use Cornell notes extensively as well as
graphic organizers.
4.
Technology – Students need to find access to word processing and the Internet
as soon as possible because most writing assignments must be typed and submitted to
Turnitin.com.
IX.
Evaluation:
1.
Criteria for Arriving at Student Grades:
a. Semester Exam – the semester exam will constitute up to 20% of the
grade according to CCSD policy.
b. Quarter Grades- Each quarter grade will constitute up to 45% of the
grade for the semester (Quarters 1 & 2 are combined and Quarters 3 & 4 are
combined).
Explanation of Student Grades:
A
B
C
D
F
IN
NG
X.
90-100%
80-89%
70-79%
60-69%
Below 60%
Class Expectations:
Excellent
Above Average
Average
Below Average
Failing
Incomplete
No Grade
1. Each English I Honors teacher will dictate a set of classroom expectations.