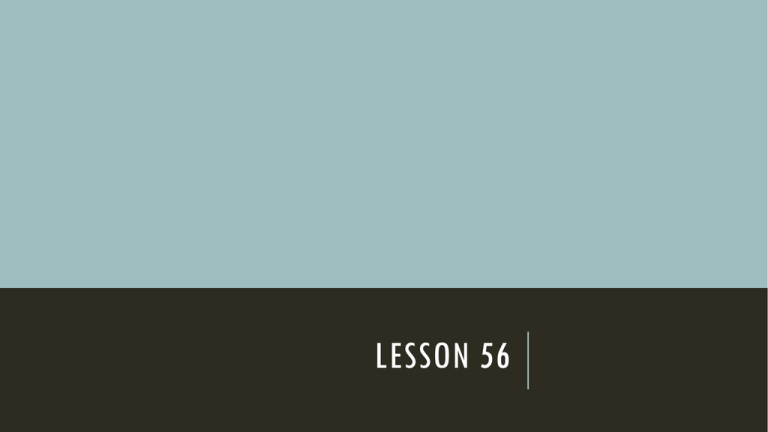 LESSON 56
TODAY'S AGENDA
SAT
Vocabulary
Writing Skills Practice
Reading Comprehension Practice Test
THE SAT HIGH-FREQUENCY WORD LIST & HOT
PROSPECTS LIST
Vocabulary Flashcards
Share-a-Word
1) Choose one of your words and EXPLAIN it to a classmate.
2) After explaining, the classmate should make his own flashcard
of that word.
3) Swap roles and repeat.
SAT PRACTICE TEST
Grade and Discuss
WRITING SKILLS: GENERAL RULES
Identifying Sentence Errors
Answer choice A is the same as
the original.
1/5 of the answers will be A
Look for most common errors
Subject-verb agreement
Pronoun-antecedent problem
Misuse of adjectives and
adverbs
Misplaced and dangling
modifiers
Improving Sentences
Answer choice A is the same as
the original.
Pay particular attention to
shorter answer choices.
Make sure that all parts of a
sentence given in a series are
similar in form.
If you don't spot the error, look
at the changes in the answer
choice for clues.
SAT PRACTICE TEST
25 minutes for 24 Questions
Graded on a scale – not
24/24.