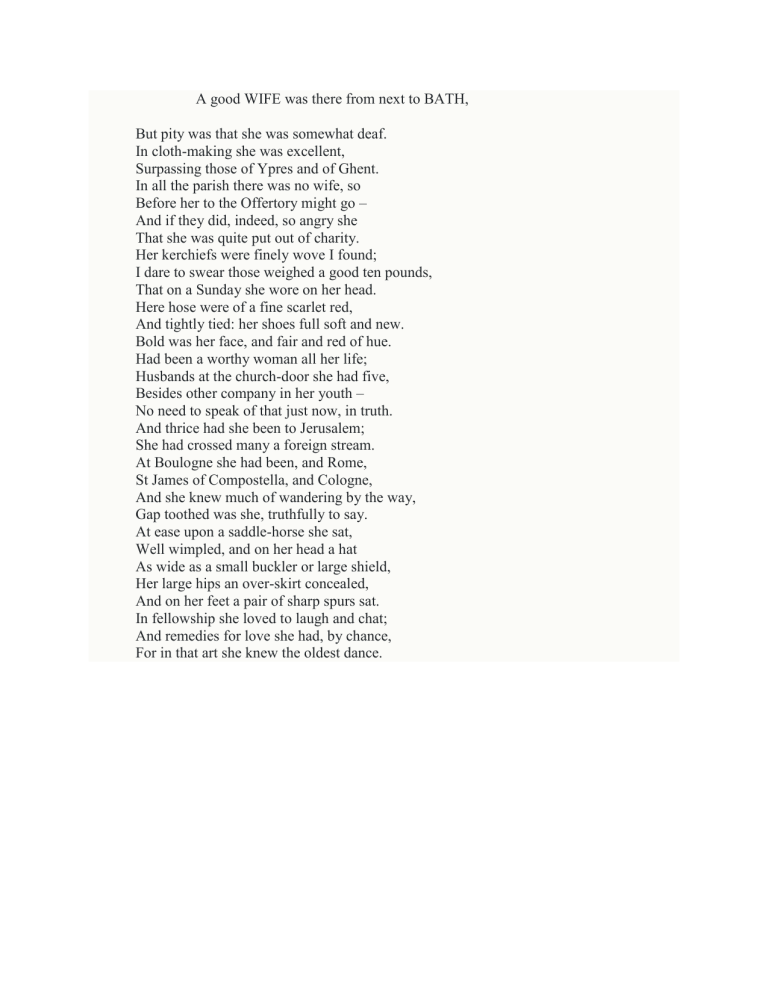 A good WIFE was there from next to BATH,
But pity was that she was somewhat deaf.
In cloth-making she was excellent,
Surpassing those of Ypres and of Ghent.
In all the parish there was no wife, so
Before her to the Offertory might go –
And if they did, indeed, so angry she
That she was quite put out of charity.
Her kerchiefs were finely wove I found;
I dare to swear those weighed a good ten pounds,
That on a Sunday she wore on her head.
Here hose were of a fine scarlet red,
And tightly tied: her shoes full soft and new.
Bold was her face, and fair and red of hue.
Had been a worthy woman all her life;
Husbands at the church-door she had five,
Besides other company in her youth –
No need to speak of that just now, in truth.
And thrice had she been to Jerusalem;
She had crossed many a foreign stream.
At Boulogne she had been, and Rome,
St James of Compostella, and Cologne,
And she knew much of wandering by the way,
Gap toothed was she, truthfully to say.
At ease upon a saddle-horse she sat,
Well wimpled, and on her head a hat
As wide as a small buckler or large shield,
Her large hips an over-skirt concealed,
And on her feet a pair of sharp spurs sat.
In fellowship she loved to laugh and chat;
And remedies for love she had, by chance,
For in that art she knew the oldest dance.