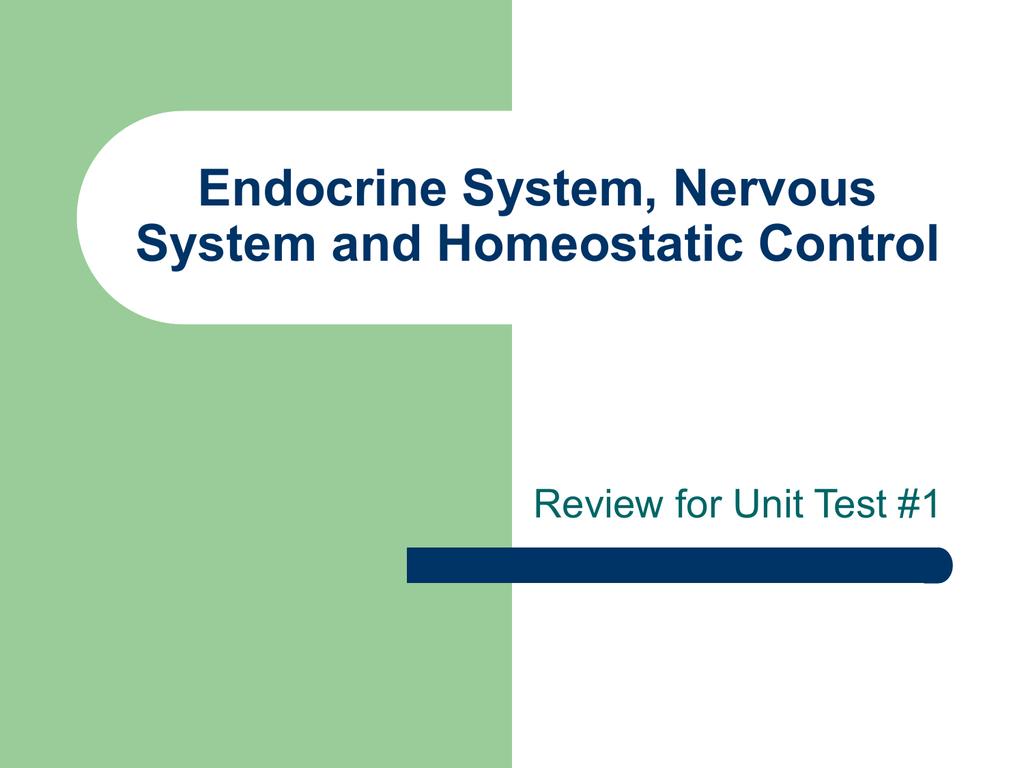 Endocrine System, Nervous
System and Homeostatic Control
Review for Unit Test #1
Endocrine system




Information signaling
system
Glands produce
hormones
Circulate through blood
vessels
Regulate:
–
mood, growth and
development, tissue
function, and metabolism
Hypothalamus


The hypothalamus
controls body
temperature, hunger,
thirst, fatigue, anger,
and circadian cycles.
Secretes hormones that
tell other glands to
create their hormones
–
GHRH
Pineal Body


Secretes Melatonin
Melatonin may help
regulate sleep patterns
Pituitary Gland





Growth
Blood Pressure
Sex Organ Functions
Conversion of food into
energy
Water regulation
Thyroid

Controls how quickly
the body burns energy,
makes proteins, and
how sensitive the body
should be to other
hormones.
Parathyroid

The sole function of the
parathyroid glands is to
maintain the body's
calcium level within a
very narrow range.
Pancreas

Regulates blood sugar
by producing Insulin
Adrenal gland


Produces Adrenaline
Fight or Flight
Response
–
–
–
–
Dilate pupils
Increase heart rate
Suppress non
emergency process
Boost oxygen and
glucose supply
Testes and Ovaries


Both produce
hormones to support
body function
Testes
–

Testosterone
Ovaries
–
–
Progesterone
Estrogens
Nervous system

Made up of two major
parts
–
–
Central Nervous System
(CNS)
Peripheral Nervous
System (PNS)
Neurons
Central Nervous System

Brain and Spinal Cord
–
–
Nerves
Ganglion
Brain

Consists of lobes, Each
lobe having different
functions.
Function


Process information
Dictate reactions and behaviors
Peripheral Nervous system



Nerves from spinal cord to rest of body
Create locomotion
Etc…
Feedback Loops




Your nervous system is
involved in almost all
homeostatic control
loops.
Reflex arc
Sensory Vs Motor
Affector Vs Effector
Neuron Function





Dendrites
Myelin
Schwann Cells
Axon
Node of Ranvier
Threshold

Before a neuron can
send out a signal the
stimuli has to pass the
threshold
Action Potential


An action potential is a
nerve impulse
An electrical shock sent
down the axon
Action Potential
Synapse



A synapse occurs
where ever the action
potential meets the end
of the axon
It needs to propagate
across that gap
It does this through
chemical messengers
Neurotransmitter= Acetylcholine
Enzyme that destroys it = Acetylcholinesterase
Synapse

When Acetylcholine
jumps across the gap, it
tells the next neuron to
fire it's action potential
and the process
continues
Homeostasis Summary




Homeostasis is the maintenance of a stable
internal state within an organism.
Organisms must respond and maintain
homeostasis in relation to many factors.
Organisms detect changes in their environment
and respond to these changes in a variety of
ways.
These changes may occur at the cellular or
organism level.