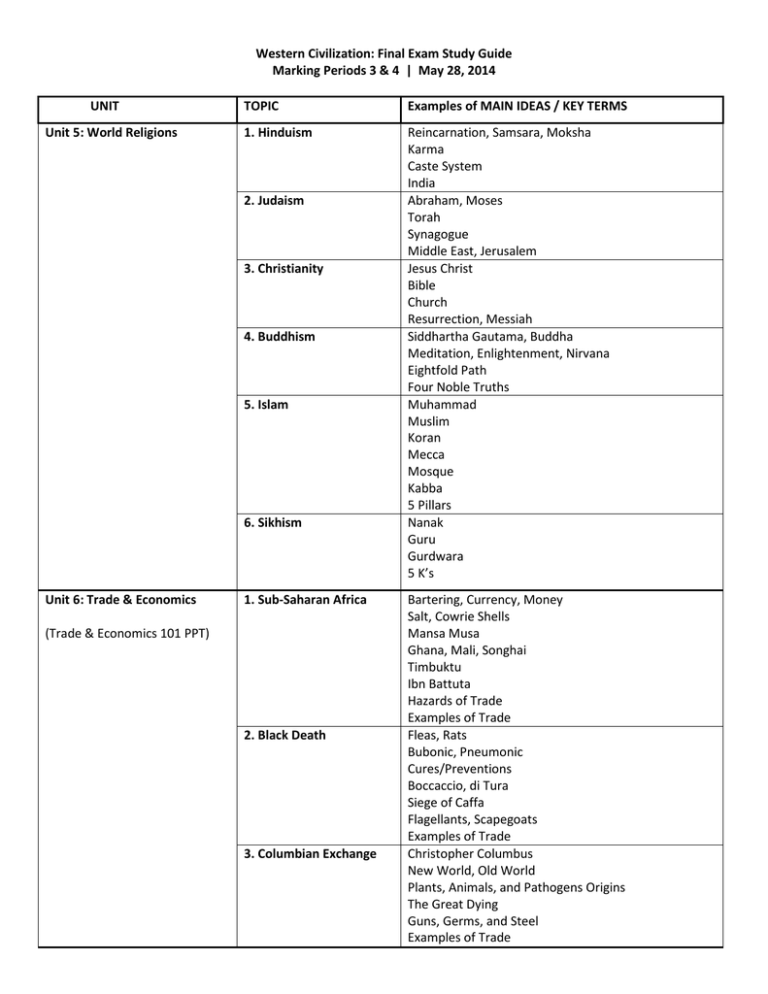 Western Civilization: Final Exam Study Guide
Marking Periods 3 & 4 | May 28, 2014
UNIT
Unit 5: World Religions
TOPIC
Examples of MAIN IDEAS / KEY TERMS
1. Hinduism
Reincarnation, Samsara, Moksha
Karma
Caste System
India
Abraham, Moses
Torah
Synagogue
Middle East, Jerusalem
Jesus Christ
Bible
Church
Resurrection, Messiah
Siddhartha Gautama, Buddha
Meditation, Enlightenment, Nirvana
Eightfold Path
Four Noble Truths
Muhammad
Muslim
Koran
Mecca
Mosque
Kabba
5 Pillars
Nanak
Guru
Gurdwara
5 K's
2. Judaism
3. Christianity
4. Buddhism
5. Islam
6. Sikhism
Unit 6: Trade & Economics
1. Sub-Saharan Africa
(Trade & Economics 101 PPT)
2. Black Death
3. Columbian Exchange
Bartering, Currency, Money
Salt, Cowrie Shells
Mansa Musa
Ghana, Mali, Songhai
Timbuktu
Ibn Battuta
Hazards of Trade
Examples of Trade
Fleas, Rats
Bubonic, Pneumonic
Cures/Preventions
Boccaccio, di Tura
Siege of Caffa
Flagellants, Scapegoats
Examples of Trade
Christopher Columbus
New World, Old World
Plants, Animals, and Pathogens Origins
The Great Dying
Guns, Germs, and Steel
Examples of Trade
Unit 7: Government & Society
1. European Feudalism
(Government & Politics 101 PPT)
2. Early American Empires
3. Byzantines
Unit 8: War & Conflict
1. Vikings
(War & Conflict 101 PPT)
2. Crusades
3. Mongols
Dark Ages
Middle Ages, Medieval
Feudalism, Social Pyramid
Manor, Fief
Knights, Chivalry, Homage
Serfs, Peasants
Mayas
Slash-and-burn
Maize
Hieroglyphics
Calendar
Ball Game
Aztecs
Tenochtitlan
Chinampas
Human Sacrifice
Conquistadors
Incas
Cuzco
Andes Mountains
Terraces
Census
Quipu
Constantine
Constantinople
Justinian
Justinian's Code
Theodora
Schism
Norse
Leif Eriksson
Vinland
Erik the Red
Greenland
Longships
European Christians
Muslim Turks
Pope Urban II
First Crusade
Peter the Hermit and the People's Crusade
Later Crusades, Saladin
Holy Land
Pilgrims
Genghis Khan, Temujin
Kublai Khan
Yuan Dynasty
Mounted Archers
Largest contiguous land empire
* Remember: Try not to cram everything we have learned into your head the night before the test. The most successful
students study about 15-20 minutes every night leading up to the exam. As a side note, there will also be a few review
questions from the first half of the year on the Final Exam. Good luck and happy studying!