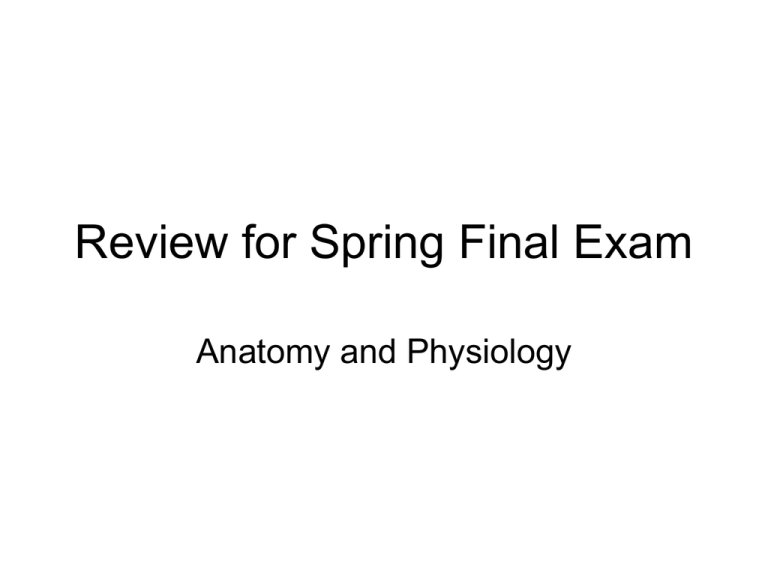 Review for Spring Final Exam
Anatomy and Physiology
Let's have some fun, shall we?
Muscles
•
•
•
•
•
Tendon
Epimysium
Perimysium
Endomysium
Muscle fiber
Sarcomere, synergist, origin and
insertion
Isotonic, isometric, Ca+
Naming Muscles
•
•
•
•
•
SHAPE: deltoid, trapezius
# of heads :biceps, triceps
SIZE: magnus, medius
LOCATION: brachialis abdominis
FUNCTION: adductor, abductor
Forrest Fluff
Nervous System
Sensory, Association, Motor
efferent, afferent, effector
Axon, cell body, dendrite,myelin sheath, synapse,
neurotransmitter
Be a neuron…+ on the outside even if – on the inside
Science Fact…
Anatomical Terms for parts of the
body
Circulatory System
Blood Pressure
Right to the Lungs
Left to the body
Epi-Myo-Endocardium
• Pericardium
You, too, can be anything…chose
wisely
Endocrine
Please, please do NOT clap your
hands…
Respiratory system
Digestive System
Urinary System
Yep, this is where we gets them….
Busta Move
The End…or is it?