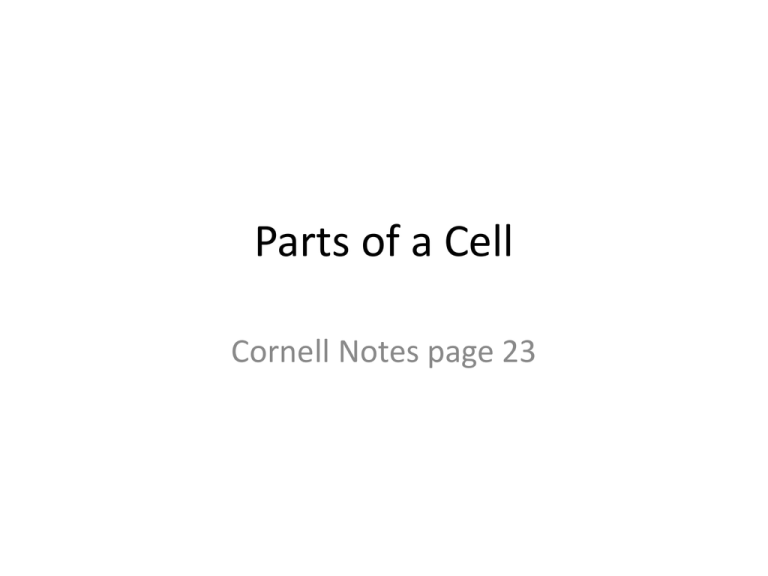 Parts of a Cell
Cornell Notes page 23
Genetics
• the study of heredity
Heredity
• the passing of traits
from parent to
offspring
Traits
• Characteristics that
are determined by
genes.
Cell
• smallest unit of a
living thing.
• looked like tiny cells
of a monastery/jail.
Nucleus
• dark spot inside cell
• control center; the
"brain"
Chromosome • inside the nucleus
• made up of a long
strand of DNA
• location of genes
• humans have 2 of
every chromosome
(23 pairs, 46
chromosomes)
Gene
• instructions for traits
• sections of DNA on
chromosomes
• found in pairs
• have specific locations
on chromosome
DNA
• deoxyribonucleic acid
• long strands that make
up genes (instructions)
Robert Hooke • Used microscope to view
samples of cork
• Gave "cells" their name
Anton Van
• First to see living
Leeuwenhoek organisms
Robert
Brown
• Gave the name "nucleus"
to the dark blob seen in
cells.
Draw and label the parts of a cell…
Nucleus
Chromosomes
Gene
Pair
DNA
Cell
Inside a city is a library.
Inside the library are books
filled with chapters made of letters.
cell is a ______.
nucleus
Inside a ___
chromosomes
nucleus
Inside the ______are
__________
genes
DNA
filled with _____made
of ____.
Human Part
Definition
Cell
smallest unit of a living thing
Nucleus
control center (the "brain")
Chromosome
location of genes
Gene
instructions for traits; found in
pairs;
on chromosomes
DNA
genes are made up of this
chemical
It's like a . . .