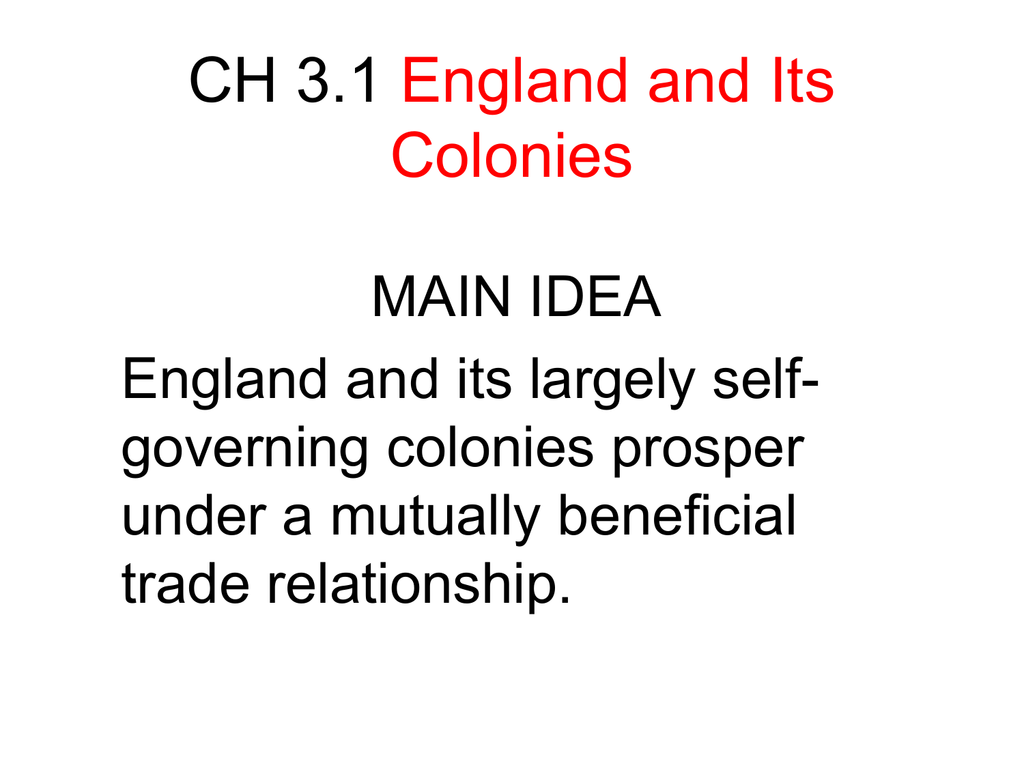 CH 3.1 England and Its
Colonies
MAIN IDEA
England and its largely selfgoverning colonies prosper
under a mutually beneficial
trade relationship.
WHY IT MATTERS NOW
English governing traditions influence
Americans sense of self rule.
English Political Traditions
• Magna Carta, 1215.
-Can't seize property.
-Elect representatives.
-Taxed only with representation.
-Trail by jury.
• Parliament , representative body.
-House of Commons.
-House of Lords.
Mercantilism
• Settlers export raw materials;
import manufactured goods.
• Countries must get gold, silver to
be self-sufficient.
• Favorable balance of trade
means more gold coming in than
going out.
The Navigation Acts
• Parliament- England's legislative
body.
-colonial sales to other countries
are an economic threat.
• 1651, pass acts to restrict colonial
trade.
Crackdown in Massachusetts
• Colonists resent the acts and
smuggle goods.
• 1684 King Charles revokes
charter; creates royal colony.
The Dominion of New England
• King James creates in
1685.
-all the land from
Maine to New Jersey
into one colony.
-obedient under
single ruler.
• Sir Edmund Andros,
governor.
-antagonizes Puritans
and merchants
The Glorious Revolution
• King is unpopular
-Catholic, disrespects
Parliament.
• Parliament asserts
power over monarch,
1689.
-crown Mary and
William of Orange.
• Creates English Bill of
Rights
In New England
• Mass. colonists arrest Gov.
Andros and royal councilors.
• Parliament restores charters.
• 1691, Mass. has royal gov.,
religious toleration.
Salutary Neglect
• Understanding between England
and colonies.
-left alone if loyal economically.
• Smuggling trails with English
judges, no juries.
• Board of Trade monitors colonial
trade.
Seeds of Self-Government
• Gov: calls, disbands assembly;
appoints judges; oversees trade.
• Assembly influences Gov.
because they pay his salary.
• Colonists consider themselves
British, but want self-rule.
Zenger Trial, 1735
• Printed article
that criticized
Gov. of New
York.
• Charged with
libel.
• Used "truth" as
defense.
• Beginning of
Amer. Freedom
of Press.