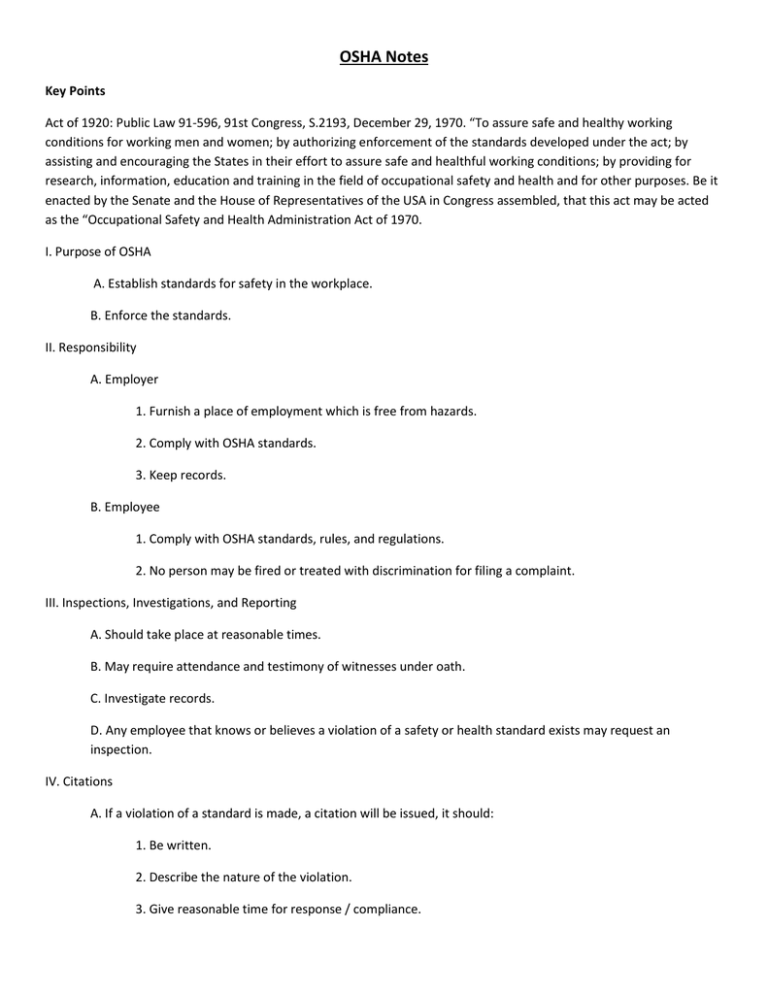 OSHA Notes
Key Points
Act of 1920: Public Law 91-596, 91st Congress, S.2193, December 29, 1970. "To assure safe and healthy working
conditions for working men and women; by authorizing enforcement of the standards developed under the act; by
assisting and encouraging the States in their effort to assure safe and healthful working conditions; by providing for
research, information, education and training in the field of occupational safety and health and for other purposes. Be it
enacted by the Senate and the House of Representatives of the USA in Congress assembled, that this act may be acted
as the "Occupational Safety and Health Administration Act of 1970.
I. Purpose of OSHA
A. Establish standards for safety in the workplace.
B. Enforce the standards.
II. Responsibility
A. Employer
1. Furnish a place of employment which is free from hazards.
2. Comply with OSHA standards.
3. Keep records.
B. Employee
1. Comply with OSHA standards, rules, and regulations.
2. No person may be fired or treated with discrimination for filing a complaint.
III. Inspections, Investigations, and Reporting
A. Should take place at reasonable times.
B. May require attendance and testimony of witnesses under oath.
C. Investigate records.
D. Any employee that knows or believes a violation of a safety or health standard exists may request an
inspection.
IV. Citations
A. If a violation of a standard is made, a citation will be issued, it should:
1. Be written.
2. Describe the nature of the violation.
3. Give reasonable time for response / compliance.
V. Procedure for Enforcement
A. Notification, by certified mail, of penalty.
B. Employer has 15 days to notify that he wishes to contest the citation/ penalty.
C. Reasonable amount of time will be allowed for compliance.
D. If compliance is not made by a set date, another penalty/citation may be issued.
VI. Judicial Review
A. Hearing to review the citation/penalty.
VII. State Jurisdiction and State Plans
A. States are allowed to assume responsibility for development and enforcement of OSHA standards after
complying with steps taken under the Federal Department of Labor.
VIII. Federal Agency and State Programs and Responsibilities
A. The head of each Federal Agency has the responsibility to establish and maintain an effective and
comprehensive occupational safety and health program.
IX. National Institute for Occupational Safety and Health in the Department of Health and Human Services.