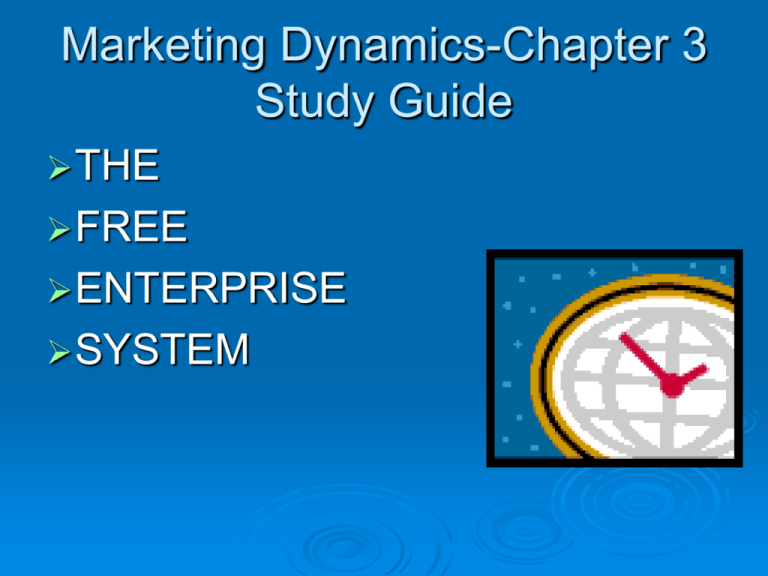 Marketing Dynamics-Chapter 3
Study Guide
 THE
 FREE
 ENTERPRISE
 SYSTEM
Profit

As _______
increases, risks
increase
Competition
the struggle
between companies
for customers
Consumers person
who uses the product.
Consumers
 decide
whether or not a business will
survive.
Federal Reserve Board has
the power to control the U. S.
monetary supply.
Federal Trade Commission investigates
deceptive and misleading
business practices, like false
advertising.
Four roles that our government plays in
our free enterprise and an example of
each. PROVIDER
OF GENERAL SERVICES Public Libraries,
 Supporter Of Businesses -runs Small
Business Administration & establishes
trade alliances and agreements with
other countries,
 REGULATOR-FDA,EEOC,OSHA,
CPSCConsumer Product Safety Commission
and
 COMPETITOR-TVA, U. S. Postal Service
competes with DHL, UPS and Federal
Express, Amtrak.
Free enterprise system encourages
individuals to start and
operate their own businesses without
government involvement.
Function of licensing
agreement protects
businesses and individuals
from unauthorized copying
Math skills- how to figure profit
 Sales-2,456,700
 Costs-1,246,100
+Expenses-1,112,332
 98,268
 Subtract
Costs & expenses from Sales
Math skills-how to figure loss
B –Revenues 2,000,00Expenses 2,025,000
 Business
 Loss
of 25, 000
 Subtract
expenses from revenue
Name the regulatory agencies that
have been set up by the government Food
and Drug Administration
 Equal Employment Opportunity
Commission
 Occupational Safety and Health
Administration
Name three major businesses that
make our government a competitor in
the market place Tennessee
Valley Authority,
 Amtrak and
 U. S. Postal Service
Non price competition when
businesses choose to compete
on the basis of factors not related to
price
OSHA Occupational
Safety and Health
Administration is a governmental
regulatory agency created to protect
employees.
Price competition
focuses on the sale
price of a product.
Price competition example
Price Match at WalMart with any
grocery store
Profit
the money earned
from conducting
business after all
costs and expenses
have been paid.
Risk
the potential for loss
or failure in relation
to the potential for
improved earnings.
Securities and Exchange
Commission
responsible for
regulating the sale
of stocks and
bonds.
Sherman Antitrust Act was
created to prevent monopolies.
Shortages occur
when demand exceeds supply
Surpluses occurs
when the supply of goods
exceeds demand
The government

is the single largest U.
S. consumer of goods
and services.