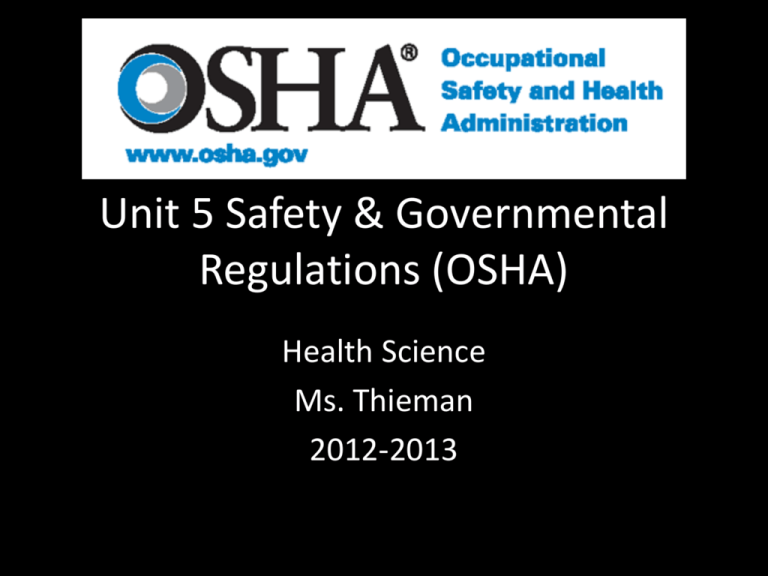 Unit 5 Safety & Governmental
Regulations (OSHA)
Health Science
Ms. Thieman
2012-2013
Rationale
• OSHA, the Occupational Safety and Health
Administration, was established in 1970 as
one of the agencies of the Department of
Labor. OSHA establishes standards for safety
in the workplace and enforces those
standards.
Engage
• The Story of OSHA
– http://www.youtube.com/watch?feature=player_embedded&v=H6wRRWi6i0c
Purpose of OSHA
• Establish standards for safety in the
workplace.
• Enforce the standards.
Responsibility
• Employer
– Furnish a place of
employment which is free from hazards
– Comply with OSHA standards
– Keep records
• Employee
– Comply with OSHA standards, rules, and regulations
– No person may be fired or treated with discrimination
for filing a complaint
Inspections, Investigations, and
Reporting
• Should take place at reasonable times
• May require attendance and testimony of
witnesses under oath
• Investigate records
• An employee that knows or believes a
violation of a safety or health standard exists
may request an inspection
Citations
• If a violation of a standard is made, a citation
will be issued, and it should:
– Be written
– Describe the nature
of the violation
– Give reasonable time
for response/compliance
Procedure for Enforcement
• Notification, by certified mail, of penalty
• Employer has 15 days to notify that they wish
to contest the citation/penalty
• Reasonable amount of time will be allowed for
compliance
• If compliance is not made by a set date,
another penalty/citation may be issued
Final Thoughts
• Judicial review- hearing to review the
citation/penalty
• State jurisdiction and State plans- assume
responsibility for development and enforcement
of OSHA standards after complying with steps
taken under the Federal Department of Labor
• Federal agency and State program
responsibilities- establish and maintain an
effective and comprehensive occupational safety
and health program
So… why is this important to YOU?
True Stories
• 18-year-old Sylvia caught her hand in an electric
cabbage shredder at a fast food restaurant. Her
hand is permanently disfigured and she'll never
have full use of it again…
• 17-year-old Joe lost his life while working as a
construction helper. An electric shock killed him
when he climbed a metal ladder to hand an
electric drill to another worker…
• 16-year-old Donna was assaulted and robbed at
gunpoint at a sandwich shop. She was working
alone after 11 p.m. …
Overview
• Every year nearly 70 teens under 18 die from work
injuries in the United States. Another 84,000 get hurt
badly enough that they go to a hospital emergency
room.
• Why do injuries like these occur? Teens are often
injured on the job due to unsafe equipment, stressful
conditions, and speed-up. Also they may not receive
adequate safety training and supervision.
• Teens are much more likely to be injured when they
work on jobs they are not allowed to do by law.
Statistical Analysis
• Younger workers (defined as those aged 15-24
years):
– Represent 14% of the U.S. labor force
– Overrepresented in dangerous jobs: construction,
transportation, agriculture, and mining.
– 2009: there were 343 fatalities among this group
• Workers under 25 years old were twice as likely to
end up in the emergency room when compared to
those aged 25 and older
Sharing Work-Related
Experiences
• How many of you have ever had a job?
• Where did you work?
• What did you do?
• Have you ever been hurt at work, or do
you know someone who was?
• Have you ever been uncomfortable with a
task you've been asked to do at work?
Hazard Breakdown
Young workers get injured or sick on the job for many reasons,
including:
• Unsafe equipment
• Inadequate safety training
• Inadequate supervision
• Dangerous work that is illegal or inappropriate for youth under 18
• Pressure to work faster
• Stressful conditions
Workplace hazards associated with specific jobs are another major
cause of injuries and illnesses. Employers must work to reduce or
minimize hazards in the workplace and train employees how to work
safely on the job.
Hazard Catgories
• Safety hazards: can cause immediate accidents and
injuries. (Examples: knives, hot grease, etc.)
• Chemical hazards: are gases, vapors, liquids, or
dusts that can harm your body. (Examples: cleaning
products or pesticides.) Discuss how chemicals can
get into the body.
• Biological hazards: are living things that can cause
sickness or disease. (Ex: bacteria, viruses, or insects.)
Other Hazard Categories
• Other health hazards: are harmful things, not in
other categories, that can injure you or make you sick.
They are sometimes less obvious because they may not
cause health problems right away. (Examples: noise,
radiation, repetitive movements, heat, cold)
• "Pressure Cooker or Unspoken" hazards:
–
–
–
–
–
–
unsafe equipment or procedures
emergency situations: fires, explosions, severe injury, violence
stressful conditions
inadequate training
inadequate supervision
deadlines, production requirements, etc.
Prevention Strategies
Remove the Hazard or
Build a Barrier
Improve Work Policies &
Procedures
Use Protective Clothing &
Equipment
Youth Rules!
• Child Labor Laws are designed to protect
teens under 18 from:
– Working long or late hours
– From doing certain dangerous tasks on the job
• Federal regulations updated on July 19, 2010
• Where to go for more information:
– Youth Rules! Website : http://youthrules.dol.gov/
– Wage and Hour Division of Department of Labor :
http://www.dol.gov/whd/
AGE
JOB TYPES
WORKING HOURS
18+
Any job, hazardous or not
No limits
16 and 17 Any non-hazardous job
No limits on times or hours
14 and 15 Outside school hours in nonmanufacturing, non-mining, and
non-hazardous jobs
7AM – 7PM Labor Day to June 1
(can't miss school for work)
Max. hours during school:
3 hours/day, 18 hours/week
7AM – 9PM June 1 to Labor Day
Max. working hours non-school:
8 hours/day, 40 hours/week
Under 14 Can work in business owned by Minimum working age is 14
parents, perform babysitting or
minor chores around private
home, deliver newspapers,
perform in radio, television, etc.
What Are My Safety Responsibilities
on the Job?
To work safely you should:
• Follow all safety rules and instructions; use safety
equipment and protective clothing when needed
• Look out for co-workers
• Keep work areas clean and neat
• Know what to do in an emergency
• Report any health and safety hazard to your
supervisor
• Ask questions if you don't understand
Handling Workplace Safety
Problems
Steps in Problem Solving:
• Define the problem
• Get advice
• Choose your goals
• Know your rights
• Decide the best way to talk to the supervisor
• If necessary, contact an outside agency for
help.
FYI Workers' Compensation:
Did You Know?
You can receive benefits:
• Even if you are under 18.
• Even if you are a temporary or part-time worker
(in most cases).
• You receive benefits no matter who was at fault
for your job injury.
• You don't have to be a legal resident of the U.S.
to receive benefits.
• You can't sue your employer for a job injury (in
most cases).
http://www.youngworkers.org/psacontest/2010psawinners.html
Assignment 1: Using your notes from "The Story
of OSHA", the textbook, and this powerpoint;
construct a 10 question multiple choice test. You
must have a-d choices (3 may be true/false), and
you need to highlight the correct answer.
Assignment 2: Elena's Story (Role Play)
ANY QUESTIONS???