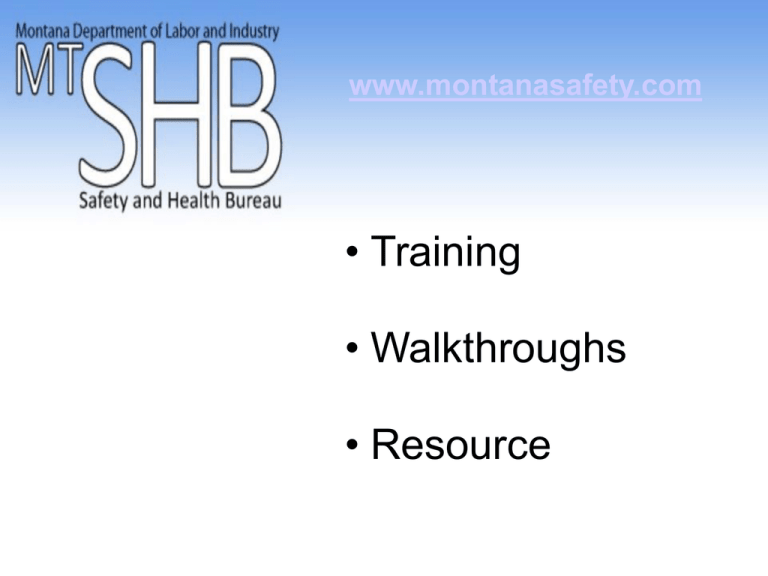 www.montanasafety.com
• Training
• Walkthroughs
• Resource
Acetone
Silver Nitrate
Nitric Acid
dinitrogen trioxide
Hazardous
Materials
Identification
System
http://www.osha.gov/dsg/hazcom/msdsformat.html
http://www.reptox.csst.qc.ca/Documents/SIMDUT/
GuideAng/Htm/GuideAng.htm
http://www.ilpi.com/msds/ref/index.html
http://hazard.com/msds/
Not required to be labeled IF:
If they are going to be used immediately by
one person
• Corrosives
• Radioactive
• Carcinogens
• Compressed
Gases
• Explosive
• Flammables
• Reactives
• Toxics
Main routes of entry
• Inhalation
• Injection
• Ingestion
• Absorption
• Inventory
• Employee Training
• Written policies
Global Harminization
• http://www.osha.gov/pls/oshawe
b/owadisp.show_document?p_t
able=FEDERAL_REGISTER&p_
id=21110
OSHA Standard
http://www.osha.gov/dsg/hazcom/stand
ards.html
http://www.youtube.com/watch?v
=4xAN17dXXP8
• Did you evaluate chemicals/ products
and identify any hazardous items?
• Do you have a current list of chemicals/
products?
• Are there current MSDSs accessible to
employees?
• Are all containers labeled?
• Have employee been trained?
• Are policies/ procedures written that
include assigning responsibility?
• Is there a process for reviewing and
updating procedures?