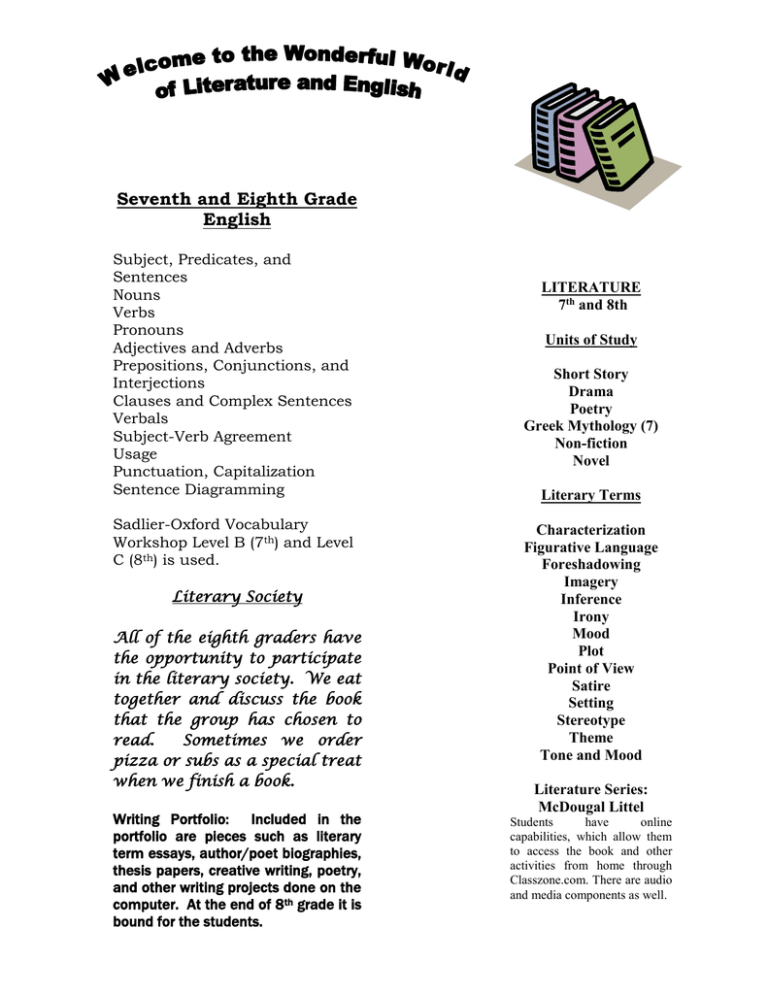 Seventh and Eighth Grade
English
Subject, Predicates, and
Sentences
Nouns
Verbs
Pronouns
Adjectives and Adverbs
Prepositions, Conjunctions, and
Interjections
Clauses and Complex Sentences
Verbals
Subject-Verb Agreement
Usage
Punctuation, Capitalization
Sentence Diagramming
Sadlier-Oxford Vocabulary
Workshop Level B (7th) and Level
C (8th) is used.
Literary Society
All of the eighth graders have
the opportunity to participate
in the literary society. We eat
together and discuss the book
that the group has chosen to
read.
Sometimes we order
pizza or subs as a special treat
when we finish a book.
Writing Portfolio: Included in the
portfolio are pieces such as literary
term essays, author/poet biographies,
thesis papers, creative writing, poetry,
and other writing projects done on the
computer. At the end of 8th grade it is
bound for the students.
LITERATURE
7th and 8th
Units of Study
Short Story
Drama
Poetry
Greek Mythology (7)
Non-fiction
Novel
Literary Terms
Characterization
Figurative Language
Foreshadowing
Imagery
Inference
Irony
Mood
Plot
Point of View
Satire
Setting
Stereotype
Theme
Tone and Mood
Literature Series:
McDougal Littel
Students
have
online
capabilities, which allow them
to access the book and other
activities from home through
Classzone.com. There are audio
and media components as well.