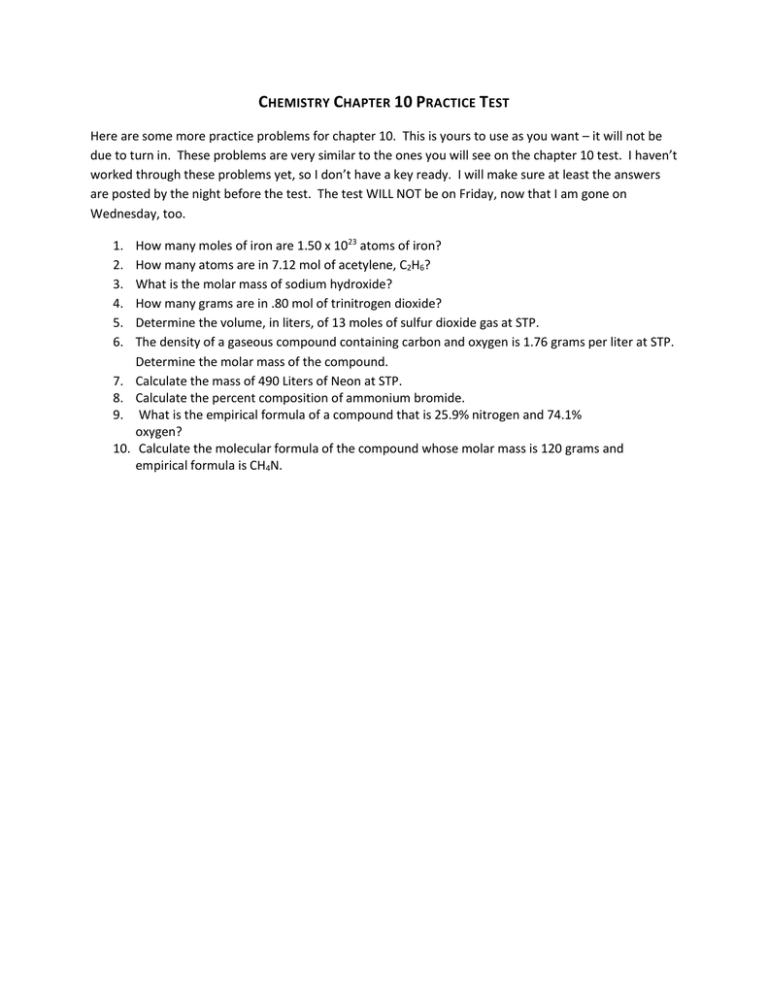 CHEMISTRY CHAPTER 10 PRACTICE TEST
Here are some more practice problems for chapter 10. This is yours to use as you want – it will not be
due to turn in. These problems are very similar to the ones you will see on the chapter 10 test. I haven't
worked through these problems yet, so I don't have a key ready. I will make sure at least the answers
are posted by the night before the test. The test WILL NOT be on Friday, now that I am gone on
Wednesday, too.
1.
2.
3.
4.
5.
6.
7.
8.
9.
10.
How many moles of iron are 1.50 x 1023 atoms of iron?
How many atoms are in 7.12 mol of acetylene, C2H6?
What is the molar mass of sodium hydroxide?
How many grams are in .80 mol of trinitrogen dioxide?
Determine the volume, in liters, of 13 moles of sulfur dioxide gas at STP.
The density of a gaseous compound containing carbon and oxygen is 1.76 grams per liter at STP.
Determine the molar mass of the compound.
Calculate the mass of 490 Liters of Neon at STP.
Calculate the percent composition of ammonium bromide.
What is the empirical formula of a compound that is 25.9% nitrogen and 74.1%
oxygen?
Calculate the molecular formula of the compound whose molar mass is 120 grams and
empirical formula is CH4N.