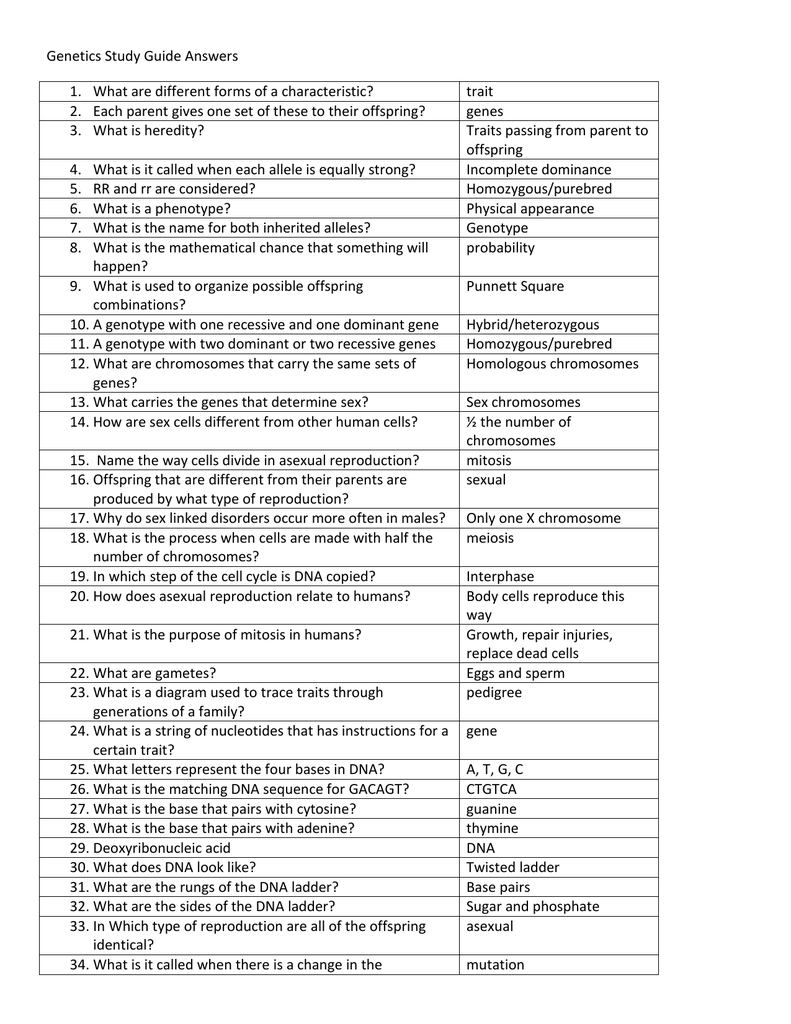 Genetics Study Guide Answers
1. What are different forms of a characteristic?
2. Each parent gives one set of these to their offspring?
3. What is heredity?
4.
5.
6.
7.
8.
What is it called when each allele is equally strong?
RR and rr are considered?
What is a phenotype?
What is the name for both inherited alleles?
What is the mathematical chance that something will
happen?
9. What is used to organize possible offspring
combinations?
10. A genotype with one recessive and one dominant gene
11. A genotype with two dominant or two recessive genes
12. What are chromosomes that carry the same sets of
genes?
13. What carries the genes that determine sex?
14. How are sex cells different from other human cells?
15. Name the way cells divide in asexual reproduction?
16. Offspring that are different from their parents are
produced by what type of reproduction?
17. Why do sex linked disorders occur more often in males?
18. What is the process when cells are made with half the
number of chromosomes?
19. In which step of the cell cycle is DNA copied?
20. How does asexual reproduction relate to humans?
21. What is the purpose of mitosis in humans?
22. What are gametes?
23. What is a diagram used to trace traits through
generations of a family?
24. What is a string of nucleotides that has instructions for a
certain trait?
25. What letters represent the four bases in DNA?
26. What is the matching DNA sequence for GACAGT?
27. What is the base that pairs with cytosine?
28. What is the base that pairs with adenine?
29. Deoxyribonucleic acid
30. What does DNA look like?
31. What are the rungs of the DNA ladder?
32. What are the sides of the DNA ladder?
33. In Which type of reproduction are all of the offspring
identical?
34. What is it called when there is a change in the
trait
genes
Traits passing from parent to
offspring
Incomplete dominance
Homozygous/purebred
Physical appearance
Genotype
probability
Punnett Square
Hybrid/heterozygous
Homozygous/purebred
Homologous chromosomes
Sex chromosomes
½ the number of
chromosomes
mitosis
sexual
Only one X chromosome
meiosis
Interphase
Body cells reproduce this
way
Growth, repair injuries,
replace dead cells
Eggs and sperm
pedigree
gene
A, T, G, C
CTGTCA
guanine
thymine
DNA
Twisted ladder
Base pairs
Sugar and phosphate
asexual
mutation
nucleotide base sequence of DNA?
nucleotide
35. What is a subunit of DNA that consists of a sugar, a
phosphate, and a base?
36. In rabbits, the allele for black fur (B) is dominant over the allele for white fur(b).
What are the possible genotypes and phenotypes for offspring.
1. BB - Black
2. Bb - Black
3. bb- white
B
b
B
BB
Bb
b
Bb
bb
37. Show the Punnett Square for two heterozygous rabbits.
a. What percentage of the offspring will be black? 75%
b. What percentage of the offspring will be white? 25%
38. Show a Punnett Square for a pure breeding black rabbit and a white rabbit.
a. What percentage of the offspring will be black? 100%
B
B
b
Bb
Bb
b
Bb
Bb
b. What percentage of the offspring will be white? 0%
39. What makes the process of mitosis different than the process of meiosis? Explain.
Mitosis is a type of asexual reproduction where you get
two identical cells after cell division with a full set of
chromosomes in each cell.
Meiosis is the way that eggs and sperm are made. In the
end you have 4 new cells with a ½ set of chromosomes.