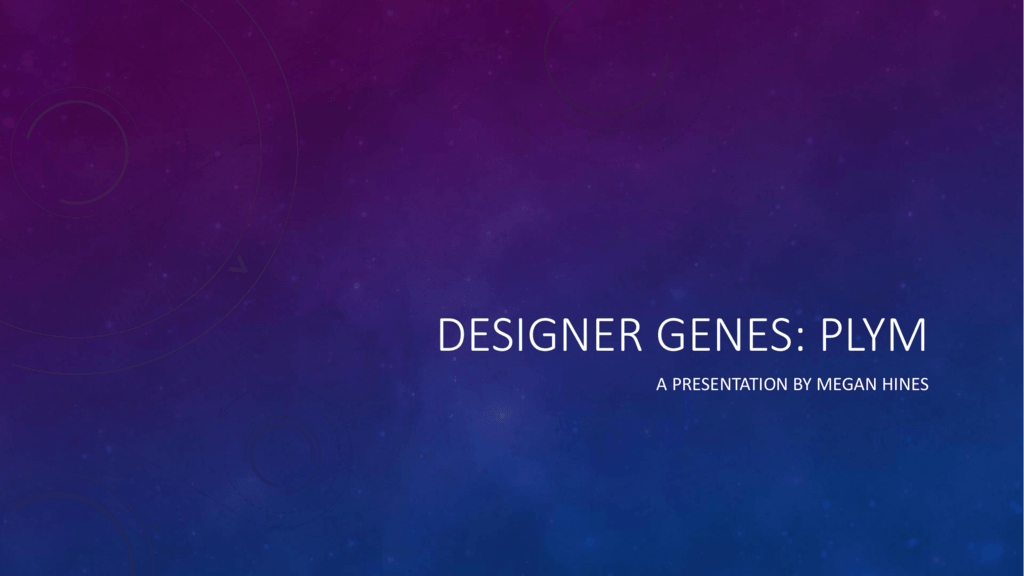 DESIGNER GENES: PLYM
A PRESENTATION BY MEGAN HINES
BRITTANY DANIEL, ACTRESS
WHAT IS NON-HODGKIN'S LYMPHOMA?
• A cancer of lymph tissue
• No initial cause
• Affects those of any age but almost half that are affected are over age 65
• Symptoms- swollen lymph nodes on neck, armpits, groin; abdominal pain or swelling; chest pain,
coughing or trouble breathing; fatigue, fever, night sweats, weight loss
• Treatment depends on the symptoms, stage/location of the disease, and the age/health of the patient.
HOW DOES PLYM SAVE LIVES?
• Vector: The pLym is inserted into the retrovirus (aka deadened cell).
• Den-ase: The operon will be turned on in the presence of intestinal microbiota to trigger transcription.
• GLP: Growing Lymph Protein, begins transcription in the presence of Den-ase.
GLP
ORI
pLym
Den-ase
• *Intestinal Microbiota – the bacteria that lives in the human gut; cancer of white blood cells
EARLY DETECTION (THE PILL)
This pill will be taken with the bacteria
in it where the GLP will glow.
LYMPHOMA AWARENESS
FDA COMPLIANCE GUIDELINES
• http://www.fda.gov/iceci/compliancemanuals/compliancepolicyguidancemanual/ucm074396.htm
WORK CITED
• "Result Filters." National Center for Biotechnology Information. U.S. National Library of Medicine, 15
July 2013. Web. 24 Mar. 2014.
• "Swollen Lymph Nodes: Causes, Symptoms, and Treatment." WebMD. WebMD, 6 Dec. 2012. Web. 24
Mar. 2014.