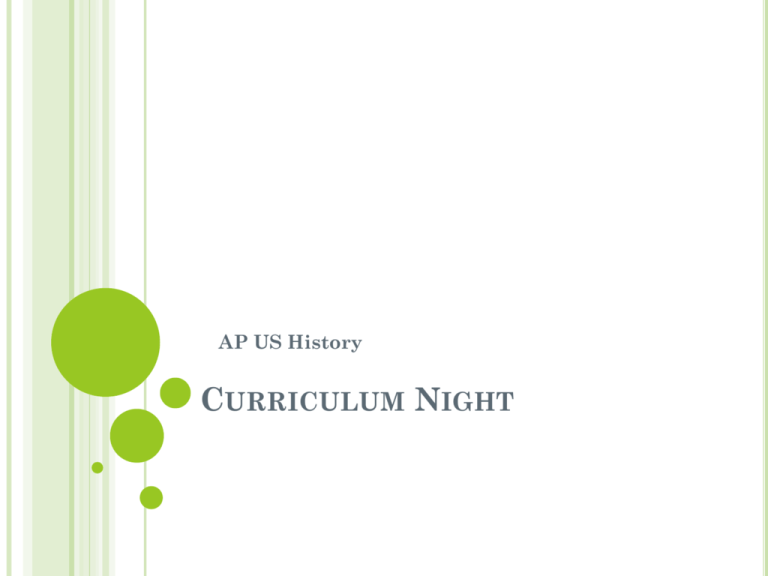 AP US History
CURRICULUM NIGHT
WHO AM I?
Originally from Baltimore, MD
 12 years in various supply chain management
roles
 B.S. Transportation and Logistics/Marketing—
University of Maryland at College Park
 M.B.A. from Marist College—Poughkeepsie, NY
 Ed.S. Argosy University
 Doctoral Student— Curriculum and
Instruction—Argosy University
 Third year teacher

AP US History
 AP Macroeconomics

HOW WILL YOU ASSESS MY CHILD'S
LEARNING?
Unit essential questions
 DBQ essays/Gateway Prep
 Projects
 Unit tests & quizzes
 Homework/Classwork
 Participation in class lecture/discussion
 Collaborative group activities
 End of Course Test (EOCT)

Assignments
Classwork & Homework
Projects
Grade Weights
Grading Scale
Class Assessments
Homework (5%)
Classwork (15%)
Quizzes (15%)
35%
Summative Assessment
40%
Unit Tests
Weekly Quizzes
Interim Assessment
5%
Final Exam
EOCT (final exam)
A:
90 and above
B:
80 – 89
C:
74 – 79
D:
70 – 73
F:
69 or below
20%
HOW WILL GRADES BE DETERMINED?
PLUS 10 POINTS.
THE AP EXAM
•
The AP Exam will take place in May, 2013
•
Section I:
•
•
Section II:
•
•
80 Multiple Choice Questions (55 minutes)
1 DBQ and 2 Essay Questions (130 minutes)
Each section counts as roughly half the final
grade.
HOMEWORK?
YES!
 At a minimum, if there is no formal homework,
students should be reviewing class notes and
reading outlined the assigned chapters.

RESOURCES?
•
•
•
•
Help is ALWAYS available by appointment. I am
available most days before and after school.
http://mrzittlesclassroom.pbworks.com
http://twitter.com/mrZittle
www.collegeboard.com
RESOURCES CONTINUED


There are many great resources available for students
to use as review and study guides. Our favorite is
available from Amsco School Publishing:
http://amsco.extendsales.com/AMSCOPUB/control/pro
ductdetails?&item_id=9781567656602
HOW CAN I KEEP TRACK OF MY CHILD'S
PROGRESS?
Sign up for Gwinnett Parent Portal
 Electronic progress reports emailed every two
weeks
 Printed Progress reports
 Convey concerns via e-mail or by phone
 Schedule a parent/teacher conference

THANKS FOR COMING TONIGHT!
•
Please feel free to contact me at:
[email protected]
• www.mrzittlesclassroom.pbworks.com
• http://twitter.com/mrZittle
• Cell – 404-803-7810
•
QUESTIONS?