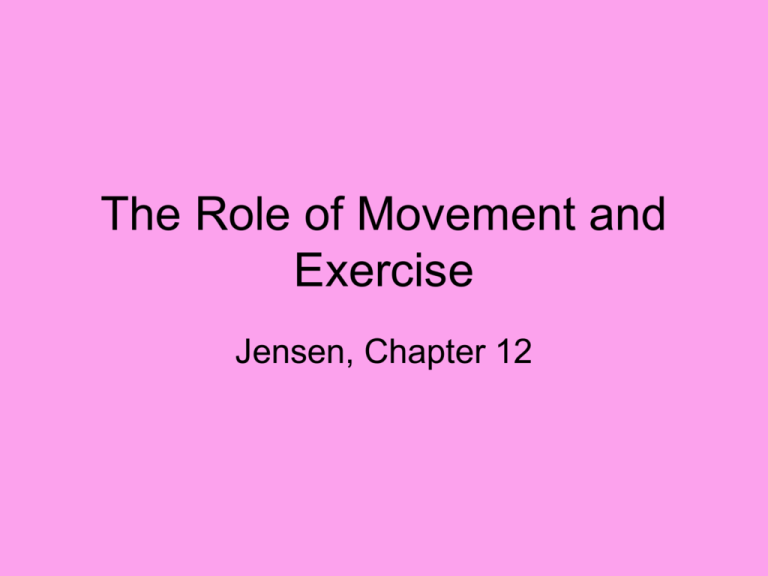 The Role of Movement and
Exercise
Jensen, Chapter 12
• The cerebellumDr. Leiners (93)
– Little brain
– Located at base of brain (cauliflower shaped)
– Coordinates all neurological activity (equilibrium, muscle
tone, posture, coordination, balance and movement)
– Stores the "how to " (procedural memory)
– It takes approximately 5-6 hours to convert new learning
from STM to LTM
Arousal
What
does
that
mean
to me?
Senses
Is it important?
Should I pay attention
What does this
remind me of?
STM
Also called
working
memory
LTM
Interesting,
challenging
and
Important, let
me learn it!
CEREBRAL CODE REVEALED
• Motor development and learning
– Hannaford (95)
• Vestibular (inner ear) and cerebellar system (motor
activity) are the first sensory system to mature
• These are information gathering and feedback
mechanisms that inform our movements
• These signals go from cerebellum to the rest of
the brain
• Exercises (phys ed, recess and active learning)
are essential to translate thinking into action
– Cerebellum
• Coordinates movement of muscles
• By synthesizing data from brainstem, spinal cord,
cerebral cortex, and muscles
Relationship between Academic Skills and
Motor Skills
Reading
Math
Language
Gen Know
Associative
thinking
Deductive
Abstract
Inductive
Sequencing
Analysis
Sequence
synthesis
Organizing
Visualization
Pattering (visual
discrimination)
Verbal ability
Memory reason
Center line skills
Eye foot
coordination
Eye-foot
coordination
Eye-hand Tracking
Hand-foot
Laterality
Locomotor skills
Dynamic balance Body awareness
• Growing Up Active
– Sensory motor integration is essential to school
readiness (i.e. language arts concepts through
dancing)
– Sensory stimulation is so essential that many
infants will not develop the movement-pleasure
connection
• Frontal cortex = action, goal oriented activity (ideas
about action)
• Some basal structures found in the cerebellum
associated with action
– They regulate the actions needed to satisfy our drives
– Control activation and inhibition of muscle contractions
actions of great value
– And that is the connection between happiness and
movement
"Classroom teachers should have kids move for the same reason
that physical education teachers have kids count"
• Hallet (99)
– Excellence in physical performance uses 100% of the brain because:
• They stimulate growth of new brain cells
• Prolong the survival of existing cells
– Children engaged in physical activities show better:
• Motor fitness
• Academic performance
• Attitude
– Aerobics and other physical exercises will help your brain cope better with
stress
– Exercise releases BDNF (Brain-derived neurotrophic factor) which
boosts the ability of neurons to communicate with each other
– This BDNF also is essential for memory processing (long term potentiation)
connecting both in the STM with the LTM
– Exercise also enhances
• Circulationmore oxygen in the brain
• Production of hormones (nerve growth factor)
• The production of dopamine (a mood enhancing neurotransmitter)
• Play Belongs in learning
– As honorable and important as book work
– All mammals engage in playbiological activity
– While learning, the students will not only remember the
concepts but also the game involved in learning it
– Playmotor, emotional, social and cognitive skills
• Stimulation of body and mind
• Physiology and learningposture affects
thinking
– Blood flow and oxygen to the brain are partly
responsible for the posture effect on learning
• Standing up creates more attentional arousal
• Speeds up information processing
• This is due to the fact that the human brain needs
oxygen to process information…how is your
classroom airflow?
• How relaxation and stress affect learning
– The role of the amygdala
– The role of cortisol
– Long term memory impairment as it relates to
permanent stress
THE CONTRIBUTIONS
OF JAMES ASHER
• The teacher creates a strong positive rapport
and relationship with students.
•The learning climate is cooperative, playful,
active, and fun.
•The teacher establishes an environment of
mutual respect.
•Imperative instructions are given to students in
a commanding, but gentle manner.
•The students respond rapidly without analyzing
the input.
ENERGIZER IDEAS
•Use the body to measure things around the room and
report the results: "This cabinet is 99 knuckles long".
•Play a Simon Says game with content built into the game:
"Simon says point to the South; or Simon says point to five
different sources of information in this room".
•Do a giant class mind-map or break into teams and do
group mind-maps.
•Have students move around the room, like a scavenger
hunt. "Get up and touch seven objects around the room that
represent visible spectrum or colors of the rainbow."
•Relate locations to new learning. For example, ask
students to "move to the side of the room where you first
learned about the food chain related to our pet snake."
ENERGIZER IDEAS cont'd
•Conduct thinking games and values exercises that require
learners to move. For example, ask learners to "move to
the left side of the room if they feel more like an ant or to the
right side of the room if they feel more like an elephant."
•Even simple games we learned as children are great. Have
learners jump rope and sing rhymes that reflect new
learning.
•Spell difficult words to the old tune of B-I-N-G-O while
clapping out each letter until the whole word is spelled.
•Wake the class up with a silly stink of Hokie Pokie, Ring
Around the Rosie, or London Bridges. Even adults can
benefit from these childhood favorites.
ENERGIZER IDEAS cont'd
•Conduct a ball toss game and incorporate content from prior
learning. Great for reviews, vocabulary-reinforcement,
storytelling, or self-disclosure.
•Have students rewrite lyrics to familiar songs substituting new
words.
•Play verbal Tug of War, where dyads choose a topic from a list
and each must devise an argument. After the verbal
competition, the whole class engages in traditional game of tug
of war with dyad partners on opposite sides.
•Use Cross-laterals, such as arm and leg cross-overs. Crosslateral movements activate both brain hemispheres for greater
integration of learning. "Pat your head and rub your belly; or
touching your left shoulder with your right hand" are examples
of cross-laterals. Others include marching in place while
patting opposite knees, touching opposite eyes, knees,
elbows, heels, etc.
ENERGIZER IDEAS cont'd
•Facilitate stretching and breathing exercises. Rotate leaders.
•Provide frequent breaks for water or walking around; or open
up this option for learners anytime they need it.
•Ask the students to plan and lead a class session or break
into teams and have each present an activity to the rest of the
class.