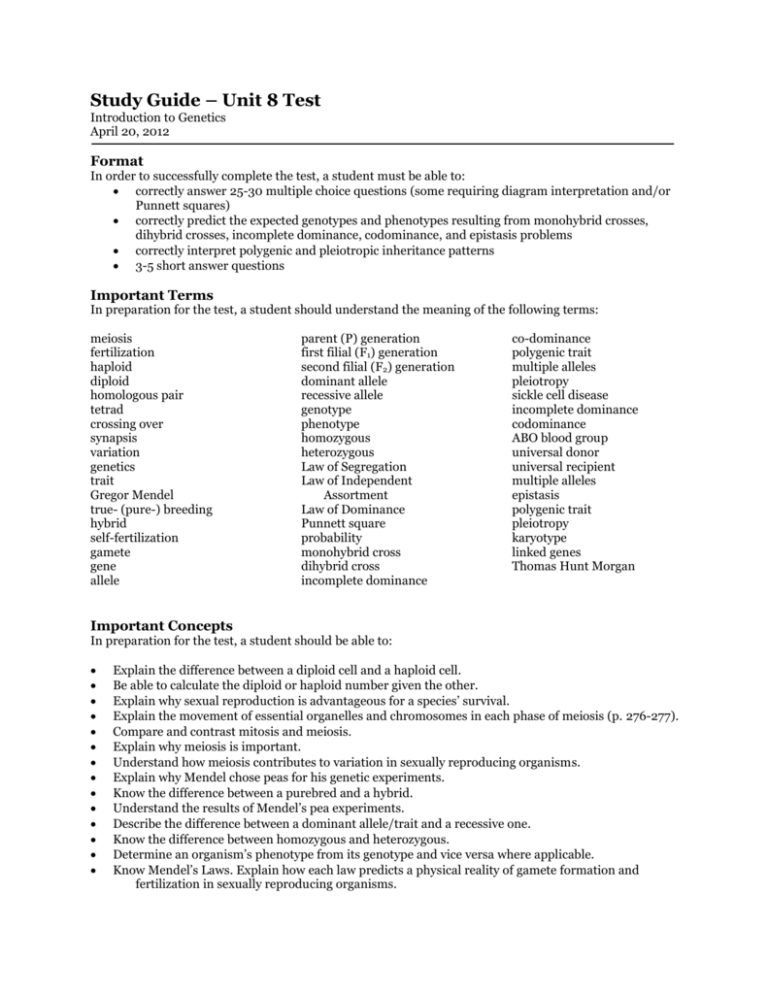 Study Guide – Unit 8 Test
Introduction to Genetics
April 20, 2012
Format
In order to successfully complete the test, a student must be able to:
 correctly answer 25-30 multiple choice questions (some requiring diagram interpretation and/or
Punnett squares)
 correctly predict the expected genotypes and phenotypes resulting from monohybrid crosses,
dihybrid crosses, incomplete dominance, codominance, and epistasis problems
 correctly interpret polygenic and pleiotropic inheritance patterns
 3-5 short answer questions
Important Terms
In preparation for the test, a student should understand the meaning of the following terms:
meiosis
fertilization
haploid
diploid
homologous pair
tetrad
crossing over
synapsis
variation
genetics
trait
Gregor Mendel
true- (pure-) breeding
hybrid
self-fertilization
gamete
gene
allele
parent (P) generation
first filial (F1) generation
second filial (F2) generation
dominant allele
recessive allele
genotype
phenotype
homozygous
heterozygous
Law of Segregation
Law of Independent
Assortment
Law of Dominance
Punnett square
probability
monohybrid cross
dihybrid cross
incomplete dominance
co-dominance
polygenic trait
multiple alleles
pleiotropy
sickle cell disease
incomplete dominance
codominance
ABO blood group
universal donor
universal recipient
multiple alleles
epistasis
polygenic trait
pleiotropy
karyotype
linked genes
Thomas Hunt Morgan
Important Concepts
In preparation for the test, a student should be able to:














Explain the difference between a diploid cell and a haploid cell.
Be able to calculate the diploid or haploid number given the other.
Explain why sexual reproduction is advantageous for a species' survival.
Explain the movement of essential organelles and chromosomes in each phase of meiosis (p. 276-277).
Compare and contrast mitosis and meiosis.
Explain why meiosis is important.
Understand how meiosis contributes to variation in sexually reproducing organisms.
Explain why Mendel chose peas for his genetic experiments.
Know the difference between a purebred and a hybrid.
Understand the results of Mendel's pea experiments.
Describe the difference between a dominant allele/trait and a recessive one.
Know the difference between homozygous and heterozygous.
Determine an organism's phenotype from its genotype and vice versa where applicable.
Know Mendel's Laws. Explain how each law predicts a physical reality of gamete formation and
fertilization in sexually reproducing organisms.







Explain how probability is used in Punnett squares to predict possible genotypes and phenotypes of
offspring.
Correctly complete monohybrid and dihybrid crosses using a Punnett square.
Compare and contrast incomplete dominance, co-dominance, epistasis, polygenic traits, and pleiotropy.
Use presented evidence and Punnett squares to interpret incomplete dominance, co-dominance, and
epistasis problems.
Interpret inheritance patterns that involve multiple alleles.
Explain the difference between polygenic traits and pleiotropy.
Know examples of how environment may influence phenotypes.