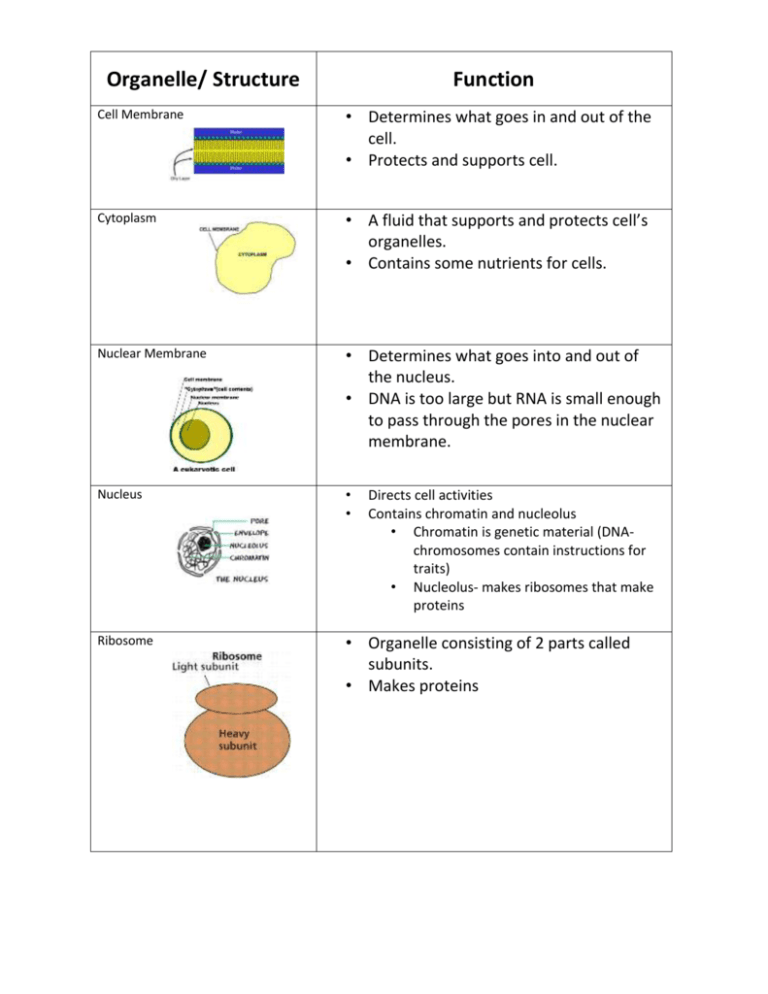 Organelle/ Structure
Function
Cell Membrane
• Determines what goes in and out of the
cell.
• Protects and supports cell.
Cytoplasm
• A fluid that supports and protects cell's
organelles.
• Contains some nutrients for cells.
Nuclear Membrane
• Determines what goes into and out of
the nucleus.
• DNA is too large but RNA is small enough
to pass through the pores in the nuclear
membrane.
Nucleus
•
•
Ribosome
• Organelle consisting of 2 parts called
subunits.
• Makes proteins
Directs cell activities
Contains chromatin and nucleolus
• Chromatin is genetic material (DNAchromosomes contain instructions for
traits)
• Nucleolus- makes ribosomes that make
proteins
Vacuole
• Storage, digestion, and waste removal
• In plants, vacuoles help maintain shape.
Lysosome
• Aids in removing excess or worn out
organelles, food particles, bacteria, and
viruses
• Contain enzymes that break down
substances
• Garbage disposer
Smooth Endoplasmic Reticulum (SER)
• Transports proteins and breaks down
drugs in the cell
• Does not contain ribosomes.
Rough Endoplasmic Reticulum (RER)
• Transports proteins and breaks down
drugs in the cell.
• Covered in ribosomes which make
proteins to be transferred.
Mitochondria
• Powerhouse of the cell
• Produces energy from sugar
through chemical reactions (cellular
respiration)
• Double membrane
Golgi Body
• Processes and packages proteins and
lipids
• Moves materials within and out of the
cell in small sacs called vesicles
• AKA golgi complex, golgi apparatus
Cell Wall
• Found only in plant cells and bacteria
cells
• Supports and protects cells
Chloroplast
Summary:
• Found in plant cells
• Contains green chlorophyll
Primary function is for use during
photosynthesis converting sunlight to glucose
(sugar) for the plant to use for energy.